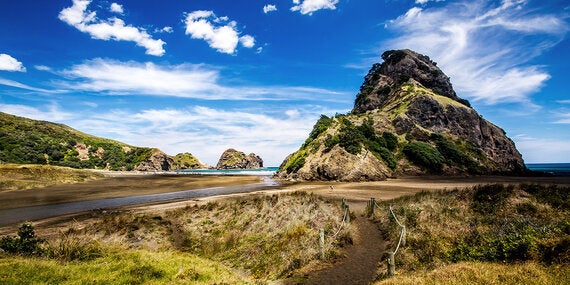 New Zealand was never a must-have 'pin' in the travel map of my mind (which incidentally goes: rest of India, all of the Middle East, Burma, Mexico, Northern Scotland). But circumstance, and by 'circumstance' I mean me idiotically falling in love with someone who lives half way across the world, led me to a three-week trip in the fledgling weeks of 2015.
Being a glutton who gauges any destination on its ability to feed me, I'll start with the food. As a horrible London snob, I expected it to be backwards (serving burgers in old ambulances circa 2010) and can begrudgingly report I was wrong. My eating experiences (geared mainly around Auckland) were, without exception, excellent.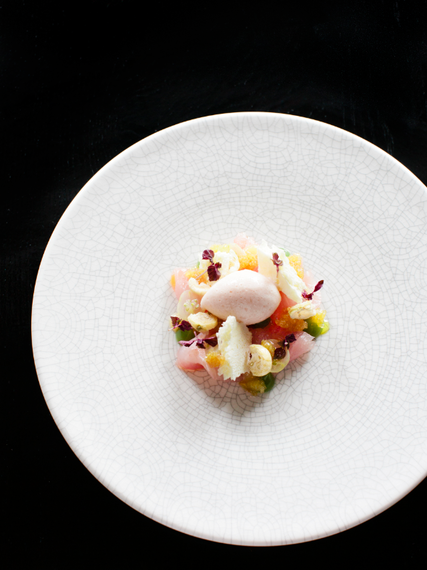 Clooney, Auckland Photo credit. Anna Kidman
Modern Indian small plates of spiced perfection at Cassia; seven witty Michelin waving courses (or the NZ equivalent) at Clooney; sophisticated seafood and shit hot presentation at FISH; technicolour tacos, Jewish-style brunches, smelt-down-your-shirt ribs, meat pies with fluff and crunch, fat mussels the size of a small fist, salads groaning in super grains, citrus-drenched ceviche... Let's just say I had to delete A LOT of old photos on my iPhone to make room for shots of runny eggs and cumin-crusted lamb chops for Insta-bragging.
Like most cosmopolitan hubs, the city's scene sprawls beyond its centre. I loved Ponsonby, a twenty-minute walk from the city, where I discovered Dizengoff (aforementioned Jewish cafe where you can get actual FRIED pastrami with your breakfast), Conch (a restaurant of many colours, cute yard at the back and crack-like cocktails) and Chapel (a bar/restaurant where we spent a sunny afternoon necking cider).
Kingsland is not to be missed either. Here you'll find a bar scene bustling with hoards of merry-making hipsters (who knew people dressed well out of London). Head to The Portland for craft beer, great music and garden out back; or across to Neighbourhood (pretty alfresco area strewn with fairy lights). For boozing in the city centre, don't miss 1885 Britomart for sexy staff, live jazz and a bar which will happily doll out café Patrón shots well past midnight.
Our first non-Auckland stop was Waiheke, a postcard pretty island of craggy coves, rolling hills, flat stretches of mangroves and umpteen vineyards. If you are at all sport-inclined (or have a general disregard for health and safety) rent a bike and explore, stopping off at the various vineyards for 'refreshment' along the way. Before we got too sloshed, we took our tandem up the steep climb to Peacock Sky vineyard, which boasts one of the best views on the island. Here you'll not only get a good lunch (tasty home cooking in huge, wine-soaking-up-portions), but tastings, tours and the opportunity to purchase a bottle of their award-winning rosé.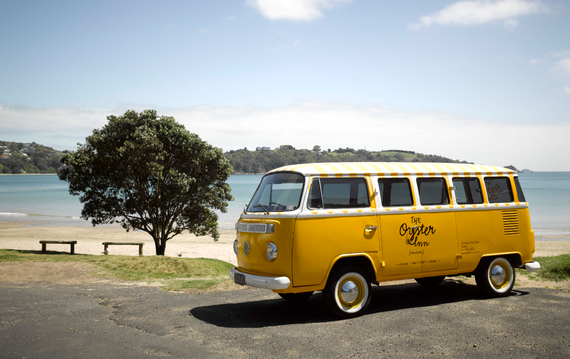 If you're spending the night on Waiheke, stay in one of The Oyster Inn's three hotly subscribed boutique rooms. It offers the kind of effortlessly laid-back interior only found by those of taste and money and has unsurprisingly been featured in some of the world's most prolific travel publications. If you can't get a room, stay for dinner. The restaurant is just as lovely and, though there are fancier things to be found on the menu, don't miss the fish and chips which rival even the most revered UK chippies.
Back in Auckland, it's definitely worth booking into the Hilton for the night. We all know there are good Hilton's (Tel Aviv) and bad (type 'the worst Hilton hotels' into Google for an afternoon of entertainment) - but this harbour-side outpost is most certainly in the first camp. Home to FISH, (flagship restaurant serving world class seafood dishes), slick suites ticking the three b's (water-adjacent balcony; obnoxiously massive bath; impossibly fluffy bathrobes) and a SERIOUS breakfast buffet (make-your-own-smoothies; omelette station; spirulina cereal sprinkles) - it's up there with the best in the city.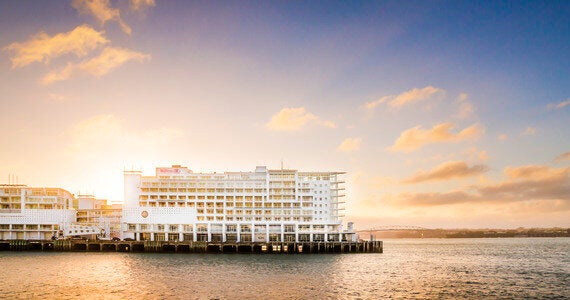 Before we ran out of money, we hopped on an internal flight to Nelson, South Island. Seeing as though I'd travelled half way across the world for a boy, I'd be lying if I said I wasn't looking for a little romance and, at Cable Bay (a small settlement 18 kilometers northeast of Nelson), I got it. Set to the backdrop of pine-clad mountains and sun-reflecting waterways, The Treehouse Hideaway offers two mini apartments set in an enchanting garden stuffed with strawberries, herbs and hidden swings; its own canoe to launch straight from the jetty and a barbeque to fire up whenever you feel like it. We spent two blissful days trekking the surrounding hills, trying not to capsize the canoe and arguing about the correct cooking of steak on said BBQ.
Due to a lack of driver's licence (must get on that now I'm almost 30), other trips relied on the kindness of others. Thanks to them, I managed to get to the black-sanded beaches of Piha, Goat Island for snorkelling and spend a blurry two day bash up at Northern Bass (all highly recommended), but was inevitably left wanting more.
It turns out, once I'd cleared up any pre-conceptions about the food scene, I fell as hard for New Zealand's beauty as I did for the man who brought me there. First step: extend that map in my mind to include a 'must revisit' pin. Second step: learn to drive...
Air New Zealand fly daily from London Heathrow to Auckland with a refuelling stop in Los Angeles. Economy tickets start from £891 per person return, and Premium Economy from £2,457 per person return. For up to date fares and deals visit the website.