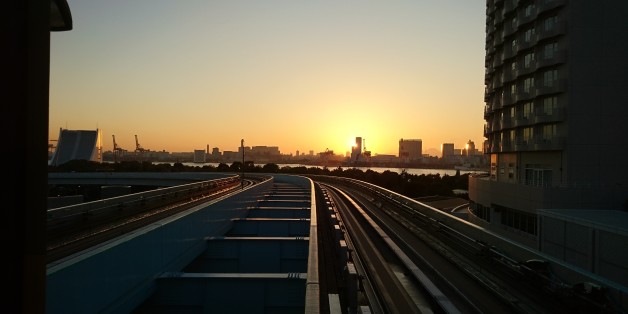 Lucy Sherriff
Tokyo is a delicious assault on the senses. A tidal wave of lights, sounds, smells and an entirely different culture hits you as soon as you enter the city.
It's difficult to really get to the heart of Japan's capital if you don't know where to look; hours can be whiled away simply navigating from one district to another. As helpful as the Japanese are, it can be tricky to even find the right station entrance, and that's before you've mastered the subterranean network of tubes and metros.
It's also easy to forget Japan is so much more than just Tokyo - as captivating as it is, you want to ensure you save enough time to see Osaka, Kyoto and as many other charming cities as you can.
Five days should give you ample time to get a feel of the capital. Having been lucky enough to have a personal Tokyo tour guide in the shape of my expat brother, I can recommend trying some of these:
For some epic skyline scenery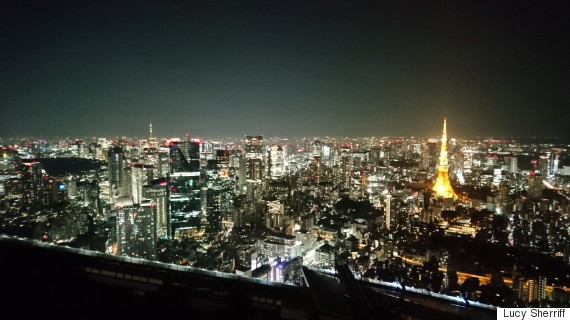 Head up to Roppongi Hills Sky Deck and for just 500Y you can soak up the jaw-dropping Tokyo skyline from the 52nd floor. It's only up high that you can really get a sense of just how sprawling the city is; it quite literally stretches as far as the eye can see. The tower also houses a museum, a movie theatre, shops and restaurants, so you could while away a fair few hours without even leaving the building.
If that's not enough to make your stomach churn, then head to the Dentsu building in the in the Shiodome area of Minato and zoom up 48 floors in a glass lift whilst watching the ground get further and further away. And, if you've got a stomach of steel, you can grab a bite to eat from the numerous restaurants when you get to the top.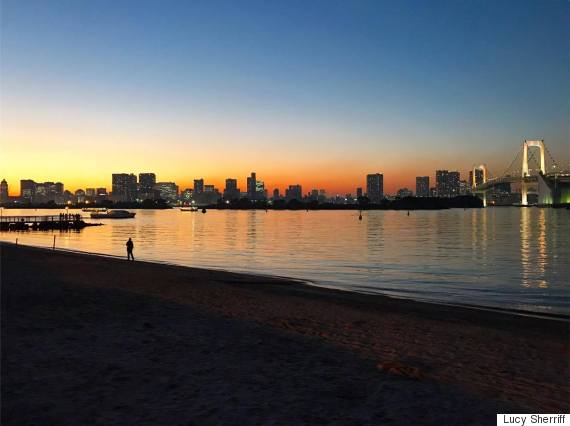 The view from Tokyo Bay
Or, if heights don't float your boat, then you could catch the Sky train - which is relatively close to the ground compared to the other options - over to Odaiba on Tokyo Bay, and watch the most incredible sunset. Then you can hop on the boat back to mainland.
For some traditional Japanese culture
Nezu Museum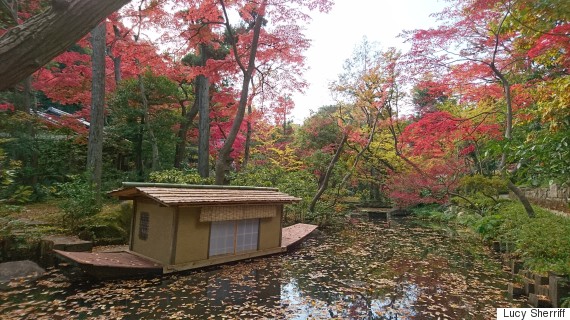 Immerse yourself in some Japanese history by visiting the Nezu Museum, which houses the private collection of pre-modern Japanese and East Asian art of Nezu Kaichirō, all in a stunningly-minimalist building. Not only can you view centuries-old manuscripts, there's an adjoining garden which, if you manage to get there in November, will put on a dazzling display of colours. The museum is also situated in Aoyama, which is where the rich come to shop. Marvel at the architectural wonders of the Chloé and Cartier stores, as well as the pricey haute couture fashion they house.
Cycle around the Tokyo Imperial Palace gardens. Cycling is a great way to get around - in Japan, you can cycle on the pavements. You just need a bit of patience when it comes to weaving in and out of the crowds. Located in the Chiyoda ward, it's an oasis from the nearby stale government buildings. During the 1980s property bubble in Japan, the palace's grounds were reportedly valued at a higher price than all the real estate in California.
Although it was destroyed during World War II bombings, it was later rebuilt as a symbol of rebirth and peace. It's not a particularly peaceful place, however; the path up to the temple is lined with stalls selling food and trinkets, and it's crammed with selfie stick-wielding tourists. However, it's worth elbowing your way through to take a look at the beautifully crafted five-story pagoda.
The shrine is a popular place for traditional Japanese weddings, and it's surrounded by the serene Yoyogi Park; an unexpected - but refreshing - sprawling expanse of green in the middle of a concrete jungle.
Getting your fashion fix
Tokyo is a shopper's mecca. Whether it be vintage, couture, Hello Kitty or kimonos you're after, the capital has it all - and far, far more.
Ginza is where the rich go to shop. Bring cash. Lots of it.
Aoyama is one of Tokyo's wealthiest destinations - and also incredibly trendy. It's worth a relaxing stroll down it's haute couture-lined streets just to take in the architecture of the stores.
Harajuku is the place to people watch. Not only is it crammed full of vintage stores in the winding backstreets, Takeshita Street, the focal point of Harajuku teen's culture, is a crazy, hectic must-do experience. Think Camden on acid, basically.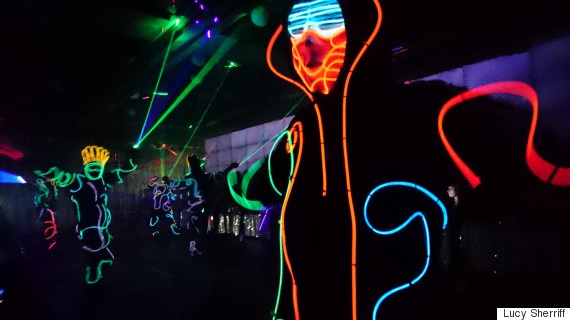 Shinjuku's Robot Restaurant
If you're still eager for more Tokyo madness, then head to the Robot Restaurant in Shinjuku for a dazzling display of lights, drum banging, and really, really weird robots. Don't bother with the food - it's overpriced and nothing special, but you can crack open a tin (yes, tin) of sake to ease you into the madness. It's fairly touristy now, but you'll leave wondering what the hell just happened.
For food to blow your mind
Now we're getting to the important part. You can't go more than a few steps without passing some kind of restaurant - whether it's a high-end establishment, a hole in the wall ramen shop, or a poster inviting you to step in the parking lot-style lift and travel up five floors to a dining hall. If you're a foodie, then you've come to the right place - in Tokyo, nobody really cooks at home, so eating out is a big part of everyday life. And oh boy do they do it well.
If sushi is your thing, then you're in paradise. If fish doesn't quite float your boat, then never fear. There's a whole world out there for you.
The street food
First stop has to be Ebisu Yokocho - a narrow undercover alleyway that hosts a sumptuous plethora of street food restaurants (is that even a thing? It's a thing now). Set in an old 1970s apartment block, you need to know what you're looking for. It was my first meal in Tokyo, and it was definitely the most memorable. It was chaotic, hot, crazy, cheap - and I loved every minute. Sweet and spicy mushrooms dished up in a crude tin foil casing, 1lb steak dumped on our table, sizzling on a hot plate and simply seasoned with salt and pepper and lashings of garlic, along with dry rubbed chicken wings - skin crackling and crispy. And of course, lots and lots of garlic.
The izakaya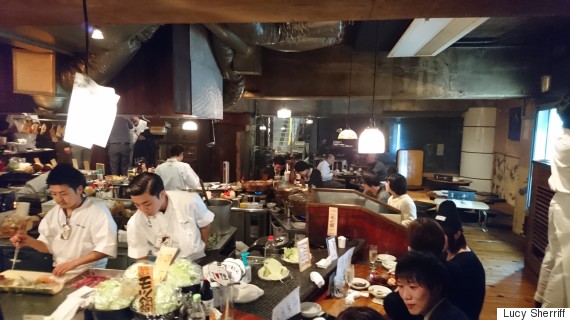 The izakaya is basically the Japanese version of a pub: somewhere that serves both food and drink. Except, like much the Japanese turn their hands to, it's so, so much better.
Shirube, a stone's throw from Shimo-kitazawa Station, is utterly fantastic and has a 90 minute all you can eat and drink course for Y4000 per person. Half the fun is ordering the course (which is just the done thing), and not having any idea what's going to turn up. Although if you're of a delicate disposition, you might want to send back the shirako. Which are.. Buttery fish semen. Yep. That was one speciality I wasn't tempted to try. Even if they were laced in butter. But the blow torched mackerel is to die for.
Make sure to finish it off with sake served in bamboo and a pint of ice cream made with milk from Hokkaido cows.
Shabu Shabu
English translation: boil your own meal.
For something that's cooked in just water, it's surprisingly tasty - especially when paired with goma dare - this incredibly creamy sesame sauce. It's a health and safety nightmare - raw meat plus boiling pot of hot water plus alcohol, but sometimes you've just got to live a little. Again, it's all you can eat at most places. So keep on ordering those enoki.
Tonkatsu
It's basically breaded pork. But at the same time, it's so much more. Coated with panko, lightly fried and served with a steaming pile of rice, shredded cabbage and pickles, along with tonkatsu sauce - the closest comparison I can think of is to Worcestershire sauce - it's a fantastic remedy if you've had too many sakes the night before. Head to Tonkatsu Maisen; although it's a chain, it's one of the best - and there are eight branches to choose from.
Ramen
I'm not going to dish out any restaurant recommendations as part of the fun is finding a grubby hole-in-the-wall ramen joint yourself. All I'll say is the dirtier the restaurant looks, the better it tastes.
Yakiniku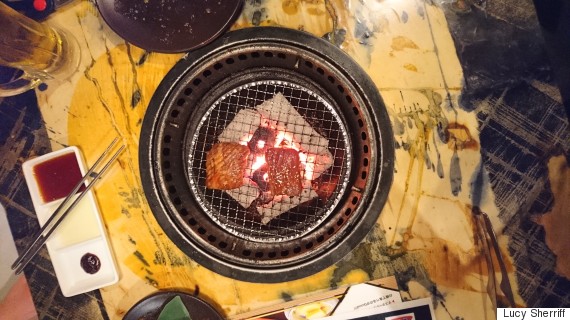 Or better known as Korean BBQs. You basically get your own fire pit in the middle of the table and then you can order as much meat as you can eat. Most places do an all you can eat (and drink) course, with the option to pay more for higher quality beef. It's well worth it. Yakiniku Jumbo in Edogawa-ku is fantastic, but to be honest you're unlikely to find a bad place to eat, so don't be scared just to walk in somewhere and try it.
The place to be seen
Deus ex machina. OK, it's not traditional Japanese, but damn the staff there are cool. This is the best hipster joint in Harajuku - and a great place to people watch. Order an artisanal coffee and marvel at the trendy, bearded barista's latte art and a pulled pork toastie, which you'll be dreaming about for years to come.
Where to stay
Tokyo is chock-a-block with sleek, modern hotels. But it feels a shame to stay in a Western-style accommodation when you're in such a distinctive cultural setting. Enter Hoshinoya. Part of the Hoshino resorts chain, the hotel aims to offer the traditional ryokan experience, with the comfort of a modern hotel. Nestled between high-rise business offices, and cased in a beautiful steel decorative façade inspired by an ancient kimono design, it's easy to miss - but that's part of its charm. It doesn't want to be brash and obvious. It seeks to be unassuming; Japanese down to the core.
On arrival, all guests are required to remove their shoes which are stored in boxes, which in turn ingeniously make up part of the wall feature.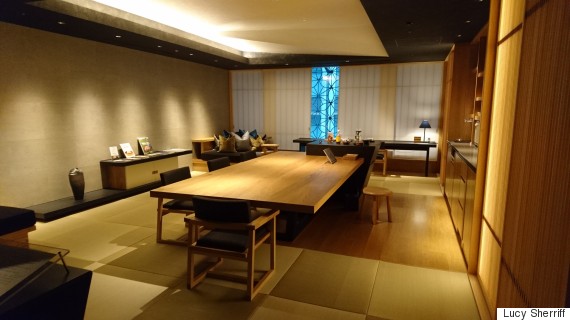 The tradition chashitsu - tea salon room
Guests are then escorted up to their floor, where green tea is served in a traditional tea salon - the room which forms the heart of every ryokan.
The bedrooms are simply but stunningly furnished. Tatami mats cloak the floors, a low bed occupies the spot next to the window, and beautiful wicker chairs centre round a table where breakfast is served in beautiful wooden compartments which stack together to form a neat box. There's a choice between Western or Japanese style, and the latter is a myriad of flavours - sweet vanilla creme caramel paired with salty soy sauce, miso soup, pickles, and of course a steaming tower of rice. There is a TV - but it's disguised as a mirror, so it is easily avoidable if you're looking for a real traditional experience.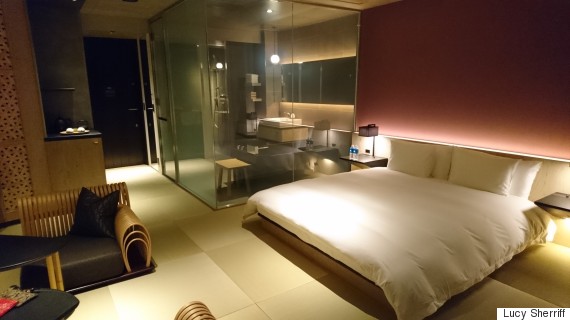 His 'n hers kimonos are provided, and guests are strongly encouraged to wear them down to dinner - and there's even a how-to guide to avoid any fashion faux pas. The bathroom is a whole experience in itself. Encased in glass which frosts at the touch of a button, a stern black marble bath with a cascading waterfall tap, it's simplistic, functional beauty. Sliding Japanese paper doors block out the bustling capital, and once inside, you'll be hard pushed to actually find a reason to leave. Everything is thought of here; there are even instant noodles for guests to snack on in the tea salon.
The onsen, up high on one of the top floors, is a dark, brooding affair with lashings of black marble and moody lighting. If you want to experience it - and I strongly suggest you do - you need to take the plunge and go naked. No clothes allowed.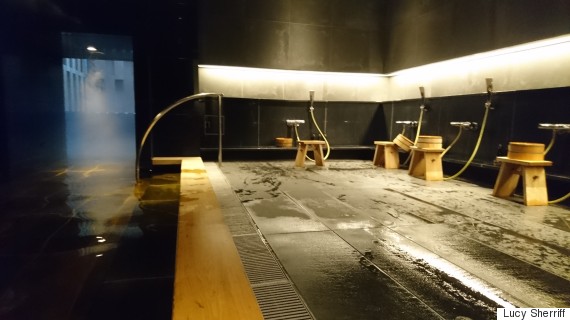 Food-wise, the hotel offers a sensational restaurant in the basement, meaning you can enjoy the full Japanese experience from morning til night without having to even leave - and trust me, you won't want to.
Guests can sit down to a stunning multiple course meal of traditional Japanese fare fused with modern French cuisine from head chef Hamada Noriyuki, who plays delightfully on nature to influence his riddle-like menu. Diners are invited to guess their next course from the menu, which is inscribed on tiny parchment paper, and includes courses such as "Animal Trail" and "This is, an apple?"
To start, of course is sake, followed by a silky smooth tree sap taster and creamy confi potato with charcoal and cheese rice crackers. The pair is served in wood from Edo Castle, which was found in the excavations when the hotel was built. The Japanese are known for their attention to detail - and Noriyuki really excels.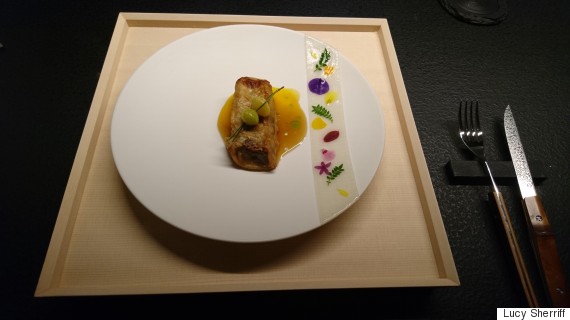 Japanese-style beef wellington; Finely sliced wagyu beef layered with matsutake mushrooms and robed in a fine soy skim. Garnished with an edible radish strip embedded with flower petals
Next up is a mushroom risotto ball served in a glass to trap the meaty aroma of the mushroom and a chestnut flake dusted with mushroom powder to finish it off. The star of the dinner was without a doubt the thick, juicy, venison carpaccio, served under a blanket of leaves which had been hand stitched together - the "animal trail" course - which the attentive waitress explained was to pay tribute to the deer shyly hiding in the woods when it is being hunted.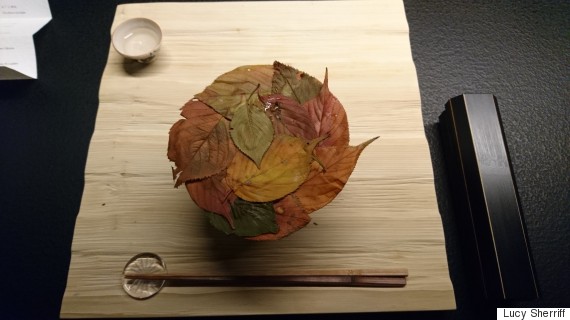 "Animal trail"
Honorable mentions need to go to the horse sashimi - if you can get past your squeamishmess, it's actually incredibly tasty, which was wrapped in paper thin apple strips, garnished with delicate flowers, and served in a hollowed out apple, as well as the five "taste and temperature" hors d'ouevres which were served on glass balls ranging in temperature.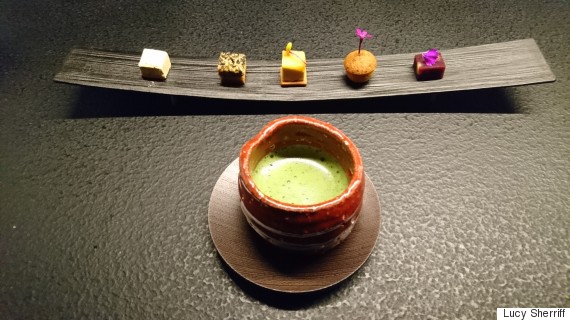 Food? Or art? Matcha tea served with petit fours to round off the evening
Dining in Noriyuki's restaurant is a million miles away from the sloppy ramen bowls dished up in Tokyo's alleyways - but it's also an unforgettable chance to eat cuisine which more resembles art than food.
Hoshinoya is an oasis of calm in a crazy city. Guests are immediately transported to traditional Japan, but with one foot kept firmly in the 21st century.
Owner Yoshiharu Hoshino wanted to revive the ryokan - it's a dying breed, especially in the big city - and it seems as if he's found the perfect formula to do it.
A quick word on...
The train stations
These are not just any train stations. These are whole shopping complexes hidden underground - which are known as eki naka . It's incredibly easy to spend a whole day in the train station without even coming up for air. Grab breakfast, lunch and dinner while squeezing in a haircut, buying a new wardrobe and slurping sake at a bar. Oh, and you might even be able to catch the odd concert, too.
Karaoke and micro bars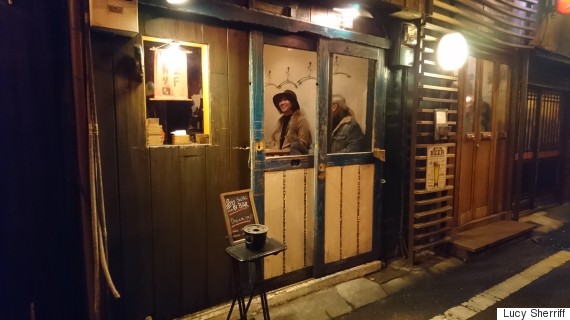 The Japanese love drinking. And they love karaoke just as much. Forget your fancy rent a booth Lucky Voice-style, this is slot machine, songs from 1990-style. Find a micro bar - they were my favourite thing about Japan; teeny tiny bars which can fit in four or five people. It's a fantastic way to meet total strangers. Head to Shinjuku's seedy Golden Gai and explore the rabbit warren of alleys - and don't be afraid to climb the rickety stairs up to a bar, or Nonbei Yokocho (translates as Drunkard's Alley) in Shibuya for a slightly more trendy experience.