Last year, more than 4m visitors flocked to Yosemite national park in California to gape at the dramatic mountains, hike through the vast meadows and soak up the stunning scenery.
It's pretty clear why the park, which is 1,169 sq miles big and boasts 800 miles of trails, is a popular destination for tourists. Even the locals love it, which speaks volumes in itself.
There's nothing worse, however, than trying to bask in nature's glory while being jostled by a coach load of snap-happy selfie enthusiasts.
So how should you 'do' Yosemite?
Well, firstly you need to work out what your priorities are.
Want to see gushing waterfalls? Then head there in Spring as by fall they've all but dried up, particularly so thanks to the current drought in California. Want to see the spectacular views from Glacier Point or stroll through Tulomne Meadows? Then you'll need to go in May, as Glacier Point and Tioga Pass are closed due to snow. (Unless you can cross country ski, then go right ahead.)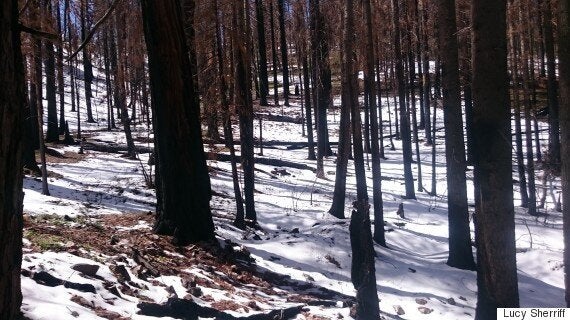 It still snows in April, meaning parts of the park are covered in the glittering white stuff
Judging by these various natural obstacles, the prime time to go is May-August. But then of course you have millions of other people who have sussed out the same thing too.
I decided to cut my losses and head in April. Although I would've given a limb to have sat atop Glacier Point at sunset, I figured it wouldn't be so fun if I had to queue to do it (and yes, you will sit in long queues during the summer, which seems to defeat the object of escaping into nature..).
Then of course there's the accommodation problem. The park's website advises booking your campsite early; reservations can be very difficult to come by from April to October. There are first come first serve campgrounds, but these fill up incredibly quickly.
If, like me, you love nature but not the roughing it part so much, then you'll want to stay in one of the park's hotels. However, as reservations are available 366 days in advance, getting a room is nigh-on impossible, and the website again "strongly recommends" booking, especially from spring to fall (so pretty much the entire year, then).
Probably like the majority of the general population, I don't plan my holidays a year in advance, so I was left pondering whether a day trip to Yosemite was feasible. Then I stumbled across Tenaya Lodge, a resort set in the Sierra Nevada forest, by the park's south gate, and a 50 minute drive from Yosemite Village.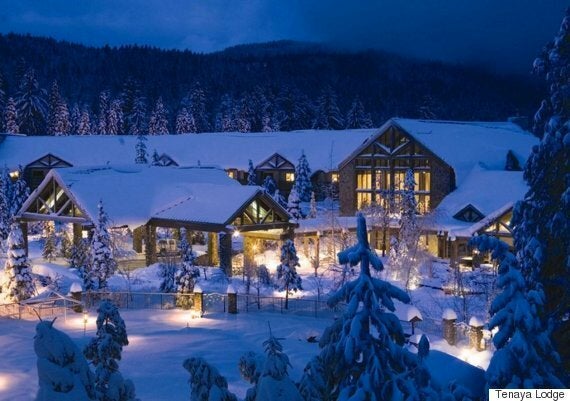 Far from being away from the main action, Tenaya makes itself the epicentre of activity. Offering archery, biking, hiking and much more, it offers a welcome respite from the packed park.
The first thing which strikes you is the imposing entrance hall. A ceiling so high it's hurts to look up, huge model bears and the obligatory mounted stag headmake for an impressive entrance. In April, it's so cold snow isn't unusual, so the open fire pits outside the hotel and the warm, cosy fire flanked by armchairs in the lobby are a welcome treat.
Breakfast is a big affair here, which, considering the activities of a typical guest, isn't surprising. There are mountains of fruit, cheeses, cold meats and pastries. I delved right into the pancakes, with lashings of maple syrup, topped with creamy scrambled egg and unbelievably crispy bacon. I'm pretty sure it was deep-fried. But I was on holiday so what the hell. I figured I'd eat for the day as I wasn't quite sure when I'd be eating again.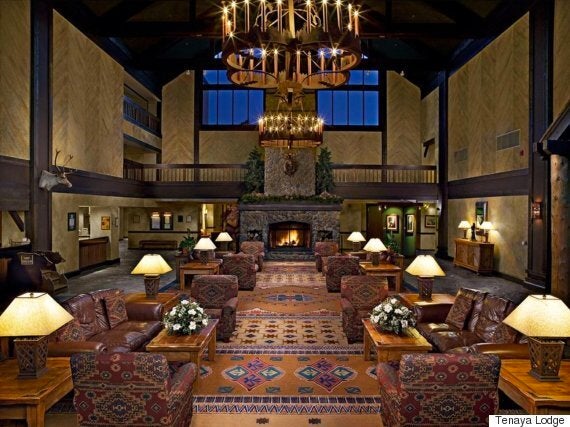 The incredibly impressive hall, complete with roaring fire
Before you even think about leaving, make sure you're packing a full tank of petrol. There's one gas station just before Yosemite, so fill up while you can as there aren't any more within the park, and you don't want to get stranded halfway up a mountain.
The biggest tip I can give is to leave early. Very early. Thanks to jet lag I was up at half four and out by quarter to five. The drive to the park is an adventure in itself, you can feel the air getting colder as you climb higher and higher on the pitch-black winding roads, occasionally being offered a glimpse of the vast valley below when the trees cleared.
I was able to catch the sunrise at Tunnel View, with only about two other people around. The roads were empty, and I didn't see another car for miles. Passing the same viewpoint on my return through the park, there were literally hundreds of people crammed into the carpark, with more coaches arriving by the minute.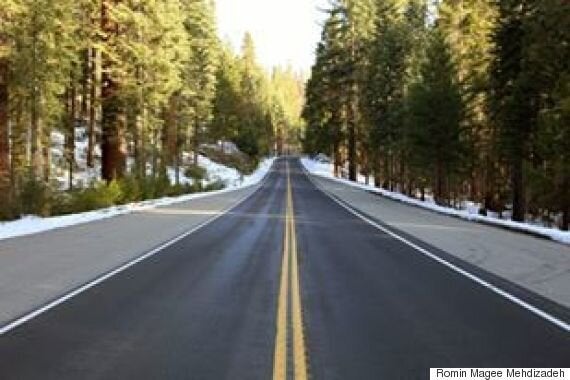 The eerily-empty roads can only be found first thing in the morning
I can't put into words how serenely beautiful the park is at the onset of dawn. The mountains were tinged a rosy pink, dew was still on the grass and the birds were just beginning to sing. I stopped off on a whim in a meadow at the foot of bridalveil fall, which had a river meandering lazily through it, and it was breathtakingly peaceful, bar the faint roar of the waterfall in the distance.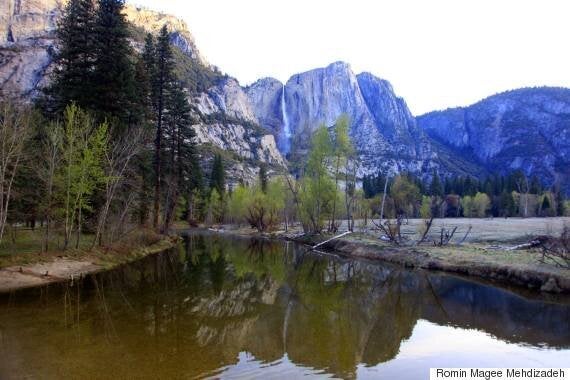 Bridalveil Fall, seen from a distance from one of Yosemite's many serene meadows
Another tip for you - don't be afraid to put away the map and just drive. If you're up at the crack of dawn, take advantage of having the road to yourself and enjoy the luscious - and occasionally hair raising - curves as it winds in and out of the mountains.
You'll also stumble across views you'd never otherwise have found; lay-bys in the road offering almost panoramic views of the park, snow glittering in the sun as it peters down through the dense forests, eerily-isolated wooden houses in the middle of a meadow, guarded by a fierce 'no trespassing' warning. The whole beauty of Yosemite is you don't know what you're going to discover. This way, you'll get an entirely different experience to everyone else who are just following their guide books.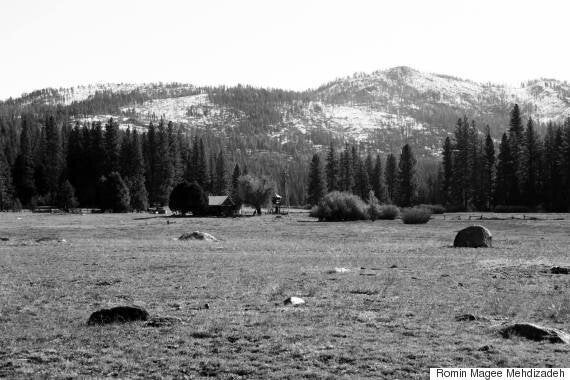 A lone log cabin stands in the middle of a meadow
I decided to head across the park, defying all the 'must-see' recommendations I'd read, and ended up in Hetch Hetchy, a glacial valley in the northwestern part of Yosemite.
The valley was flooded in the1920s thanks to the completion of the O'Shaughnessy Dam, and provides San Francisco with water and hydroelectricity, and also feeds the Tuolumne River. It's a fascinating example of where nature meets man, although the building of the dam is contested to this day. Flanked by intimidating rocks either side, visitors can complete a five mile round hike to the waterfalls on the left of the valley. It's a pretty invigorating trip through the New Zealand-esque scenery, made even more rewarding by being able to get up close to the waterfall, so close I was drenched by the spray.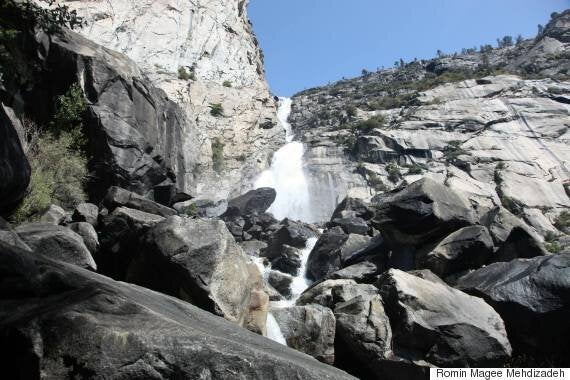 Tueeulala Falls is often overlooked by visitors in favour of Yosemite's more famous sights
When you've made it back from the waterfall, hop into the car and take your time meandering back to through Yosemite village. Stop off at various view points on the way back and soak up the gorgeous, panoramic scenery. My suspicions about traffic were correct; around 3pm I hit traffic and had to queue to cross junctions. At this point, I gave up while I was ahead and headed back to the hotel, but not before swinging by the Mariposa Grove of Giant Sequoias. There's trees and there's these trees. The giants dwarf anything I'd ever seen before, and makes you realise just how small and insignificant the human race is. It's a humbling experience, and spending a couple of hours hiking through the forest, shaded by the canopy of sequoias is a tranquil, serene experience.
As soon as I reached the hotel, I headed straight to the warm, cosy bar for a well-deserved drink. A huge Bloody Mary, complete with celery, asparagus (!) and carrots soon perked me up.
If you're heading to San Francisco, then you've got to make time for Yosemite. All I'd say is time your visit very carefully; you don't want your opportunity to experience nature at its best ruined by thousands of others with the same idea.