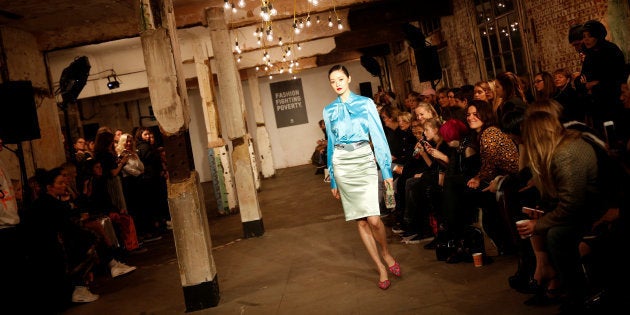 The fast fashion high street can F off.
Here is my guide to getting all the clothes you need, with what ever budget you have and not screwing over the planet and people (all be it ones you don't have to see or think about) in the process.
Save up and buy something you really really want and love, and only if you actually need it
This is the most important thing to remember when buying clothes, if you don't love it, need it and want it, why buy it?
Buying expensive things not only makes you feel great, it also makes you value it so much more, you're more likely to mend it if it breaks, wash it properly, and be proud when you have it on. My customers buy made to measure couture from us, but there are lots of other fabulous ethical ready to wear options if you're not quite at bespoke in the fashion stakes.
Holly Golightly only needed one iconic LBD, so do you.
The key to buying fewer things is making them go further. Take a leaf out of Coco Chanel's book and accessorise everything. It's amazing how many looks you can get out of one dress by putting it with different pieces.
Get a stylist (or at least find an honest friend)
I know not everyone can have a team of people to dress them each morning, but advice from a professional who understands your shape, style and personality can be priceless. Even getting a friend with a good eye in to tell you what suits you and what doesn't can mean the end of pointless purchases, and more considered style choices.
Sample sales (ideally ethical ones)
Okay we all love a good bargain, but there's a plethora of amazing designers out there and there are always samples and surplus stock they want to move on to help fund the next collection. Help them and yourself by finding a fab secret sample sale and grabbing a bargain.
Charity shop (if you have the time) and get creative
Actually, it's pretty hard to find something that fits and you love in a charity shop, but if you're creative or can sew and have a bit of imagination (and time) then do everyone a favour and get down to Oxfam.
Apparently the average clothes spend in the UK is approximately £1200 per year. So you've likely bought between 40 and 100 items of apparel. How many of them have you worn once, or not at all, and thought "oh well it was only a fiver" and thrown it out or given it to a charity shop?
Here is my quick no-nonsense calculation of average spend / value / outcome;
High street shopper spends £25 per week, on an average two or three fast fashion garments each shop = £1300 and 130 garments per year. All garments defunct, broken, boring, unworn after 5ish wears. After five years £6500 and 650(!!!!!!) garments in the bin.
Clever shopper saves up and buys three to seven pieces per year they love, look after and wear for years, accessorise to create differing looks and occasionally allow themselves a few less loved, but considered, bargains for when they want to dress down. A really nice, ethical designer dress costs about £150 - £500 (lets average that at £270 - so £270 x 5 = 1350 per year).
After five years £6750 and 25 garments mostly still in their wardrobe, still worn, loved and wearable for the future.
£ spend is about the same - value depends on if you value quality over quantity. Who looks best? Who is happier? Well, with the many studies that have shown consumerism is making us depressed, I'm pretty sure its not the person who has sent 650 garments to landfill, has a wardrobe full of crap that makes them look too fat / thin / lumpy / strange and feels like they have no money.
Want a new shopping mantra?
Quality not quantity, love - want - need, buy better buy less. And repeat....
Now if you're a fast fashion junkie looking to kick the habit, you don't have to go cold turkey... Here's my suggestion. When you are out shopping and have a hand full of stuff you want to buy, before you go to the tills take another look - PUT BACK the one item you like the least and make a note of how much it would have cost (even better put the money into a piggy bank or savings account). After a year have a look at how much you have saved and go buy something really special to wear with that money. One piece you'll keep in your wardrobe for years. If that makes you feel good, keep going, put back two items... and so on, until you are a conscious shopper extraordinaire!
Yours in anticipation of a wonderful ethical, considered, slow shopping spree