It's easy to be lured in by the bright lights of Tokyo, and while away your trip there. But to experience true Japan, you'll need to tear yourself away from the crazy capital.
First off, invest in a bullet train pass - and you'll need to buy it before you go. Yes, it's pricey, but it's easy to get your money's worth - not to mention it's an incredible example of Japanese efficiency.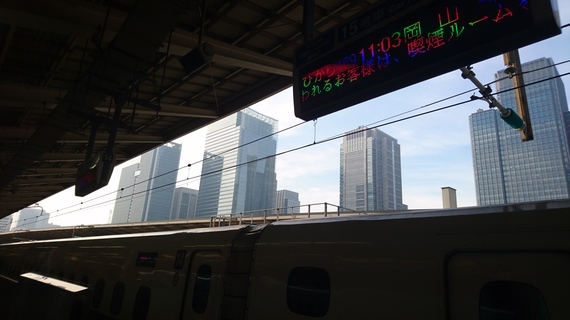 The Shinkasen
The sleek train is an experience in itself; ride from Tokyo to Osaka and you'll get to catch a glimpse of the stunning, majestic Mount Fuji (make sure you're sitting on the right hand side of the train). There's oodles of leg room, so no need to upgrade. Just make sure you take advantage of the incredible sub-ground food malls in Tokyo station and bring a bento box to snack on. And it's always a good idea to reserve a seat. Don't worry if you end up next to the smoking carriage, it's so well portioned off you can't smell it at all.
A quick word on buying your pass. You *must* buy it before you head to Japan. Tourists can get a seven-day pass for £203. If you try and buy it while you're in Japan, you're looking at spending more than £1,000. You can book seats on the Shinkansen very easily - just head to a JR ticket office. Do not lose your pass and carry it with you at all time, along with ID.
And finally, make sure you get on the JR trains - not the Nozomi or the Mizuho - they're different and you'll have to pay for another ticket.
If you have time, head further south to Hiroshima and Nara, and if you've got deep pockets, spend a night on Miyajima island.
But five days out of Tokyo should give you ample time to get a taste of Japanese culture. Here's what I'd recommend:
Osaka:
Osaka is known as the city of "kuidaore," literally: "to ruin oneself by eating to excess".
It's kind of like Tokyo on a manageable scale.
Head to Dotombori streets to be wowed by the lights and slurp on ramen ordered from vending machines. It's the city's entertainment and nightlife district so there's plenty of chances to excessively indulge. The Amerika-Muri district is fantastic for people watching, and to mingle with trendy Japanese teens.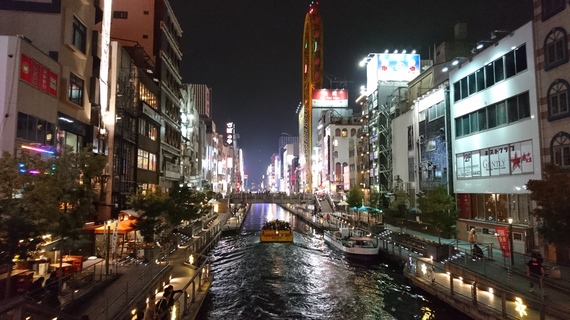 Ebisu-bashi bridge
Ebisu-bashi bridge is a great place for a picture, offering a great view of the famed Dotonburi neon lights. The old bridge is underneath the now famous Glico running man - first installed in 1935 and now a famous landmark for the city. There's also a giant mechanical crab on the facade of restaurant Kani Dōraku, as well as a drum-playing clown called 'Kuidaore Taro'.
Osaka is a great place to sample Japanese street food - Tokyo can sometimes feel slightly intimidating due to the sheer scale of restaurants and hole-in-the-wall establishments.
There's four dishes you need to know in Osaka:
Udon noodles - head to the calm oasis of Imai Honten for these
Okonomiyaki - Japanese omelette. Check out Chibo or Yukari
Takoyaki - a ball-shaped snack of batter filled with octopus. You normally eat these on a stick and they're best hot off the yatai street food stalls. Try heading to Shinsekai district - although you can grab them pretty much anywhere.
Teppanyaki - derived from the word 'teppan' - iron girdle - and 'yaki' - to grill. So basically it's food, usually red meat, grilled. And if you head to the right place, then they'll even do it in front of you. Head to Juju for a pricey, yet worth absolutely every yen, meal.
There's two main districts in Osaka: Kita - the business district, which also houses all the high-end shops. And Minami - the shopping district. The shopping is fantastic.
Indoor arcades, and seriously impressive malls, and, unlike Tokyo, everything is walkable.
Osaka castle is worth a visit, although if you're going to Himeji I'd save your castle fix for there as the castle in Osaka was rebuilt after being decimated during the war, so it's not an original.
You can get a lot of bang for your buck in Osaka, so if you're on a budget, it's not a bad idea to stay in Osaka and commute to Kyoto.
Matsui Garden Hotel is very reasonably priced; around £100 a night will get you a double room with access to the hotel's top floor lounge, and all guests are allowed to use the onsen.
If you're going to experience true Japan, then bury all semblance of English prudishness and get yourself to an onsen. They're single sex, but you absolutely have to bathe naked. No exceptions. also, a note on tattoos: they're not welcome. So if you've got a small one, cover it up with a plaster. If it's big, you might have to find a time to go when it'll be empty.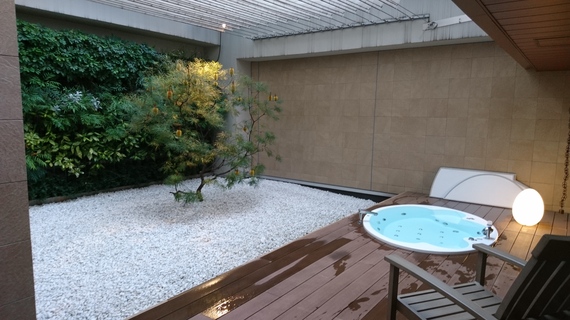 The outside area of Matsui's onsen
Matsui's onset is a great introduction as it's modern, fairly private and easy to work out what you need to do. There's a carbonated indoor bath, as well as a small jacuzzi outside, which is a beautiful calm oasis.
Himeji Castle: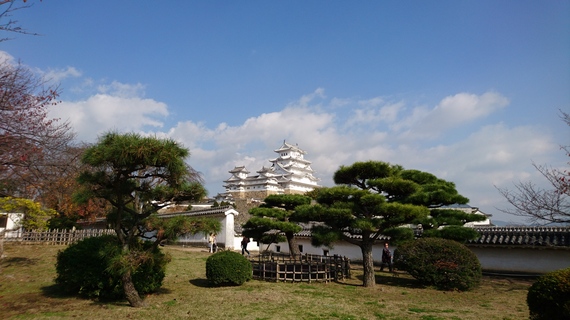 Himeji Castle
You don't need more than a day here. Don't bother staying the night as there's not much else around. The castle is beautiful, but don't miss the Koko-en garden; a true glimpse of traditional Japan.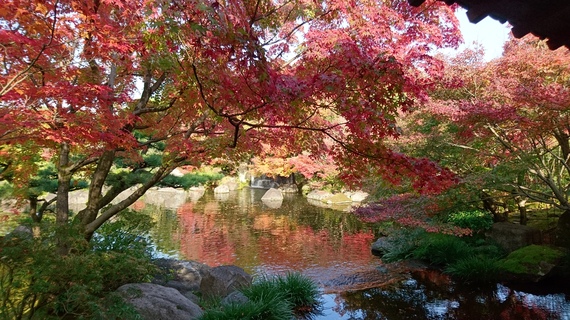 Koko-en in Autumn
If you can go in November, do, as the colours are spectacular. It's an easy ride from Osaka, although it will take you about an hour on the train. It's a 15 minute walk from the train station, and incredibly easy to find. If you do have some time to spare, it's worth taking a quick wander around the backstreets of Himeji, down near the train station. Don't expect anything glamorous, but it's a fascinating insight into small-town Japan. And, weirdly, it's choc-a-bloc with hostess bars.
Kyoto:
Don't try and pack Kyoto in to one day. I tried, and it didn't work. You need at least two if you want to tick off the main sites as they are so spread around the city. If you can afford a private driver, get one. If not, be prepared to hop on the local trains (or have a go at trying to understand the bus network). I actually stayed in Osaka and commuted to Kyoto on the bullet train. Hotels were much better value in Osaka and you can hop between the two cities in 15 minutes on the Shinkansen (as a thrifty Brit, it's also extremely satisfying knowing I've made the most out of my bullet train ticket).
Fushimi Inari Taisha are the famous red gates. Be warned, it's touristy, but for good reason - you'll never see anything like it again. Try and get there early so you can avoid the worst of the crowds. It does slightly spoil the experience when you're being pulled along by a tide of snap-happy tourists with selfie sticks. Nevertheless, it's worth the seven minute tube ride from the station.
Gion corner:
Go Geisha spotting and soak up the quiet, calm backstreets of Kyoto.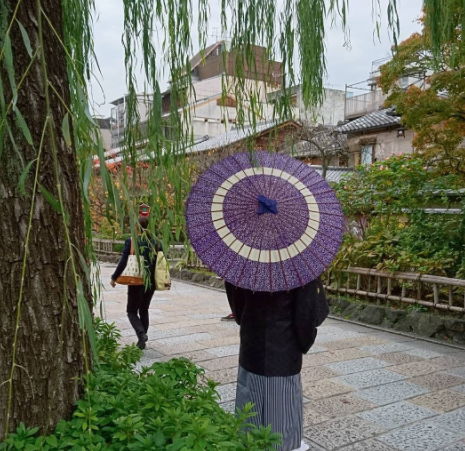 Geisha-spotting
Pontocho Alley: one of the city's most interesting dining areas, and a great place to geisha-spot in the evening.
Bamboo forest: Again, it'll be busy, but it's well worth visiting Arashiyama to look at it. You can make a day of it as there are plenty of restaurants in the region.
Need to know:
Nishiki Market for weird street food. The narrow, covered marketplace is nearly 400 years old and sells everything from eels and sugared fruit to rice balls and squid.
Atami
On the bullet train, it's easy to fly by the nondescript station of Atami, and be lured to the deer-overrun Nara, historically-significant Hiroshima or Kobe, the meat-lover's paradise - as many tourists indeed do.
Atami used to be the famed gateway to Izu Peninsula - where Tokyo's city workers flock to when the heat gets too much and they need some refreshing sea-air and reviving hot springs. During the 80s, Atami was a popular holiday destination, which meant the town boomed. When the economy bubble burst 10 years later, however, Atami slipped into a decline. As a result, there's a host of spectacular ryokans, but Atami feels more of a ghost town than a buzzing summer hotspot. However, don't cross the small seaside setting off your list just yet; if you look in the right places, the resort has its own quaint charm.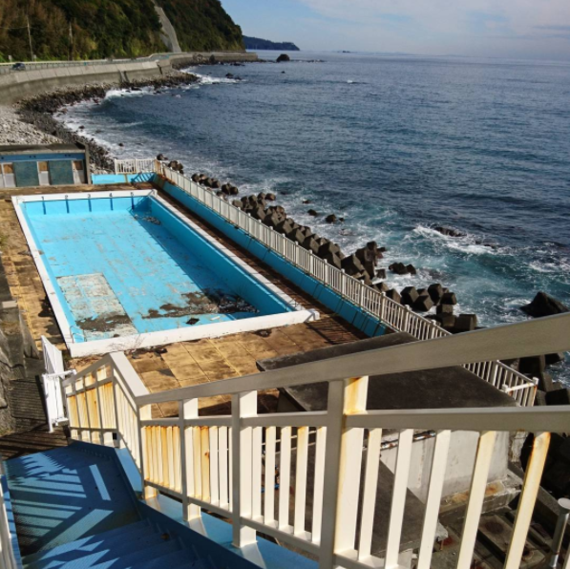 An abandoned swimming pool in Atami
Step off the bullet train - a mere 50 minutes after leaving Tokyo - and you'll find yourself browsing through rows of delightful street stalls which adorn the roadsides, selling everything from dried fish and hot sweets to incense and kimonos. You're only about 15 minutes walk from the sea, but the glistening Sagami-Nada waters is best viewed from up high. There's not all that much to do in Atami, rather it's a welcome respite from the craziness of the capital. It's a hot springs town, and there's a multitude of resorts offering a traditional onset experience. The jewel in Atami's crown, however, is the rickety, ageing KAI Atami ryokan - a traditional Japanese ryokan as you will ever hope to find.
Hop in a cab, and for just a few pounds, you'll be winding up the coastal road towards the historical inn, which was built in 1849. I arrived at night, and was welcomed by hotel staff, who fussed over me as if I were an old friend. Guests must abide by tradition - so make sure to slip into suripa - Japanese slippers - which are provided to avoid any embarrassing faux pas, as soon as you step through the door and into the genkan - the entryway. You'll soon be ushered into the tea salon and asked whether you would like kaiseki - the traditional multi-course Japanese dinner - served to you in your room (say yes, it's a fantastic, unforgettable experience). While your bags are taken into your room, you'll be plied with local plum wine - utterly delicious - and informed of the evening's entertainment. If you're lucky you'll get to catch an Atami geisha performance, and try your hand at tosenkyo - a traditional parlor game.
Once you've been shown to your room, don't panic about the lack of bed, which is exactly what I did, as hotel staff will come in later and assemble it (this is true Japanese-style sleeping).
Change into your comfortable kimono, and head down to the women's baths to relax before dinner. Again, this is a very traditional ryokan - so no clothes, and no tattoos. The hotel, although worn, oozes charm - and the old wooden structure only adds character. The onsens at the ryokan are fed by Hashiriyu, one of the three oldest hot springs in Japan, and they can reach temperatures of 41C, so take care if it's your first onsen experience.
Dinner will be served on the room's chabudai - essentially a low table, so get comfy, by your personal host or hostess. The mind-boggling number of courses make up the kaiseki meal, which has evolved into an art form balancing taste, texture and appearance of food, all presented in dishes to enhance the theme of the meal.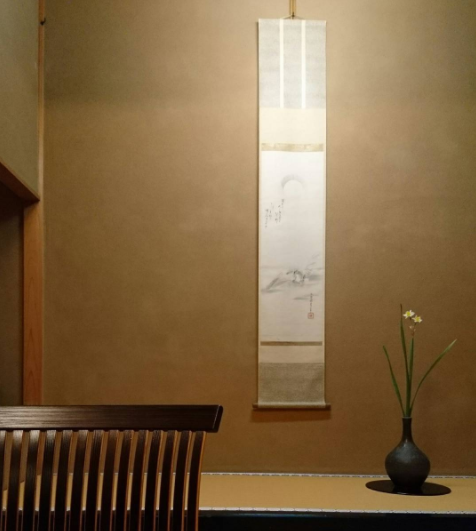 Traditional ryokan time
Each course is beautiful arranged, thoughtfully prepared, and uses seasonal, local ingredients. Expect matsutake dobin mushi, a steaming, fragrant mushroom broth served in ceramic teapot; foie gras tempura; shabu shabu with wagyu beef and enoki mushrooms; radish jelly, creamy wasabi soup with pickled seaweed, while each hor d'oeuvre is a masterpiece in itself.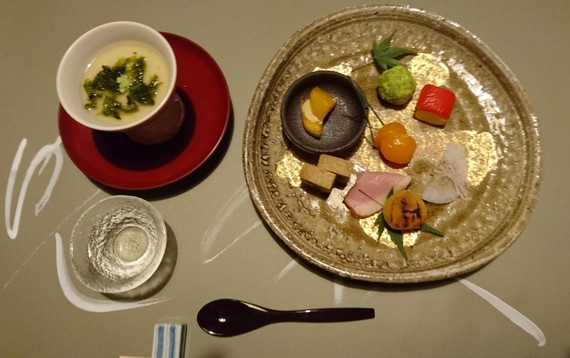 One of the numerous courses served during kaiseki
If you really want to be traditional, kneel at the table - try and see how long you'll last; I think I managed about 10 minutes.
After dinner, head to the evening entertainment, and sip locally brewed sake, before heading to your mattress for a surprisingly-comfortable night's kip on the floor.
The true highlight, however, is waking when the sun starts to filter through the paper sliding shōji doors, and heading down to the wooden veranda to watch an utterly spectacular sunrise over the sea. They don't call Japan the land of the rising sun for nothing. I watched the most beautiful, brilliant orange sun emerge over the horizon, stunning my fellow guests and I into a revered silence.
Sunrise from the terrace
Shortly after, I headed to the onsen again - although the one further down past the veranda - the hotel switches the men's and women's onsens around so you can experience both. It was a totally different experience from the previous evening. The baths were perched on the cliffside, constructed entirely from cypress logs, affording a stunning view over the water, but with complete privacy. It was difficult to tear myself away - and indeed I only did when I remembered there would be another countless-course breakfast which would be shortly served in my room.
Reading on the tranquil enclosed lawn was the order of the morning, after which I headed down to the seafront and explored an eerily abandoned - although strangely charming - swimming pool - and freaked myself out with the Tsunami warning signs - a sobering reminder of the constant danger Atami's inhabitants face.
Although humble Atami isn't the most obvious destination to head to, it's the subtlety of the town and unassuming demeanour I loved; it's a fascinating relic of a bygone era, and despite not being able to bill itself as a bustling hotspot anymore, its high clifftop perch offers a breathtaking sunrise you'll be hard pressed to beat.