Brazilians call them the Lucky Trucks or Caminhões da Sorte. They roll into town every week and in the remote mountain and jungle villages of Brazil they're a familiar sight. Parked up in the square, these gigantic HGVs - where the lottery draws are held - also sell national lottery tickets and provide simple banking services to people in some of the country's most far-flung villages.
They may be mobile lottery kiosks and banks on wheels, but the Caminhões da Sorte, operated by public bank, CAIXA Economica Federal, are also feats of ingenuity. They're evidence of how engineers and technicians are using unconventional means to connect more people than ever before to the benefits the internet provides.
Recently the Oxford Internet Institute created a map showing internet usage and penetration by country across the world. Currently, however, only 40 per cent of the world's population have access to the internet. Globally, there are 4 billion people not yet using the internet, and more than 90% of them are from the developing world.
Getting the other 60 per cent of the planet online isn't just as simple as laying some new cables. It means combating extreme climatic conditions and harsh terrain and coming up with original solutions to deliver connectivity to hard to reach places.
At the very heart of connecting
The Lucky Trucks are a triumphant example of this. To function, the trucks need a secure and reliable mobile broadband connection to link them with Caixa's data centre in Brasilia. This fail-safe solution is based on a redundant network - a nexus of satellite, broadband and radio links which can be swapped in and out for each other, so should one link in the chain fail, alternative routing options are available.
In practical terms, this means that no matter where players are, they can buy their tickets and watch the draw as it's broadcast live from the truck.
But if you think that a bank branch on a truck is impressive, Caixa also owns two floating branches. The Chico Mendes branch, named after the environmentalist who fought to preserve the Amazon rainforest, is the first of them: equipped with satellite technology to provide a secure connection to the bank's data network. They sail up and down the Amazon - a catchment area the size of Great Britain - providing essential services to 260,000 people so that they can transfer money, apply for micro-loans or access social benefits.
In neighbouring Colombia, which covers an area of more than one million square kilometres, it's not boats, but a much more traditional means of transport that are helping the government reach its aim of having 50% of all homes online by the end of 2014.
We've been supporting the Vive Digital project for digital inclusion since 2004, providing infrastructure and services and mixing high tech with low tech to get the job done. So when the team had to tackle the challenge of reaching inaccessible villages, they knew they needed some real horse power. That's why on the final leg of some journeys, you'll find mules carrying the satellite equipment along dirt tracks in the lush mountainsides.
Getting people online under extreme climatic conditions covers both hot and arid climes as well as the cold and windy. Take for example, the efforts to keep the Ice Station Troll in Antarctica operational. This is just one part of a worldwide communications network that was set up for the European satellite navigation system, Galileo. To protect the ground station kit, a 3.8 meter high VSAT parabolic antenna, from the harsh conditions, a protective dome was built, 6.3 metres in diameter, to shroud it from the wind and cold, creating a giant spherical pod.
But to better connect people you don't have to travel the ends of the earth. Consider the rise of digital healthcare in Cornwall. With pressure on the NHS to boost efficiency and cost-savings, progress has come in the form of telehealth. Some 1,000 patients in south-west Britain with long term health conditions (such as chronic lung or heart disease) monitor and manage their medical conditions from home, rather than in a hospitals or GP surgeries. Regular monitoring helps patients to self-manage their condition, supporting their being able to independent for longer can help avoid unplanned and expensive trips to hospital.
There is an art and a science to making sure that the network of networks reaches every part of the globe, but it takes resourcefulness and determination, not to mention unconventional means to spread the threads of the World Wide Web and make cover ubiquitous.
Access thanks to mules: Internet campaign in Colombia - Vive Digital project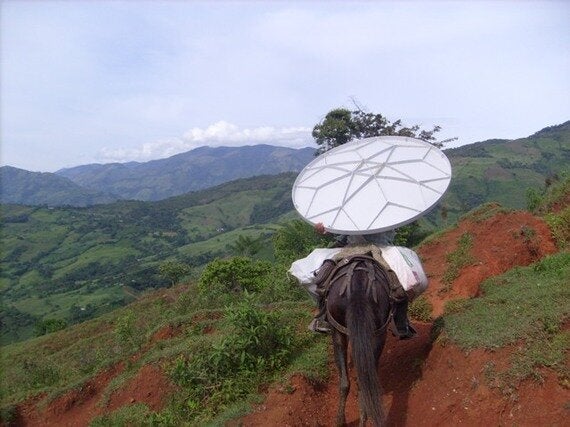 Satellite station in Antarctica - Ice Station Troll in Antarctica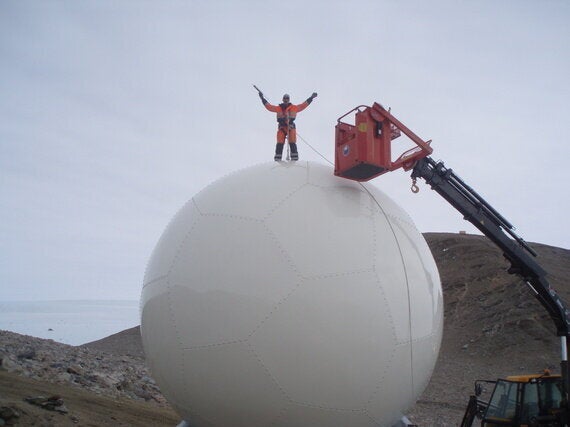 Bank branches on the Amazon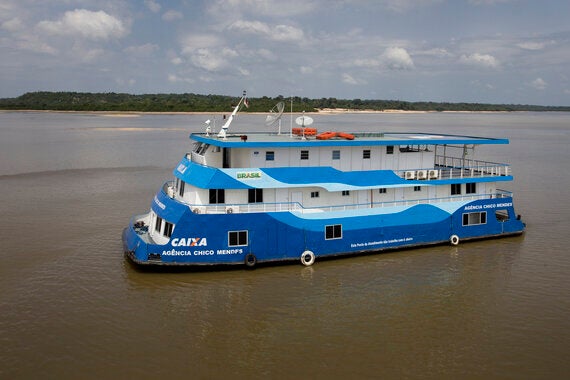 Floating bank branches: This boat belongs to the public bank Caixa Econômica Federal.