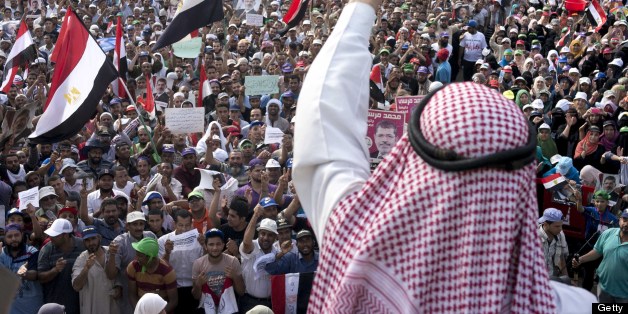 Getty
From the first rumblings of revolution to the striking events of recent days, Tahrir Square has inspired a new generation of young Egyptian musicians and rappers. Their music was born on the streets of Cairo during the 2011 revolution. Now, two years later, these courageous young artists perform on those very same streets before crowns of hundreds of thousands of protestors.
I went down (to Tahrir) and I said "I'm not going back,"
And I wrote with my blood on every street,
Those who didn't hear us, hear us now,
And all the barriers are broken down.
In every street in my country, the voice of freedom calls out.
Amir Eid's revolutionary song Sout al-Houreya (meaning The Voice of Freedom) was first released in Febuary 2011, just after the revolution that toppled the regime of Hosni Mubarak. Within a matter of months it had gone viral on the Internet. Along with Rami Essam's Irhal! (Go!), it spawned a new generation of politically inspired Egyptian music that has become an intractable element of the country's struggle for democracy.
Dr Mark LeVine, Professor of History at the University of Califoria-Irvine and himself an R&B musician, was with the artists at Tahrir Square. For Dr Levine, music showed protestors "that [Tahrir] was also a place of joy and not just of violence. These guys would be literally in the tear gas all day and then go in the studio all night. It's really the first music in the modern era that was literally written 'in the trenches,' recorded the moment it was being written and then put out almost immediately. That's a really new, unprecedented phenomenon."
Two years on from the revolution, as millions returned to the streets under the banner of Tamarod (Rebel), Tahrir's "voices of freedom" continue to echo out across the crowds.
"I rebel, to strip this parrot of (public) confidence
I rebel, let's rid ourselves of the Brotherhood
I rebel and say "Egypt is not a slave of rule"
Once again, we will say "The Brotherhood regime must fall!"
For MagicRap, the artist behind this popular anthem, Lbisna Khazouq (We Were Impaled), rap has a particular role to play in the revolution: "It is the voice of the street. It can tackle all elements of our life. We write about what is happening in Egypt today, socially and politically."
But for other artists, rapping the revolution isn't just about reflecting a reality, but selling their dream of a free Egypt to the West. The Tamarod movement, which resulted in a military coup to depose president Mohammed Morsi, has produced mixed reactions from the international press, many of whom fear a violent response from Islamist groups. According to protest rapper Arabian Knightz, the focus now should be on winning them over.
"I think our role in Egypt, in raising up our people and making them know about things, is already less important than it was last year, because we've achieved most of this. We're going to work on English songs a lot because we have a lot to explain to the West about what's been going on here for the past few years." Their bilingual song Rebel, is already a big YouTube hit.
I'd rather die than to live in blindness
Eyes wide as I see the violence
While you slumber
Poverty and hunger
Break the silence
While the screams of a mother left childless
Echoed like sirens
As the media denies it
Masses just buy it 'cause they keep us all frightened
Rebel.
Egypt's future is far from assured. Angered by recent events, the Muslim Brotherhood have already taken to the streets and there have been numerous reports of violence. But when it comes to music, the Tamarod campaigners are the undisputed kings of Tahrir. The Islamist movement has failed to produce any comparable artistic talent at all.
For Dr Mark Levine, the reason for this is fairy simple. The Muslim Brotherhood, he claims "is not opposed to hip-hop. Most people who are religious are not going to put in the time it takes to become a good rapper. Rap is its own religion. If you are going to rap right you have to treat it like a religion."