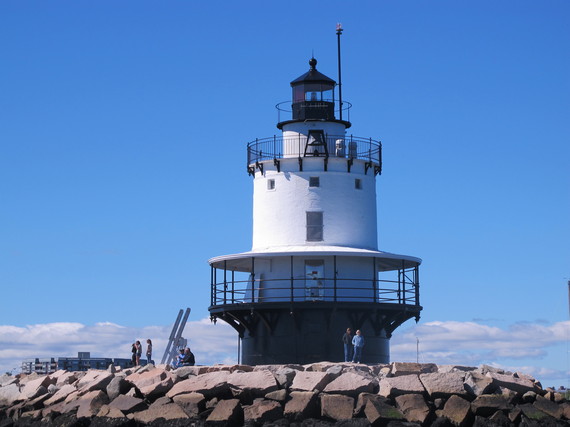 Lighthouse near North Haven Island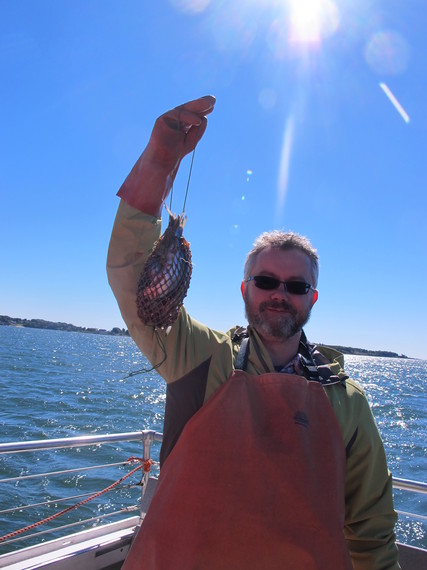 Lobster bait!
It's when flying in a tiny aircraft, where the entire side of the plane seems like one elongated window, that you notice the landscape all around you: the sky, the forests, clouds and the sea. And on a clear sunny day, with no mist rising from the ocean surrounding the islands, it is possible to see for miles and miles in every direction.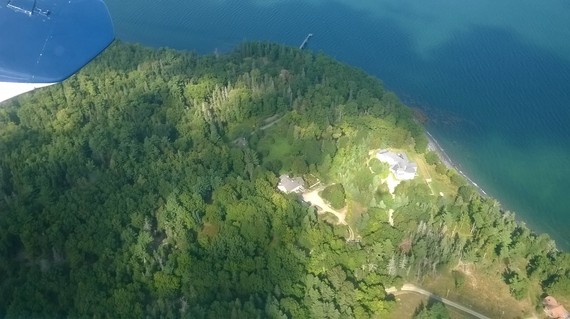 Arriving into Bar Harbor Airport from the air is truly spectacular. I could easily spot Mount Desert Island below - our destination. It loomed larger and larger as our plane starting descending.
One of dozens, if not hundreds, of islands off the coast of Maine, Mount Desert Island is world famous for Acadia National Park. Created by John D. Rockefeller, Jr. this park is crisscrossed by miles of hiking trails and carriage roads. The very best time of year to come to Acadia is autumn when the colours of the foliage are changing. Alternatively, it is nearly as attractive in the spring and summer when all is lush and green. Along the 27 mile loop road are Sand Beach, Thunder Hole, Otter Cliffs, Jordan Pond, and Cadillac Mountain. Truly a spectacular rocky backdrop for any activity.
I, alas, am here in the autumn just before the seasonal bonanza of colour. But with the weather this gorgeous, who can complain? It will be perfect hiking weather.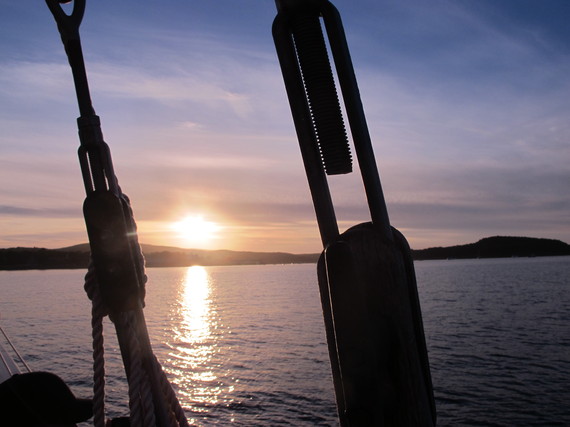 DownEast Windjammer Sunset Cruise
But first, on arrival at Bar Harbor, we sailed on a sunset cruise aboard the four masted schooner the Margaret Todd. There was something peaceful, even spiritual, about maneuvering around the harbour with the breeze at our backs and ruffling our hair. Our experience was accompanied by the music of accomplished singer/guitarist John Tercyak. A woman had brought two enormous dogs on board with her that everyone admired. There were also sightings of small toothed whale in the bay. Magical.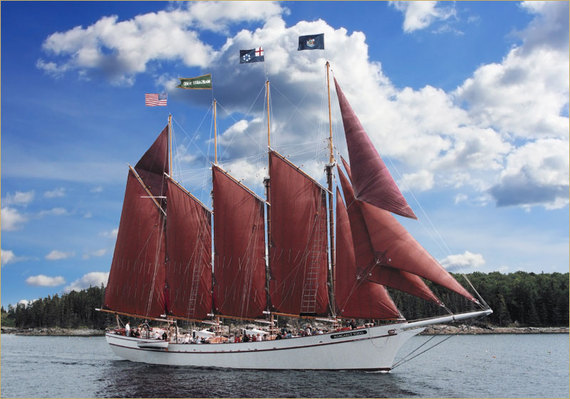 © DownEast Windjammer Cruises
Early the next morning, a horse drawn carriage ride was the just the ticket to take in Acadia National Park. Departing from Wildwood Stables, we explored Day Mountain in a carriage being pulled by enormous Percheron horses. A relaxing tour with an engaging driver accompanied by Bandit the dog.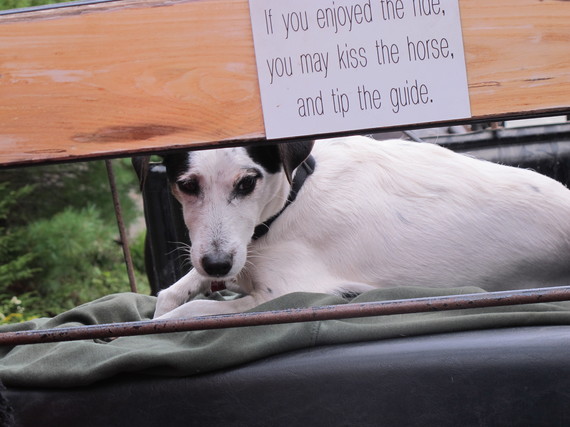 Sign reads - If you enjoyed the ride, you may kiss the horse and tip the guide
Then it was a quick spin over to picturesque Jordan Pond for a 4 mile hike. The south east side of the pond is a manicured, smooth path while the opposite shore is covered with about ¾ of a mile of granite boulders turning into another mile of boardwalk built over marshy lakeshore. A bit challenging but lots of fun and an invigorating walk.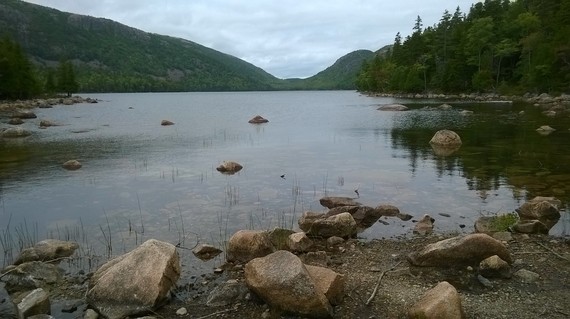 Jordan Pond, Acadia National Park
That evening, we tried out the unusual Vegan/Cuban/Brazilian inspired menu at the Havanna Restaurant in town. I had a delicious vegan cauliflower soup and the seafood paella, with fresh lobster, mussels and clams, filled me to the gills. Wednesday is ½ price wine on selected bottles so we had the 2008 Margaret River Chardonnay. Excellent value. I felt I finished off the day in style. They now have an outside area called the Parilla which I will try out on my next visit.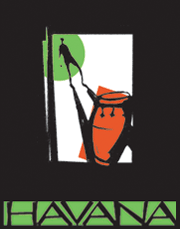 Havanna Restaurant Logo
Baiting the trap
Lobstering was our activity of choice in Portland just a hundred miles or so down the coast from Bar Harbor. Lucky Catch tours took us out on a proper working boat. The deck hands had us kitted out in lobster aprons and gloves before you could say 'duck, it's a seagull!' This was the real deal as far as lobstering was concerned. We were soon out in the harbour swiftly getting to grips with pulling up the traps and re-baiting them. We learned to handle and measure the lobster, throwing back the ones that were immature. Lobster genitalia was analysed in some detail and we also caught a female breeder with eggs attached to her underside. Breeders tails are marked and so these animals are thrown back in as well. I now have a new appreciation for these perfect creatures after spending a couple of hours in their environment.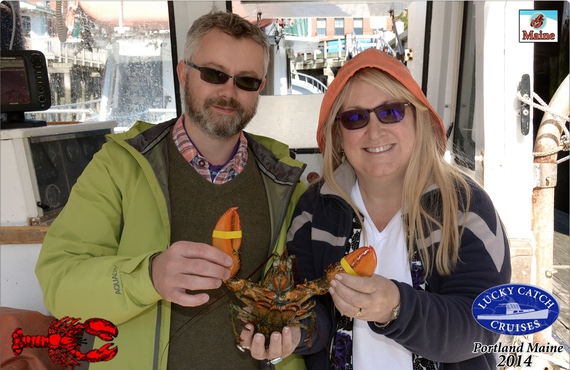 Me on a lobster boat!
While in Portland, we enjoyed the excellent service and accommodation at the Portland Harbor Hotel in the Old Port District. This elegant hotel is well placed for all sea going activities, such as lobstering, as it is quite literally one block from the harbour. As far back as the 1850s, Fore Street (where the hotel is located) was bang on the waterfront but then landfill was brought in to create Commercial Street which surrounds the harbour.
Later in the trip, was an overnight stay on quiet North Haven Island which is only accessible by ferry from the mainland. With only about 400 full time residents, this verdant island is incredibly relaxing. And it is the perfect place for a romantic dalliance or honeymoon. After purchasing our $17.50 return ticket we had a smooth voyage over on the ferry. Strolling along the waterfront, I stumbled onto the commercial area of the wharf. There, a young sailor was showing off a blue lobster caught that day. Only one in ten million lobsters are blue so it was an amazing sight to behold.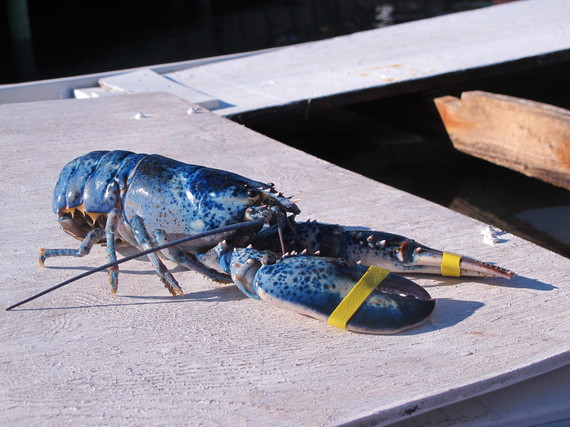 A blue lobster caught off of North Haven Island
The Nebo Lodge, a historic property on North Haven, is now all eco-sustainable and has pale beech wood throughout such as you find in Scandinavia. Our meal at the Nebo Lodge Restaurant was, overall, very good. It started with fresh oysters, which were marvellous, and my companion had the very fresh and succulent Heirloom Tomato & Goat Feta salad. My grass fed hamburger with chips was tasty and just filling enough though my other half found the rib-eye steak to be flavourful but not as tender as he would have liked.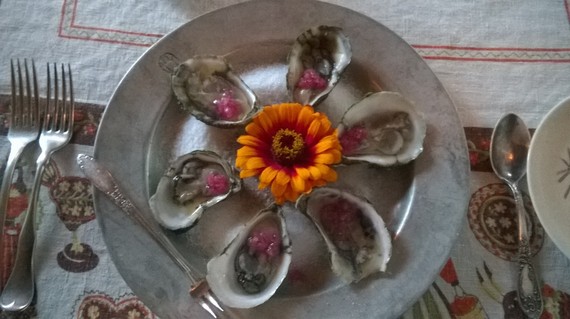 Oysters at Nebo Lodge Restaurant
We stayed at the historic Anne's White Columns Inn while in Bar Harbor. This clapboard white manor house is lovingly decorated with period furniture and accessories. Owner, Bob, is often found tickling the ivories at the Reading Room Restaurant in the Bar Harbor Inn. Breakfasts at Anne's White Columns are homemade and truly decadent: blueberry waffles, a terrific quiche with sun-dried tomatoes and lovely yoghurt with fruit. Great to set you up for an active day.
All images ©roamingscribe unless stated.
Click on the links for more information on Maine and on New England.