What it's really like going on someone else's holiday
Imagine going on a holiday to an unknown destination with a suitcase packed full of someone else's clothes. Well, that's exactly what I've just done with some very **interesting** results.
I've always been fascinated by other people's holidays. Where it is they go and what it is they do. Everyone is unique, and within that, every holiday is unique too. That's why I decided to take Expedia's #MysteryLuggage challenge, to go on someone else's holiday.
For that, I needed someone else's mystery luggage, so early one morning I found myself heading to Greasby's, a South London auction house that deals in a veritable bevy of items including lost luggage, which is why I was there.
Based in the back of a garage, Greasby's is a treasure trove of knick-knacks, and if you've got a good eye you can really uncover some hidden gems (figuratively and literally).
The thing about buying lost luggage at Greasby's is it's completely random. As it's a blind bid, you can't look what's inside the suitcase beforehand, so you really could be buying anything (which is what I wanted really).
Obviously I didn't have a clue what I was doing, so come bidding time, I rode my luck more than anything else and hoped that no one would bid against me. The opening bid was £14. I went in with £16. It was countered by the auctioneer at £18. I stood firm on £20, and all of a sudden I was the proud owner of a new suitcase full of random clothes. All in all it all took about 32 seconds. Who know half a minute could be so fun!?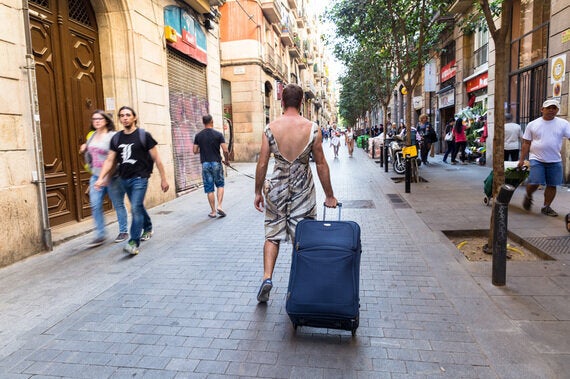 Now proud owner of someone else's mystery luggage, I still had a holiday to go on, so I quickly caught a taxi over to Heathrow Airport. Bear in mind that by this point I still had absolutely no idea where I was going!
At Heathrow with plenty of time, I jumped on Expedia and searched around looking for somewhere to go. I soon decided that I wanted a beautiful beach and some summer sunshine, so I decided to go to Barcelona! Also, despite booking last minute, I managed to save £60 by booking a flight and hotel combination, so I was pretty happy with that.
I have to admit, after I booked everything with this randomer's suitcase in tow, I started to feel very very nervous about things. I think my biggest fear was that it would be packed full of women's clothes. Well, almost prophetically, it was.
Straight away my eye was drawn to a cute little lacy number (completely see through of course) and a tight dress with daisies on it. Also, just for good measure, there were a few bras and even a corset, which quite frankly I didn't even know which was the right way up.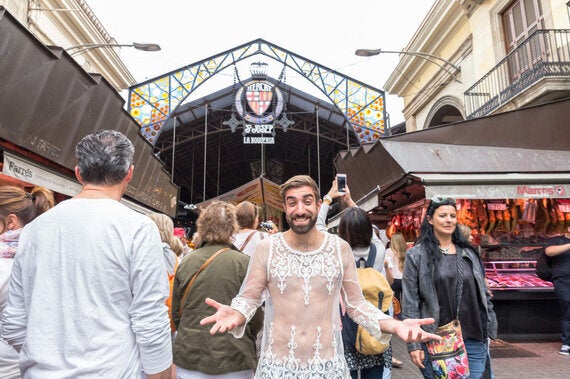 Now that I knew the contents of my mystery luggage, it was time to go on someone else's holiday. For the next three days I hit the streets of Barcelona, all in my new wardrobe of course.
I'm not going to lie, the first time I put on that blue and orange floral number was one of the most embarrassing moments of my life. However, as soon as I saw people's faces, at how they smiled and laughed about it all, I started to feel good about things a little bit more. And when I got a few wolf whistles and even a "guapa" (beautiful lady) from a local, I knew I was rocking it.
After seeing sites like the Sagrada Familia, Parc Guell, Las Ramblas and La Boqueria I was starting to feel great. Who knew women's clothes could be so comfortable!
And finally, I couldn't leave Barcelona without stopping off at Barceloneta, the beautiful beach on the edge of the city (people, look away now...)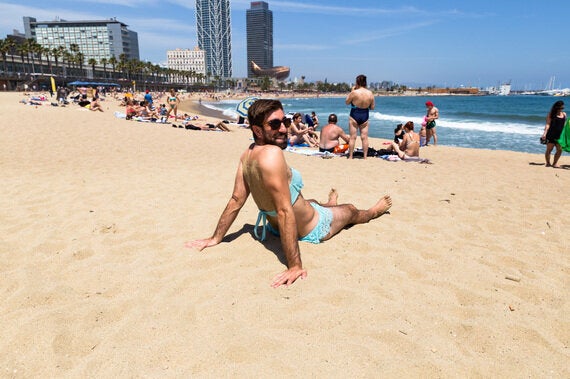 I have to admit, going on someone else's holiday was an amazing experience, and I can't wait to see where it takes me to next!