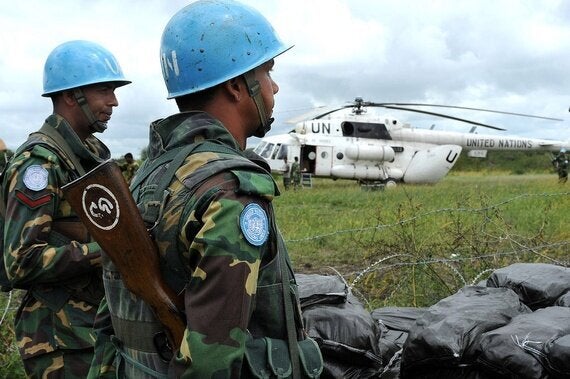 The United Nations Security Council recently approved a two-week extension of UN mission in South Sudan, known as UNMISS. The temporary mandate is an attempt by the United States to buy time in order to persuade the region to 'fortify' the 12,000 'blue helmet' forces already stationed on the ground. UNMISS was instituted a day before the new nation gained its independence on July 9th 2011 to promote a peaceful transition to statehood. However, some citizen groups expressed concerns at the time about perils of placing UNMISS under Chapter Seven of the UN charter, which involves use of force. Nonetheless, a UN Security Council resolution establishing the mission for a year was ratified by South Sudan cabinet.
An egregious Status of Forces Agreement was subsequently and hurriedly signed by Foreign Minister Deng Alor Kuol and Former UN Special Representative Hilde F. Johnson.
In the first year of independence, the new nation was aflame. Intertribal clashes, cattle raids and child abductions were the order of the day. South Sudan battled with low-intensity but growing rebellions across the country. The baby nation apparently needed interlocutors such as the UN to put its house in order.
The inaugural UNMISS mandate was spectacularly ambitious. It spoke of security reforms, disarmament, demobilization and reintegration strategy, institutional capacity building and civilian protections, among others. A year passed crushingly on without the UN making a huge dent in the execution of its wish-list mandate, a sure sign that UNMISS seemed destined for a long haul. Not only was the mission renewed in 2012, but it was also done so without the consent of the host government. Self-determination became 'UN-determination.' I knew at that point that something was amiss in the state of Denmark: The UN went through "mission creep."
IN 2013, clashes erupted in Juba and quickly spiraled into a three-year vicious war that cost great damages in life and treasure.
The crisis in South Sudan presented UNMISS with a dose of reality check; that it was impossible to do all, everywhere, every time. Focus was required to achieve a measure of success. The mission was therefore scaled down to "protection of civilians." The refined mandate produced a phenomena called "Protection of civilian sites" (POCs) in major towns and cities in South Sudan, where thousands of civilians fled to in search of refuge and safety.
The new approach had its false-starts. The UN forces in some incidences in Akobo, Bor, Malakal and Bentiu watched on while civilians were being slaughtered and even raped in their noses, in spite of their tanks and sophisticated weapons.
As a debate rages on what policy options to be used in South Sudan, the world should listen to the voices of South Sudanese. They chant "UNMISS Must Leave: Our Sovereignty in Our Hands."
Instead of advancing an outdated UN trusteeship, let's speak about finding an exit strategy for UNMISS.
As a UN member state, South Sudan is entitled to the "principle of sovereign equality." Such a clause is a crucial part of the United Nations charter and cannot simply be disregarded under the guise of 'responsibility to protect.'
South Sudanese have learned from our bad movie and should be allowed to exercise unrestraint self-governance. Our sovereignty wasn't an accident of history or a donation from the UN. We earned it with our blood of martyrs. We cherish statehood despite the bitter pills that come with it.
Our glaring failures of self-governance must not be a pretext to force through a UN backed intervention brigade in South Sudan. An intervention force with a mandate to disarm our national army and takeover important installations will create a "Somalia" in the Republic of South Sudan.