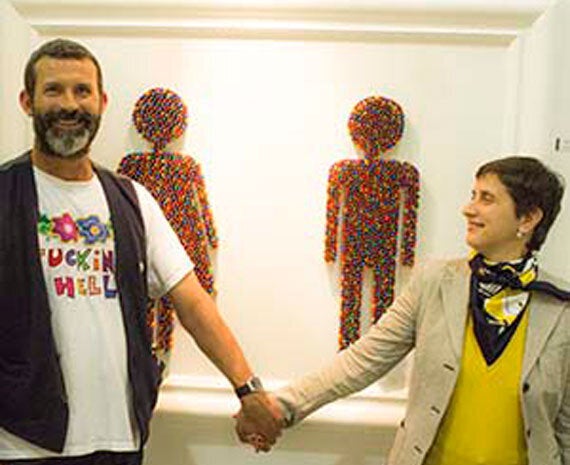 Photo Credit: Maite Baron
It's always fascinating to talk with artists because of their unique perspective on life, and the conversation I had recently with artist Mat Kemp was truly inspiring.
Mat's artistic career has included drawing cartoons, being a commercial artist, working in advertising and as a fine artist. However, his current passion is reinterpreting discarded materials he finds in second-hand shops, in skips and in walks by the river.
So basically what Mat does is give things that others may consider to be junk, a second life. It made me laugh when he said this, because I also love using things for a different purpose than they were originally intended for. And in the same way I also love giving people a chance to reinvent themselves and live the lives they once imagined.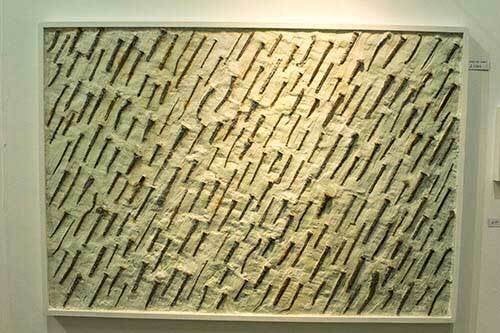 Photo Credit: Maite Baron
Mat's work makes for an eclectic mix, much of it very tactile. In fact, unlike many pieces of art, it is meant to be touched, something that can have unforeseen consequences, as it did when one four-year-old flung himself into three wheelbarrow loads of toys!
As I always like to learn from others, I want to pass on some of the 'take-aways' that I got from my 'Mat Chat'.
1. Use your talents in any field that feels right.
Get started, experiment, then decide if it's the right path for you. Experience is never wasted, as it can be used in many different ways, fields and industries. After a while in advertising, Mat knew it was time to move on.
Could any of your skills and talents be better valued in another way or field?
2. If you have an idea, make it happen.
'This', says Mat, 'is one of the best pieces of advice I was given early in my career.' When Mat wants to create something different and distinctive, he sets aside 'special time' for himself by going into his studio and closing the door behind him. It creates a 'sanctuary' in which he can lose a little control as he creates. As he says, 'The end result is important, but the process is extremely precious.'
In which area of your life, business or career do you need to create space to allow your ideas and thinking to evolve?
If you're passionate about something and want to be successful at it, be prepared to be patient. Mat believes that if you believe strongly enough in what you are doing, eventually it will happen for you. You just need to keep going. It may be grim at times, but you have to be stubborn enough to hang on in there. And when you get a lucky break, ride it. 'They don't happen that often,' says Mat, 'so when they do, you have to milk them'.
Where could a little more effort, patience or perseverance pay off in the end for you?
4. Get used to dealing with rejection.
'That sounds like quite a negative thing,' says Mat, 'but if you want other people to see your work and like it, that's not always going to happen.' Any creative artist, singer, performer or writer has to deal with rejection. Mat's background in advertising meant his work was being critically assessed the whole time. Now he has developed his own strategy for dealing with it. 'I just believe that I'll do better next time,' he says.
How could you reframe 'rejection' so that it becomes something useful and positive?
5. To get to the good stuff you need to get through the 'rubbish' first.
'I know this is a formula that works,' says Mat. 'So when I was working as a cartoonist, to get 10 pieces published I'd probably have to come up with 100 ideas.' I think Mat brings up something crucial here. I know from my own work that many people stop themselves from moving forward because they feel that the first thing they produce, whatever this is, has to be perfect, so they start 'self-editing' and being overly critical too soon, instead of just 'getting something down' and then using this as a platform to build from.
Mat knows that to keep his art alive he needs to make ends meet, particularly as he has a family to look after, and producing, marketing and selling his art generates its own overheads. So he takes on commission work and generates 'commercial' pieces that are easy to make and sell. Separately, he produces the pieces that emerge from the dialogue between his vision, his materials and his environment.
I believe this to be an important lesson. It shows that it is possible to get your business started, on a small scale to begin with, while you are still employed. It also shows you can grow your business by producing what your customers want, while at the same time setting time and space aside to do the things that bring you fulfilment - and which maybe at some point will also become commercially viable.
Wherever you are right now, get started, and allow your own path to emerge.