I am in the curious position of being about to realise a life-long dream - that of having a book published and, even more cherished, a children's book at that.
The book in question - because you must have known a shameless plug was coming - is called Dot to Dot (Thames & Hudson, £7.95) and is now "in all good bookshops" and on Amazon here. It tells the story of a little girl and her grandmother who share the same name and the same birthday. They live in London and New York respectively and the book, which can be flipped for each character's own story, details their problems in trying to get together. Whether they ultimately manage it... well, you'll have to buy the book.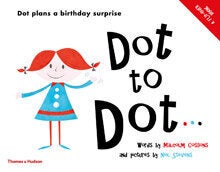 It has been a long, fascinating, at times frustrating and overall exhilarating process bringing this book to where it is now. It was over two years ago that I started to discuss the idea with my friend Neil Stevens - with whom I was working with at Sotheby's at the time, although he has since realised his own dream of becoming a freelance (and hugely successful) illustrator.
We had tremendous fun drafting and redrafting the text, sketching and re-sketching ideas for the characters - and then discussed how we might get it published and how people might respond to it.
Ultimately luck played its part - it happened that the publisher I was working with at the time had just taken on a children's editor. Of course, that initial conversation was a long way from actually getting into print and we had numerous revisions and each honed the structure and the writing. With more again once the book was accepted.
Now the book is out. It is still difficult to believe and still immensely exciting. The next stage is promoting the book - hence this blog - and hoping that people are willing to read my story (and this blog for that matter).
Most of all though I am grateful for the opportunity to have even got here - it is an immense privilege to be able to say, "here is my book", and I get to read it to my own kids (who, as you can imagine, have heard the story more than once or twice).
Related