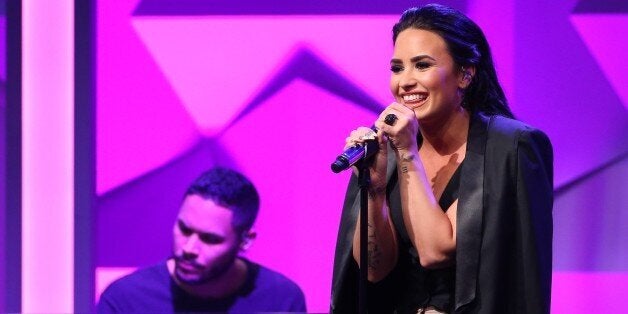 "Get crazy, crazy, crazy, take it over the top," belts out Demi Lovato in It's On.
The American pop star's lyrics are innocuous enough - there's no intentional hidden meaning here - but her words fairly sum up how the tabloids and popular media cover celebrities when it comes to mental health crises.
It's an issue that Lovato - who's been refreshingly frank about her own struggles with body image issues and bipolar disorder - had the misfortune of experiencing first-hand.
Over the years, stars like Lindsay Lohan, Britney Spears and young actress Amanda Bynes (who rose to fame as a teen in her own Nickelodeon series) have had their wrenching, should-have-been-private bouts of mental illness widely publicised in photos and headlines - too many of which are now seared into pop-culture consciousness.
Who can forget Spears erratically shaving her head bald, being admitted to a psychiatric hospital and having her diagnosis discussed on TV in front of millions of viewers? Nothing has been learned from this, given tabloids and celeb websites followed Bynes's every move as she entered treatment.
Time for a reality check. Tens of millions of people in the UK live with mental illness. (One in four adults will suffer a mental disorder in their lives, says The Health and Social Care Information Centre. While the research shows that, in the UK, mental health problems are responsible for the largest burden of disease - 28% of the total burden, compared with 16% each for cancer and heart disease.)
Hollywood is no exception. And why would it be? We know that wealth, great looks, talent and status don't make anyone immune to this illness. Stars like Robert Downey Jr, Jim Carrey, Halle Berry and Angelina Jolie are among those who've suffered a mood disorder such as depression, anxiety, or faced an addiction.
But too often the only time we see and hear about famous people living with mental illness is when they're not well and thrust in the spotlight for all the wrong reasons - giving us a distorted image of what life is like with these conditions. The reality is many, many people with a mental illness go on to live healthy, productive and personally fulfilling lives.
Downey Jr, for instance, is at the top of his game, reaching out to a new generation in his role as Iron Man in the widely popular Marvel films. So is actor-humanitarian, Jolie, who received an honourary damehood from the Queen in 2014.
In the UK, celebrities such as Stephen Fry, author David Walliams and popular vlogger Zoe Sugg, known as Zoella, have all spoken out about their struggles with mental health issues, in an effort to encourage more discussion and awareness of these issues.
Then there's Lovato, who has emerged as a role model for girls and young women when it comes to taking control of their mental health.
In 2013, in the midst of a tour, the singer-song writer released Staying Strong: A Journal, a companion to her best-selling book, Staying Strong: 365 Days a Year.
One fan's comment on her website sums up the impact of this work: "If you are feeling like you're nothing or hopeless, read it."
In 2014, Lovato fought back against mental illness again when she announced a new skin-care line Devonne, with a per cent of profits funding wellness and treatment programmes for young women through the Lovato Treatment Scholarship.
The star has partnered with CAST Recovery - a U.S. group offering mental health services - on her scholarship. The initiative is reportedly also a nod to her father who died, in part, of untreated mental health and addiction issues.
Lovato also spoke in Washington at the annual conference for the National Alliance on Mental Illness, calling for government leaders to reform mental-health care in the U.S. "Those of us here today know that mental illness has no prejudice," she told the crowd. "It affects people of every race, age, gender, religion and economic status."
Taking on a subject that is still loaded with stigma, Lovato's actions and words show us a more balanced and encouraging image of what it's like to live with mental illness. And in doing so, she turns the tabloid and pop culture image of people with mental health issues on its head.
Brothers Craig and Marc Kielburger founded a platform for social change that includes the international charity Free The Children, the social enterprise ME to WE and the youth empowerment movement WE Day.