When my dad was nipping out to the pub, he'd say he was going to see a man about a dog.
Four years ago I nipped out to see a man with a dog. The young man was 25, his wife was younger, the lovely golden Labrador was a service dog. Pete, not his name, but let's call him that, was being pushed in a wheelchair by his wife, a portable ventilator on his chest to do his breathing for him.
Pete had been on patrol in Helmand when he was shot through the neck. He is now paralysed from the neck down and his hopes and dreams, and those of his lovely wife, are very different.
Once he was back 'on his feet' as he said, he and his wife dreamed of having a service dog. Perhaps it could be trained to bring the phone, or the TV remote, or just to be there for Pete while his wife did what wives do. Their friends and relations rallied round to raise the money. Pete and his wife got their dog - their friend, who does all of that.
As he spoke I realised that I was thinking, 'someone should do something'. But for heaven's sake, why not me? Pete and his supporters had shown me that a charity doesn't have to be big. It just has to have a focus, and raise enough money to help whoever it is you want to help. Baby steps...
How to begin? I am an author writing sagas for Random House under my own name, Margaret Graham and also as Milly Adams - two a year. I was once a beginner and know how hard it is for aspiring writers to become visible so why not create a charity that raises money whilst giving opportunities to writers?
Others came on board: another writing granny, Penny Deacon, a reading granny, Jan Speedie and stepping in when needed, short story writer granny Tracy Baines - yes, we are all old ducks - retirement, what's that?. 'Him indoors' set about the IT without which we couldn't manage. Josh, a youngster helps with social media.
Words for the Wounded began to raise money - through writing competitions and events, and once a year something absurd. One year we jumped out of planes, complete with parachutes and clutched in the arms of young tandem instructors. Tough, but someone has to do it.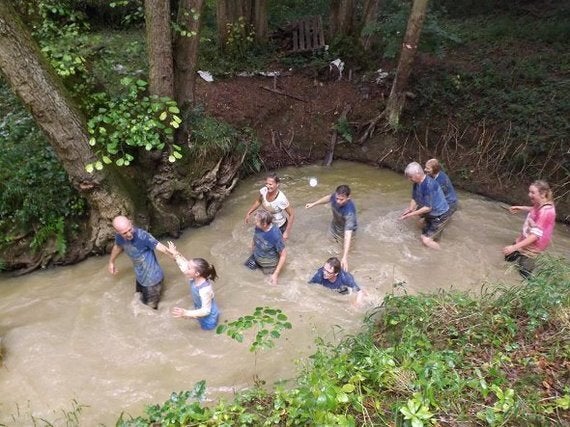 Last year we, and our families, did a military assault course. The SAS did it in 5 minutes, we did it in 55, but we'll gloss over that. Next year we're walking the length of Hadrian's Wall. 84 miles is a long way but we eat too many buns and need to lose weight.
Our main plank is the WforW Independent Author Book Award, (fiction and non-fiction) which opens on 11 November each year, and closes on 11 March, with results published on 6th June. The inaugural winner, Jane Cable , attracted a literary agent, Felicity Trew of the Caroline Sheldon Literary Agency and is just about to be published by Endeavour Press - The Seahorse Summer. This year's winner is Dr Kathleen Thompson with From Both Ends of the Stethoscope, who is now selling internationally, and is a sought after speaker at cancer conferences.
We hold an annual WforW Literary Festival with agents, editors, and authors speaking, all of whom donate their time. My kids and grandkids run the foodie side. We hold writing workshops, and now have help from my fantastic Chesham mentoring group.
100% of the money we raise goes to projects we admire, and to individuals in need - you see, the grannies absorb all expenses. Frost Magazine is wonderful and offers the competition prize of a review for the top three indie Book Award winners and publication of A Day in the Life.
The Grannies are getting to grips with social media to help Josh, We mailshot writing groups. We talk it up whenever we can, and it is never far from our thoughts.
We have noticed in particular that we are helping an increasing number of ex-service personnel with MS. It is seems that Post Traumatic Stress Disorder might make a person vulnerable to MS. This is worrying. As writers we also help several wounded personnel by working with them on their own creative writing.
Frankly, we'll do everything we can to make their lives easier.
One of our many patrons, Julian Fellowes, says: 'Emma and I feel so strongly that we must never forget the debt we all owe to these brave men and women.'
Everyone at WforW agrees. It is our raison d'etre.
Related