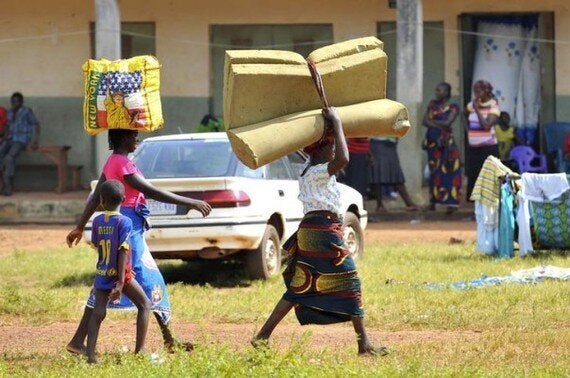 Women carrying their belongings on their heads walk in a relief centre for flood victims at St. Boniface primary school in Idah in Nigeria's central state of Kogi October 3, 2012. REUTERS/Afolabi Sotunde
For Amaka Okoli, a modern-minded businesswoman living in urban Nigeria with her loving husband Nonso and their daughter, the sex of the baby she's expecting is irrelevant.
The same can't be said of her mother-in-law who, in accordance with Nigerian Igbo culture, is desperate for her son to have a male heir and is trying to persuade him to take a second wife, in spite of his reluctance and Amaka's open opposition.
Amaka is the protagonist of "B for Boy", the first feature film by Nigerian director Chika Anadu, which was screened at this year's London Film Festival. It is a courageous tale of being a woman and a mother in contemporary Nigeria and of the social pressure that is still put on women to produce a male child.
It's a movie filled with witty lines and a pungent humour that make its tragic ending a surprise.
From the embarrassing scene at the breakfast table in Amaka's home, when Nonso's mother brings in the girl she wants to become her son's second wife, to the heart-wrenching moment when Amaka is attacked by the women of her husband's village, who despise her for not letting him take a second wife, the film draws a stark line between modernity and cultural traditions that are hard to circumvent.
"The importance of a male child is a very real thing in Nigerian Igbo culture," Anadu told Thomson Reuters Foundation in an interview.
So when Amaka suffers a miscarriage, things take a turn for the worse. She decides to keep her husband in the dark - afraid that he might bow to the pressure and marry the younger woman - and embarks on a dramatic journey to adopt a baby boy.
In the end, Amaka finds herself incapable of telling her husband the truth - that she has lost their baby and will no longer be able to bear children. In that she sees the end of her marriage and of her whole life as she knows it.
Being able to give her husband a male child suddenly becomes vital, a matter of life and death. Amaka "breaks bad", she becomes an active part of the cycle of which she had been a victim, she gives in to the pressure of society and in particular the pressure from other women.
"One of the main themes I explore in the film is that the injustice of pressuring a woman or a couple to have a male child is perpetuated and sustained by other women," Anadu said. "The victims become victimisers."
And so does Amaka. Desperate to have a baby boy, after spending months trying in vain to adopt one, she ends up stealing one, literally, from another woman's womb.
Women's rights are at the heart of the agenda at the Trust Women conference, to take place in London 3-4 December. Organised by the Thomson Reuters Foundation and the International New York Times, Trust Women will tackle issues such as slavery in the supply chain and the impact of the Arab Spring on women's rights. Don't miss a chance to be a part of this incredible conversation - register now and save up to 20% off the ticket price at www.trustwomenconf.com