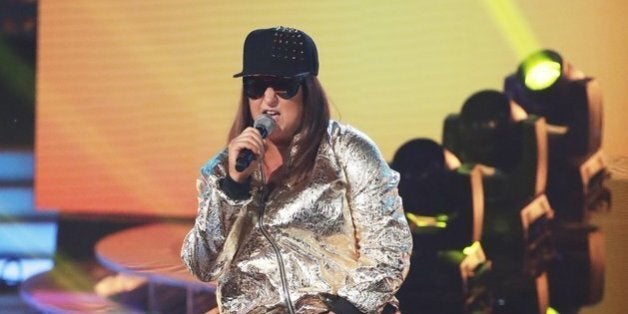 It seems to me that hip hop music is not as popular as it was a few years ago. It has lost a sparkle and strives to regain an illustrious position in art again. Honey G, a controversial contestant in X-Factor 2016, looks capable of contributing to it.
When she first auditioned for the X-Factor, everyone was reserved with her, even the judges. In my opinion, they acted with bias towards her because Honey G was an unknown artist with incomprehensible self-assertion. The fact that not many amateur rap singers are like her only enhanced the reservations. In my opinion, she was undervalued. Simon Cowell appeared to disregard her. Even her mentor, Sharon Osbourne, had difficulty in accepting Honey G at the start and she didn't give her a seat in the Six Chair Challenge, although Sharon's "yes" helped Honey G qualify to Bootcamp.
Honey G was even regarded to be a prank. Simon Cowell claimed that as well, but called her genius with the condition that she was real. After reviewing her profile on LinkedIn and seeing her qualifications, if they indeed are true, I believe too that she is a genius and I think that she is experimenting in the X-Factor. She is a smart professional who probably wants to quit her everyday job so as to pursue a career as a rapper; a more exciting project for the adventurous human she appears to be. Initially, people couldn't take her seriously and thought she is not a worthy artist.
The truth is that Honey G has worth and Louis Walsh and Nicole Scherzinger have detected it and expressed it. Honey G has the attitude of rap artists who made a huge career. She has got everything to leave her mark in rap music. It is not accidental that Snoop Dog wants to work with her. One of the best rappers in the history of music saw something in Honey G. For me, she is a decent rapper and deserved it to be in the live shows. In my point of view, Honey G can reach the final of X-Factor; since Reggie N Bollie were able to make it in 2015, then Honey G is able to make it this year. Honey G is the most interesting participant in this year's X-Factor from all aspects.
It is obvious that Honey G has genuine and pure love for hip hop music and these values guide her through the X-Factor. However, she is receiving heavy criticism and has crossed difficulties. Perhaps, this has to do with the fact that she has too much confidence, but this is exactly the reason why she has reached this high stage in the show. Besides, the way Honey G promotes herself is enjoyable and makes her even more appealing. She acts as if she knows she will succeed and usually people who are like that and have merit, they manage to make it in the end.
All these, and apart from being an emerging rap artist, establish Honey G as an intriguing personality which draws the attention of the crowds for several reasons. One of them is because Honey G makes people happy with her authentic approach for what she does, and this is something that Robbie Williams pointed out in Judges' House. "She makes me happy," he said. I believe that Robbie Williams was the one that persuaded Sharon Osbourne to take Honey G in the X-Factor live shows; he is as eccentric as Honey G.
Her first performance in the live shows was really impressive and Simon Cowell admitted that he loved it, a person who was one of Honey G's most strict critics. Honey G has unprecedented strength and power in her voice and perhaps this is why many people hate her; maybe they are a little scared for what Honey G is capable of. I think that the audience need time to totally accept Honey G, because she is a "tornado"; others have accepted her already. I also sensed that her haters started like her after the first X-Factor live show.
Personally, I don't understand why Honey G has got so many haters; my quick explanation is that they actually disrespect hip hop music. Hip hop is part of music and must be respected. Honey G represents rap music decently and can revive it, because she has her own style, which is distinctive. I agree with Sharon Osbourne that Honey G entertains and I also agree with Honey G that haters will always exist; some people cannot recognise the value.