3D scanning and printing, a process of making three-dimensional solid objects from a digital file, is an invention that is now coming into its own. This week, the world's first 3D doll of a model was born. Whilst the cost of 3D printing at home is still beyond the reach of most of us with prices for a decent 3D printer starting in the thousands, consumers are increasingly becoming aware of the possibilities.
From personalized car parts to replacement teeth, the potential seems almost boundless. How long will it be before it'll be possible to 3D print organs making organ rejection a thing of the past, or design and print our own clothes using the home printer? Given the speed at which the revolution is progressing, these changes are now certainly within our grasp. Science fiction is gradually becoming science fact.
As editor of Pets Magazine, my particular area of interest is pets, and the pet industry is now in the vanguard of the 3D revolution. People increasingly want to remember their deceased pets by creating life-like memento mori and to create a unique gift for a pet lover.
This week, I caught up with Lars Andersen, Managing Director of 3D printing specialists Arty Lobster. The company specialises in the creation of extremely life-like sculptures of pets. It has also just announced the appointment of world-renowned 3D artist Dimitri Fotiou. Dimitri has moved from Athens where he recently completed groundbreaking work for the Museum of Paleontology in Athens, 3D modeling ancient animal bones and artifacts, to take up the new post.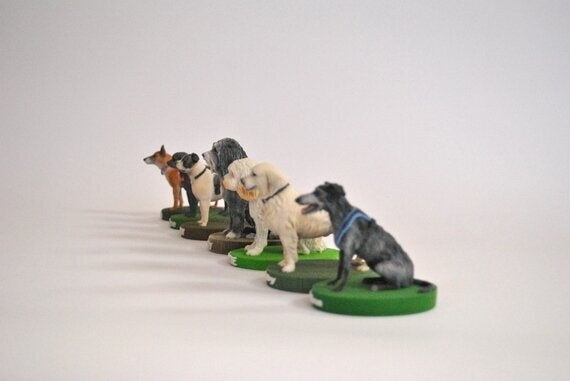 Lars explains: "In my own business, the business of using 3D printing to create a pet sculpture either to remember a deceased pet or to create a unique gift for a pet owner, there are numerous exciting possibilities. With increasing numbers of households considering their pet as one of the family, demand for a wide choice of quality products, including bespoke pet memorials, has never been higher. Pet memorials represent a significant part of our customer base.
"As our pets are becoming members of our family, we also increasingly want a memento of them to cherish forever. The pet memorials market is a steadily growing one."
Lars added: "Orders from people who have recently lost a pet or want to remember a deceased pet are increasing as pet owners become more aware that there are alternative ways of remembering their pets."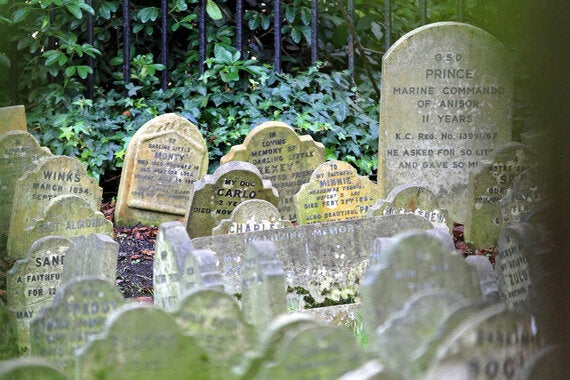 With almost 13 million households or 45% of the UK population owning a pet, the pet market as a whole is worth £4 billion a year. The current pet population stands at around 65 million, including pet fish, according to figures from The Pet Food Manufacturers' Association (PFMA.)
The process of creating a 3D memorial of a pet starts with the pet owner submitting around ten pictures of a dog or another pet to the Arty Lobster website. The company's team of 3D modelers including Dimitri then makes a virtual design of the pet using a CAD (Computer Aided Design) file using a 3D modeling program for the creation of a totally new object.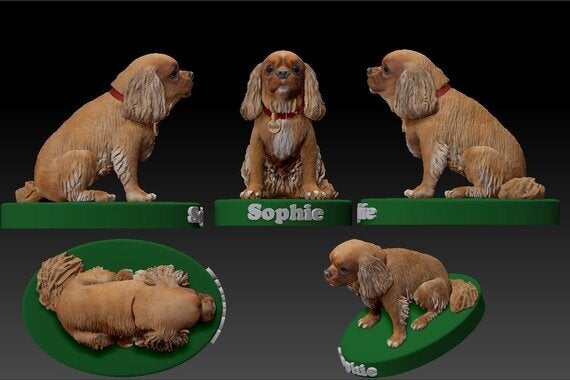 The 3D software slices the final model into hundreds or thousands of horizontal layers. When this prepared file is uploaded to the 3D printer, the printer creates the object layer by layer. The 3D printer reads every slice (or 2D image) and proceeds to create the object, blending each layer together with no sign of the layering visible, resulting in one three-dimensional object. This technology uses special full-colour glue to fuse small particles into a mass that has the desired three-dimensional shape and colour. The result is a perfect little replica of the pet.
Back in July, Pets Magazine held the first-ever National Pet Remembrance Day (Sunday July 5) in conjunction with Arty Lobster, which generated a huge amount of interest, so much so that we now plan to hold the event on an annual basis. It captured a need for pets to be remembered just as much as any other family member.
Lars said: "The feedback we received from people wanting to remember their pets but struggling to find something fitting and relevant has been truly amazing, and orders have increased almost on a weekly basis as a result."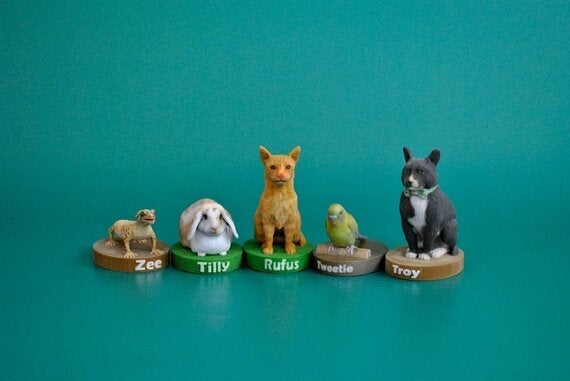 So what of the future? Lars explains: "In my own business, there will be greater scope to experiment with different materials in re-creating the pet and making it even more life-like. We will be able to upscale models and create memorials that could be used to replace a headstone in a pet cemetery for example."
In the wider world, the possibilities of 3D printing are boundless. Think of a future where there would be no need for organ donation or anti-rejection drugs. Medicine might be able to replicate our own organs thus actually saving hundreds if not thousands of lives a year in the UK alone. Companies are already creating 3D-printed prosthetic limbs for children. In 2013, medical company Organovo even started selling 3D-printed liver tissue. There are multiple applications that range from lighter aeroplane engines to bespoke housing and even 3D printed medication.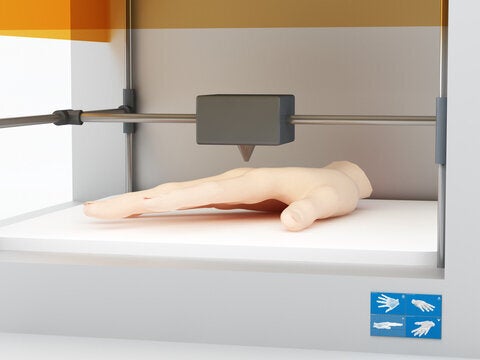 Large 3D printers have been developed for industrial, education, and demonstrative uses. 3D printed materials can decrease weight by up to 55%, according to Airbus, which announced its involvement with 3D printing last year. There are many developments that are becoming possible with 3D printing that would have simply been science fiction until recently.
Related