For years, the knowledge that a lipstick, mascara or other cosmetic is sold in China has been the ethical consumer's cue to put the product back on the shop shelf. That's because China is one of few countries where testing cosmetics on live animals such as rabbits and mice is required by law. But for how much longer?
The global cosmetics industry could be on the verge of a makeover, and Humane Society International is working to ensure that everything in its beauty bag will be cruelty-free. Our Be Cruelty-Free campaign is driving policy change around the world; our consumer awareness campaigns and political negotiations are seeing world markets and governments reject out-dated animal testing in favour of modern non-animal methods. Animal testing for cosmetics is illegal across the European Union, Israel and India, with the EU and Israel even banning the sale of cosmetics newly animal-tested in other countries. We're campaigning to secure a similar sales ban in India.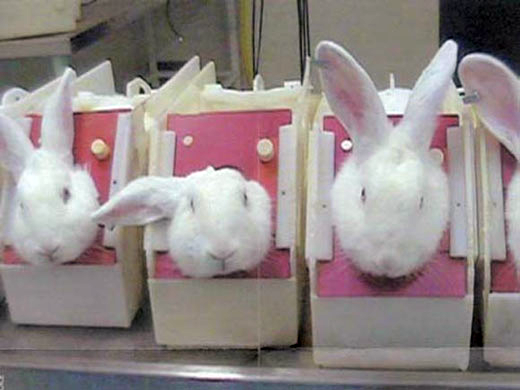 Every ban we achieve shows it is possible to move beyond animal testing and maintain a vibrant, safe, competitive cosmetics sector. But with virtually every top beauty brand selling in China, and therefore subject to animal testing, change in China will be the tipping point.
China is the fourth-largest cosmetics market in the world, worth an estimated $22 billion. A company's decision to sell there isn't purely commercial, it's ethical, too, because it means their lipsticks, face creams and shampoos will inevitably be dripped into rabbits' eyes or force fed to mice in massive doses. Some of these companies may be animal testing in other countries. For many, however, the legally required animal testing for the Chinese market may be the only animal testing they are involved in globally. So if we want to eradicate animal testing for cosmetics, China can make the critical difference.
Until recently, there was relatively little consumer awareness in China about animal welfare issues, but that's changing as a new and more affluent generation becomes increasingly concerned about animal cruelty. From the dog meat trade to poaching rhino horn for traditional medicines, to animal suffering in laboratories, Chinese people are engaging in animal protection like never before.
With China so strategically important, launching Be Cruelty-Free China is an exciting new phase in our global campaign to end cosmetics cruelty. Most consumers don't want animals to suffer for their cosmetics, and we know that Chinese consumers are no different. In fact, our corporate partner LUSH Fresh Handmade Cosmetics tells us that Chinese tourists are amongst their most enthusiastic customers, bulk buying cruelty-free LUSH products that they are unable to buy back home because LUSH's strict 'no animal testing' policy precludes it from selling goods in China.
Our cruelty-free message has already been launched across China's social media "Weibo" platform, reaching a mind-boggling potential audience of 503 million registered users. Weibo has played a key role in recruiting vast numbers of young Chinese to a range of animal protection campaigns. They're plugged in and eager to make change.
But consumer action alone won't end cosmetics testing. A sticking point in China has been the slow uptake of modern, non-animal test methods. Although recognised and routinely used by the 34 member countries of the Organisation for Economic Co-operation and Development, most of the internationally accepted and scientifically validated in vitro tests have yet to be accepted by Chinese regulators. But that too is beginning to change, and we're helping to accelerate that process with an $80,000 grant to the Institute for In Vitro Sciences, awarded jointly by Humane Society International, The Humane Society of the United States and the Human Toxicology Project Consortium. Our grant will provide Chinese scientists with vital hands-on training in the most advanced non-animal approaches. Curiosity and enthusiasm is abundant, but without the practical skills to use and interpret these cutting-edge tests, a transition towards alternatives would be hard to achieve.
In fact, China is already off the starting blocks, with its very first non-animal test method for cosmetics safety assessment - the 3T3 NRU phototoxicity assay - scheduled for adoption soon, and others for skin and eye irritation to follow. HSI has had an advance look at a five-year plan by the Chinese government to introduce 10 non-animal test methods, a move which would transform the country's ability to embrace cruelty-free cosmetics manufacturing.
Following the launch of Be Cruelty-Free China and subsequent meetings with regulators in Beijing, we are encouraged by the enthusiasm for policy change. Far from standing in the way of progress, it is clear to Chinese authorities that the era of cosmetics animal testing is coming to an end, and China needs to be part of that progress.
Beyond the cosmetics sector, such a move will also boost ongoing innovation by the chemical and pharmaceutical sectors and greatly speed up the replacement of out-dated and poor-performing animal tests across the board. We suspect that China could very well become a world leader in cutting-edge animal-free technology.