It's exciting that, after three years of hard work on the first documentary portrait of Elvis Costello, it will premiere on the BBC next week. Called Elvis Costello: Mystery Dance, it was commissioned by BBC Four who are broadcasting both the feature-length version and the 60 min cut.
My story with Elvis goes back a lot further though. Back in 1977, I managed to get a gig as the first rock critic of the New Statesman: writing about popular music was starting to establish itself as a serious business, in the trail of the American stars Greil Marcus and Lester Bangs. The 'straight' press could see that even if Dylan didn't exactly equal Keats, running stories about rock music could win over younger readers.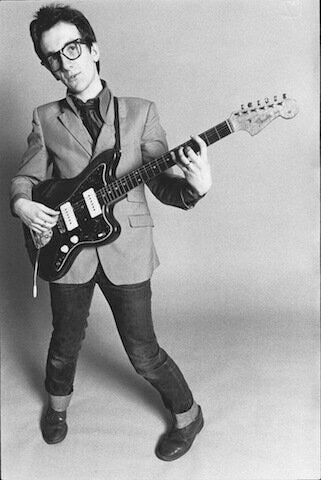 It was on my watch at the venerable NS that a new single release came my way: a friend worked at Stiff Records, the legendary maverick label which brought us The Damned, Wreckless Eric and Ian Dury. It was called Less Than Zero and was written and performed by an unknown with the unlikely name of Elvis Costello. That someone should have the chutzpah to steal the name of the King of rock'n'roll seemed preposterous: Elvis Presley was still alive at the time. This, I told myself, had better be good! And it was just that: I couldn't quite believe what I heard. It was as if this new artist were channelling the whole history of popular music, without weighing himself down with knowing ironies and references. The new Elvis sang with a mixture of heart-breaking vulnerability and uncanny self-confidence, qualities that have stayed with him ever since.
Although this wasn't quite the moment yet when pop could have been said to eat itself, this was the time when rock music lost is innocence and musicians became hyper-aware of its history. Punk smashed into most traditions, self-consciously reaching back to a freshness that had probably never existed. Although he surfed the high energy wave of punk, Elvis Costello's approach was more subtle: there was the neo-Buddy Holly look, the geekiness of the black-rimmed glasses undermined by the skin-tight jeans and Dr. Marten boots. But most of all, a deep love and knowledge of a very wide range of music: from the start, the boundaries between mainstream pop, rock, Southern soul, country and jazz were blurred. What is extraordinary about Costello is that he seems to have listened to everything: styles, riffs and rhythms have entered into his bloodstream, and provide the rich ground from which he endlessly creates: over thirty albums, which evoke the spirit of so many different genres and artists, from Schubert Lieder to Abba, from British folk to the Beatles and from experimental jazz to New Orleans R & B.
With such a rich and varied story, even the feature-length version omits Elvis' collaborations with Chet Baker and Roy Orbison, to name just a couple of major artists who have gladly worked with him. This relentless zest for collaboration - the latest with The Roots, a seemingly unlikely choice which turned out very well - mystifies those who would like to set an artist firmly into a predictable category and yet delights those who share his broad-ranging tastes and enjoyment of experimentation. One of the reasons we clicked - this time around, for we had met back in 1977, when I interviewed him for a profile in the Observer - was that we both listened to music very widely: never indiscriminately but not just within one or two genres. We both go to the opera, but also love the less well-known stars of Southern soul - singers like James Carr or O.V. Wright. We are moved by Beethoven's late quartets but we also groove to the subtle drumming of Roy Haynes, one of the last survivors of the Charlie Parker era.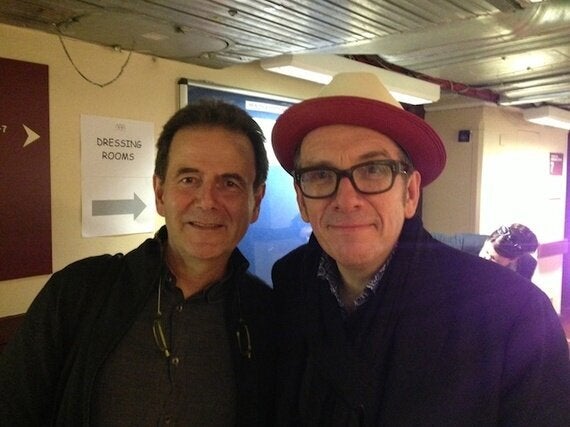 Universal Music, Elvis's record company, flew me over to Vancouver to have breakfast with him. His manager warned me that Costello had no interest whatsoever in doing a documentary. I'm fairly used to the business of persuading recalcitrant subjects for the films that I make - I have waited up to ten years with some. I travelled to Vancouver with two DVDs of films I had made: the first-ever and only portrait of the great classical pianist Alfred Brendel and a film about the brilliant maverick Robert Wyatt. You couldn't imagine two more different artists and yet, I knew that Elvis shared my enthusiasm for both. He later told me that he sat down with his wife Diana Krall, and that they enjoyed both films. This was one of the factors, I am sure which led him to embark on the documentary.
Watch a clip from the film:
Elvis Costello: Mystery Dance will be broadcast on BBC Four on Friday 8 November, 9.00-10.00pm, and the feature length version on Saturday 9 November, 11.45pm. They will also be available to view on BBC iplayer for seven days after transmission.