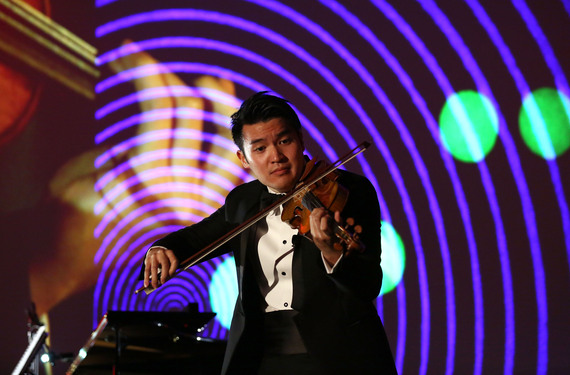 One busy day the phone rang and I was asked to help with a film about a musician named Branislaw Huberman. I was too busy to help. That is,until I was told his story. And that was my entrance into the Israel Philharmonic Orchestra world and why I agreed to lead the British Friends of the Israel Philharmonic Orchestra.
Huberman was the greatest violinist in the world in 1936 and when he visited the holy land, he realised that should there one day be a new state, it needed culture from the start. It was as important as developing, language, agriculture, and security. In the process of making his orchestra, he saved a thousand Jews from the holocaust and saved the classical music culture that Jews had influenced over centuries.
Then Toscanini took the baton as the first conductor. Doing this was his statement against fascism, and, as he raised his hand, he said ' This is for mankind".
This is what I learned from Huberman and Toscanini and what I stongly believe:
Culture is the soul of a country.
Culture is not negotiable.
Today the Israel Philharmonic Orchestra showcases the finest Israel can offer. The finest Israel can offer is one of the finest in the world. It has brought us the likes of Itzhak Perlman and Pinchas Zuckerman, and showcased conductors such as Toscanini, Leonard Bernstein and Zubin Mehta.
These musicians venture out to make beautiful music and win hearts around the world, and, armed solely with violins and cellos, sometimes find themselves on the front line of hostility. The protests at the British Proms were scary but Zubin Mehta, carried on playing music. He didn't even turn around. These musicians play on.
Because it's important that they do. The Israel Philharmonic Orchestra isn't just music. It's a tool for peace. It creates and fortifies bridges of understanding. It brings world class music to the Israel and it brings Israel to the world.
It also nurtures young musicians and has incredible programs such as Mifne, with Israeli Arab children in Nazareth and Keynote, with at risk children.
Last night was the first summer gala for British Friends of the Israel Philharmonic Orchestra organised by myself and Denise Esfandi. Super star violinist Ray Chen dazzled supporters and Cynthia Erivo stunned the crowd with song. It was attended by Israeli Ambassador Daniel Taub, Ambassador Lim of Korea, and High Commissioner Jasudasen of Singapore.This autumn the orchestra will travel to South America, Japan Korea, China, and Singapore.
Next month in Los Angeles , the Israel Philharmonic will be giving a lifetime achievement award to Hans Zimmer with Zubin Mehta conducting Hans Zimmer's work. It's a wonderful way of bringing together the classical music world and the film music world. Music is the soul of storytelling and serves in films the same way that the great pieces we recognise were written for opera.
We need to support organisations like the Israel Philharmonic Orchestra for so many reasons and celebrate their achievements. Perhaps a concert in Hyde Park in 2015 with a harmony of nationalities and a banner for peace. Beautiful music should drown out the sound of extremists chants and lead to a better understanding of the commonality of humanity.