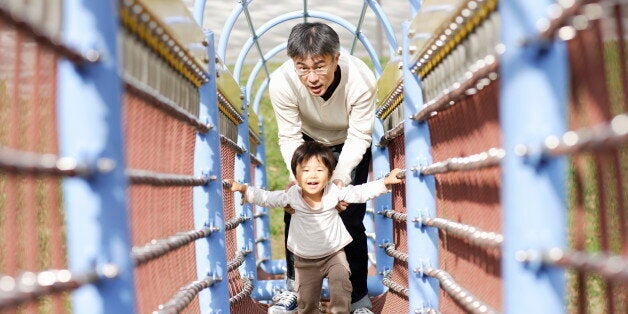 So Jamie Oliver and I are chatting about parenting. By which I mean me and as many people who could squeeze into a room to hear Jamie Oliver talk about parenting in an event hosted by Huffington Post as part of the amazing #ThrivingFamilies project.
Jamie cuts to the chase with the killer question: do dads feel the same guilt as mums? There is much debate, but with mums outnumbering dads by about 4 to 1, the outcome is a foregone conclusion. When it comes to parenting, men don't do guilt.
And frankly, listening to the arguments, I find myself siding with the mums. Whatever change has taken place over the last generation or so, they are still the parents doing the heavy lifting on a day-to-day basis, the go-to parent for food, play, school, sleep, reading and so on. Dad, it seems, is still mostly focussed on his role as wage-slave, convinced that if he is bringing home the bacon his job is (largely) done. Work still comes first, and if it means missing birthday parties or school plays or sports days because of an important meeting or sales conference, so be it. Guilt doesn't come in to it.
It is a personal discovery that has troubled me a lot. Because, it seems to me, the absence of Guilt is storing up trouble for later. Which is Regret. And trust me, nobody does regret quite like a dad.
For there will come a moment in the life of many dads, when they find themselves with time on their hands, after retirement perhaps, or redundancy, or a life-changing illness, ready to give their eye teeth for the chance to watch a son lead his school to victory on the cricket pitch, or a daughter sing her heart out on stage. There will come moment when there is no one to take to the park, and no one to take to a birthday party, and no one to applaud at the gymkhana. There will be no one to console when their dance routine doesn't quite come together, and no one to cheer when the winning goal hits the back of the net.
I speak as someone who feels he made a decent fist of being a dad to two daughters, as well as being a foster carer and, more recently, a grandad. We are, by any standard, a close family. We laugh and cry together, sharing our sorrows as well as our joys. My daughters are also my closest friends.
And yet the older I get, and the quicker time moves on, the more I regret those moments when I wasn't there for them. Like most dads, I made my work my highest priority. I did the hard yards, putting in 10 or 12 hours a day and was always willing to cover at the weekends. I took every chance that came my way and surprised myself with a modest degree of success, which I put down to commitment, rather than talent or ability. It was a tough regime that was only possible because of the unwavering support of my wife and the understanding of our children.
Now I have reached that point in my life when I try to remember what it was like to watch one daughter see off all-comers at netball, and the other complete her gymnastics routine in a packed hall. The memories are there, because there were rare occasions when I did tear myself away from work. But they are not as sharp as I would like, perhaps because my mind was often on other things, my mobile phone clutched tightly in my hand.
I like to think that if I could have those years of their childhood back I might do things differently. But after sharing experiences with the young #ThrivingFamilies dads I suspect I would make the same mistakes all over again.
Guilt? I don't remember feeling guilty. But regrets, I have a few.
This summer The Huffington Post UK is spearheading an initiative helping families thrive, with a focus on parent wellbeing, the challenges facing stay-at-home and working parents, friendships and navigating the landscape of modern parenting beyond the 2.4. To kickstart the campaign, Jamie Oliver guest edited the site, bringing a focus on feeding healthy families.
We'll be sharing stories and blogs with the hashtag #ThrivingFamilies and we'd like you to do the same. If you'd like to use our blogging platform to share your story, emailukblogteam@huffingtonpost.com to get involved. Jamie's new cookbook Super Food Family Classics, published by Penguin, is on sale at £26.
Related