The rise to stardom of Adam Lallana has been coming for some time. Southampton's local lad was an established member of the first team by the time he was 20, making 40 appearances in the 2008/09 season that saw the Saints relegated to League One.
It was a step down for the club but one that undoubtedly aided in the playmaker's progress. Lallana would score 23 league goals in his two seasons in England's third tier, before netting 11 in their Championship promotion campaign in 2011/12.
Nevertheless, he's been grouped in amongst England's young crop of players coming through, so it's easy to forget that he is now 25 and will be 26 by the time the World Cup comes around. It's not to say he doesn't have time on his side but most make their international bows significantly earlier in their careers.
That said Lallana has now all but fully developed into the sort of player that the national side has lacked and he looks a certainty to be on the plane this summer. His versatility, having started in 6 different positions already in the league this season, could be crucial and his is a skillset that seems unrivalled in the current squad, and frankly a little 'un-English'.
The claim here isn't that the Southampton man is England's best player but that he's different to the other options in the squad. It's worth noting that arguably his strongest asset is not quantifiable. It's his awareness of space on the pitch, particularly in advanced areas, that sets him apart.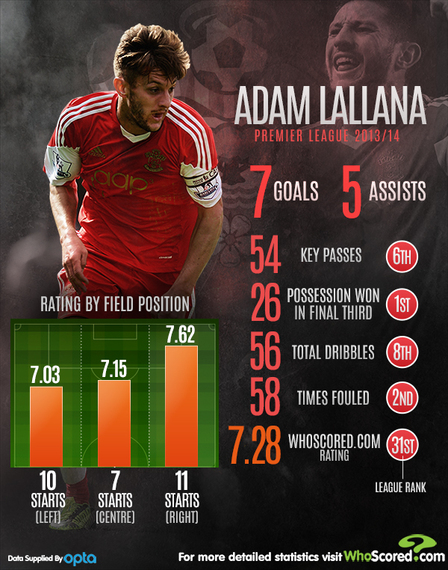 In the game against Palace at the weekend Lallana would draw opponents towards him, only to be left with five yards of room moments later with a simple turn away from danger. At least he makes it look simple. If there were a statistic for Cruyff turns completed the 25-year old would likely be well clear of the chasing pack.
Not only does the Saints skipper know where opponents aren't, he knows where teammates are. His combination play with Rickie Lambert in particular is one that will encourage Hodgson. In fact, were Lallana not in the squad it's fair to say his teammates' chances of making the cut may diminish significantly.
Only five players have created more chances for others all season (54) and it's Lallana's ability to find pockets of space that has allowed him to be so influential. His tally of 5 assists is a quite modest in turn but with seven goals to boot his contribution has been significant.
It's clear that opposition players target the England international, with only Eden Hazard fouled more times this season (58). Lallana, meanwhile, ranks among the top 10 players for successful dribbles, with 56, but isn't one to shirk his defensive responsibilities.
Indeed, he's picked up a strength of defensive contribution from WhoScored.com, along with ball interception, having won possession in the final third of the pitch at least 5 more times than any other Premier League player this season (26). His work rate will certainly strike a chord with Roy Hodgson, who has the opportunity to enforce a high press in the side when you consider that second to Lallana here is Raheem Sterling (21).

Many feel that the issue with regards to the Saints man's integration into the England side is the presence of Wayne Rooney. Lallana is undoubtedly at his best with a certain amount of freedom to roam and his inclusion should encourage a fluid attack. That's not something synonymous with the current England coach but the capabilities are there.
The assumption of some is that Lallana would best be suited to the number 10 role that Rooney is most likely to occupy but the stats suggest that isn't necessarily the case. Indeed, having played on the right, left and centre in the league this season the 25-year old's WhoScored.com ratings in the former are most impressive.
While his average rating from WhoScored over the course of the season stands at 7.28 that figure jumps markedly to 7.62 in the 11 starts he has made on the right side of the pitch. It's a notable increase on the average rating of 7.15 from the 7 starts he's made in a central position and even further on an average of 7.03 from 10 league starts on the left.
With the injury to Theo Walcott in mind there is currently a space up for grabs on England's right flank. He faces competition for a place in the starting XI but Lallana's performances of late should certainly have seen him jump to the front of the queue.
All statistics courtesy of http://www.whoscored.com where you can find yet more stats and player ratings.