Her subjects sit on the edge of swimming pools, sweep leaves, change lightbulbs and rearrange vases on shelves.
Mundane domestic scenes they are, but ones that carry a very live undercurrent.
The viewer/voyeur of Caroline Walker's paintings peeps into the lives of others. There's nothing special to see, a glimpse through a window, a flash of flesh.. but always with a sense of foreboding intrusion.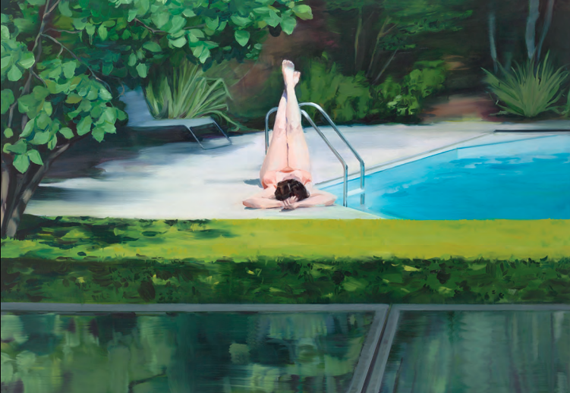 It is not just a feeling of seeing something private that you shouldn't have seen, but more the sense that you are seeing it through the eyes of an intruder, of someone with bad intent.
Your first instinct is to look, uncomfortably, away. But you can't.
You could just as easily be seeing the scene unfold through the eyes of the Mansion gang, silently, menacingly observing their victims moments before bursting in and enacting carnage.
Anomie have published the first book of Walker's paintings to coincide with her current London exhibition In Every Dream Home.
It includes essays on her paintings by art historian Marco Livingstone and curator Jane Neal, and an extensive Q&A with the artist conducted by Matt Price.
Livingstone writes: "That the women often appear half-clothed or nude, but apparently oblivious to the fact that they are so intimately on display, intensifies the intimations of sinister intrusiveness that cast a shadow over what at first might be taken as a scene of serenity."
Walker, a Scottish artist who trained at the Glasgow School of Art but has lived in London for the past six years, took the name of her exhibition from a 1973 Roxy Music song about alienation and sexual displacement.
She said: "The paintings are really about looking at luxury lifestyles, but where something might be slightly amiss.
"My main interest has always been about how people relate to architecture, but more particularly for the last few years how we view femininity in the home. About the psychological possibilities of architectural space and how it relates to gender."
Her paintings are reminiscent of David Hockney's swimming pool sequence, of the sex in suburbia thematics of American Eric Fischl and the elaborate art historical time travelling montages of Dexter Dalwood.
The house is a landscape for the nameless, sometimes faceless, women that inhabit it.
While offering a tantalising taste of someone else's more opulent life, their appeal lies in the sense of isolation and imminent danger they invoke.
Neal writes: "The balance of power between the subjects and the voyeuristic gaze of the viewer is a scenario sufficiently familiar to us to invoke the uncanny."
Walker has been painting this particular theme for a decade now, honing and then elaborating on it.
"I work exclusively with women, actresses and models that I pose in these houses and take lots of photographs," she says.
Using that as a starting point she then works on the paintings in her North London studio - a former Victorian workshop, cobbled and now secluded from the buzz of Islington.
Walker equates the sense of unease in her paintings to Hitchcock's Rear Window.
"It's that edge between 'is there something about to happen or has something happened'," she says. "Could you just be looking at a very banal scene of perfectly normal domesticity? Or are we looking at something a bit darker. Have we then become a part of the painting? Are we another character in the narrative?
Adding to the sense of unease the subjects in some paintings are sometimes repeated, and at different stages of their lives but wearing the same clothes.
In Every Dream Home runs until September 8 at Pitzhanger Manor, in West London.
In Every Dream Home (Anomie, £20)