I go along to each new opening at Saatchi's Chelsea gallery with some trepidation.
There are times you find room after room of dull, meaningless pieces veering between the pretentious and the banal, that try as you might you can find no connection with. Else times you're left floating along the Kings Road with feelings of great possibility, glorying in humankind.
You never really know what to expect when you rock up to the Duke Of York's HQ.
That, I guess, is the risk of trying to find something that takes contemporary art in a fresh direction.
The latest show at the gallery, I'm happy to say, is not in any way disappointing. It is in fact one of the most gratifying collections of newish art in the capital at the moment.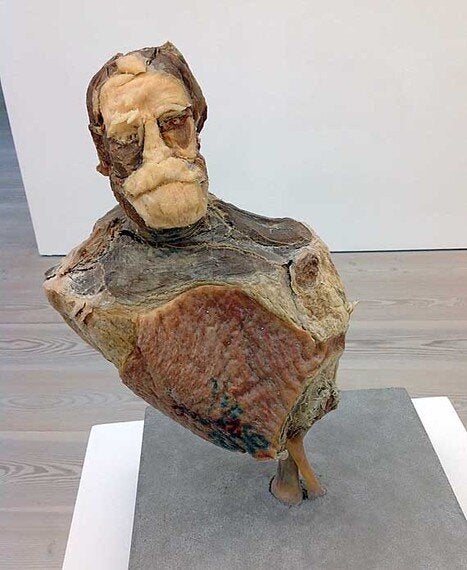 Carnalitos - Arana (2010) by Kasper Kovitz
Saatchi's Body Language is evidence of all that is good about the man's principal raison d'être, to discover new talent, nurture it and bring it to a squeamish public in a palatable way.
He might be making oodles of cash for himself in the process, but then the relationship between artist and facilitator has always been first and foremost a business.
Body Language quite simply takes representations of the human form as its binding theme. It includes a fair bit of figurative painting, some dramatic photographic essays and the type of marvellous, humorous sculpture and installation works that Saatchi has always peppered his curations with.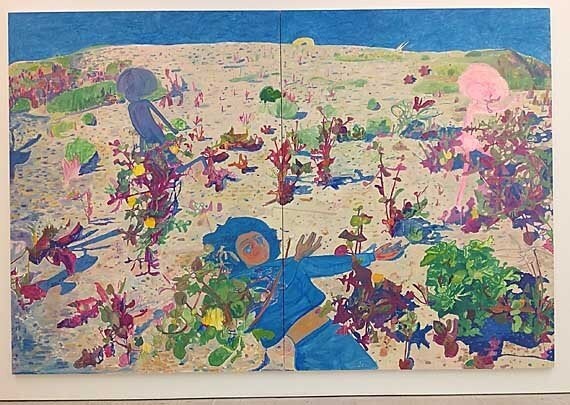 Floating Island (2012) by Makiko Kudo
This is a great ensemble exhibition, a well balanced romp through a variety of contemporary art styles. I added new favourites as I went along and the ones I thought less of I could still admire for their skill and concept.
Let's start with one of the lighter ones, the delightful, tongue in cheek Carnalitos (2010) by Kasper Kovitz, a pair of Iberico hams whittled into two bearded gents, the bare bones of the joints forming jaunty, dancing legs beneath them. It's point is as a humble folkish homage to Bask nationalists Sabino Arana and Miguel de Unamuno, but take any child to see this and open their eyes to the enormous creative possibilities in the world around them.
For those who still like their painting to look like a painting it's hard to go past Californian artist Henry Taylor's Terri Phillips (2011), a full-length nude acrylic, standing in what looks like a hotel hallway, or his Walking with Vito (2008), with its flat, almost Pop Art dynamic.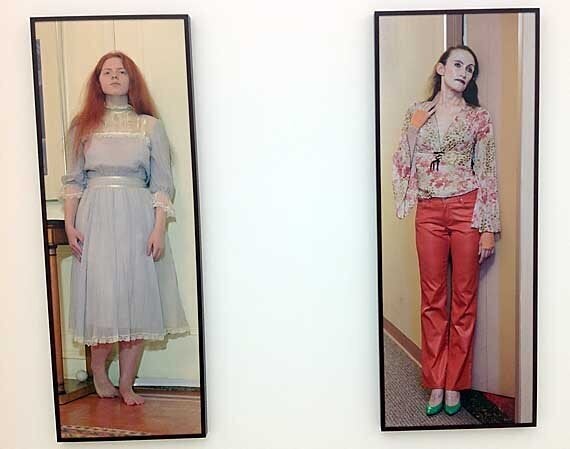 Tanyth Berkeley's Ariel (2006) and Linda Levin (2007)
In another room Chantal Joffe's near floor to ceiling portraits of women are eye-catching, room dominating and lyrically impressive, with their sideways glances at the viewer both private and imploring to be looked at.
Makiko Kudo's Floating Island diptych (2012) with its manga-like central figure is impressive in its combination of the utterly ordinary with the eerily fantastic, while Eddie Martinez's fauvist Feast (2010) is perfectly composed but radiating busy, randomness.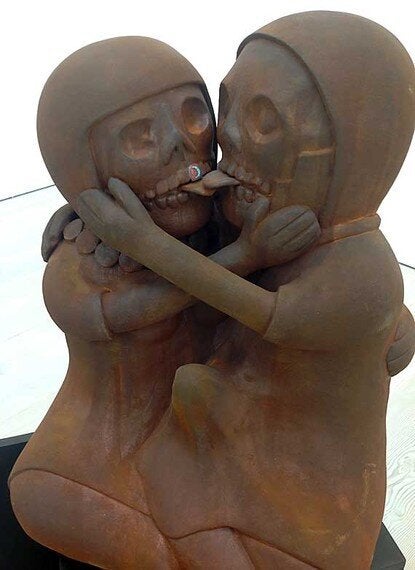 Nathan Mabry's (2006) A Very Touching Moment (Pitching a Tent)
Dana Shutz brilliant Reformers (2004), Jansson Stegner's series of women cops or Alexander Tinei's irksome (2009) Music Teacher cry out for their own solo projects.
And Denis Tarasov's impressive photographic installation Essence (2013) on elaborately etched Russian gravestones is like wandering through a futuristic museum's representation of burial rites.
Amongst these exceptional works are interspersed marvellous sculptural pieces. Maybe the best in the show is Nathan Mabry's (2006) rusted steel statue A Very Touching Moment (Pitching a Tent) showing two hooded pre-Columbian Peruvian figures embracing, the pitched tent referring to the hard-on rising beneath the clothes of the male.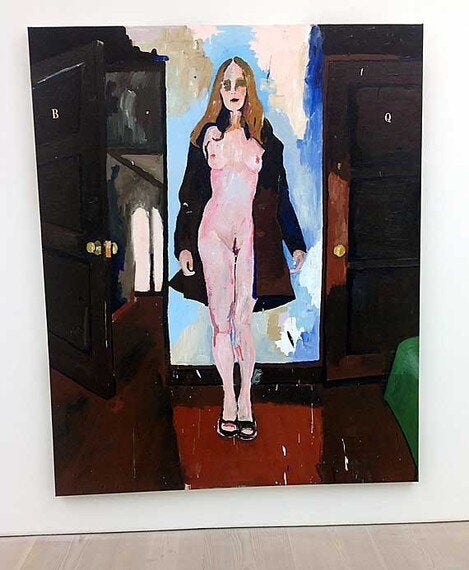 Henry Taylor's Terri Phillips (2011)
In the last room I burst out laughing at the confrontingly comic Vandal Lust (2011) by Andra Ursuta, a large, rickety catapult in the middle of the room, a smashed piece of wall way up high and a flattened female mannequin lying beneath it.
Charles Saatchi insists the figure has 'retained its currency' despite the dominating abstract, pop and expressionist movements of the past 100 years. On this evidence he is spot on.
Popular in the Community