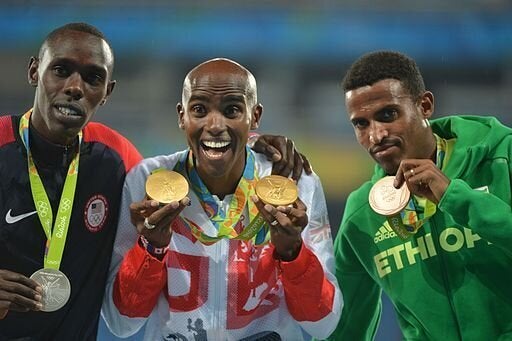 One week later, the spectacle of Team GB's Olympics medals triumph seems a distant memory. It was great while it lasted, not least because it was so unexpected, but the British passion for sports has more to do with commitment that results. We like a loser who gives their all just as much as a winner who cruises to victory. So the UK's second position in the medals table is of passing interest rather than national significance. It's the sport itself that matters, and in the past seven days the sport has moved on.
Everybody knows that money counts in sport. We're told that each medal in Rio 'cost' over £4m, and almost every GB medal winner was on-message to praise the National Lottery funding that makes it all possible. Targeting continuous growth, however, will bring disappointment eventually. Just as the correlation between money and happiness runs out above a certain point, so the British public's love of sporting success soon turns sour once they learn to expect it. Winning predictably is not really the point. Performances that exceed expectation are what sport-lovers crave.
Nonetheless, the money used by UK Sport to support individual athletes, buying them the time and space in their lives to perfect their calling, has effectively demonstrated an important principle. It recognises that financial security allows people to develop the stuff that they're good at, which, in turn, can have all sorts of social and personal benefits that transcend traditional commercial ideas of value. In a sense, therefore, lottery funding has become a sort of Basic Income for the lucky, talented, committed few with serious medal prospects.
This object lesson in the principle of the Basic Income has its limits, however. For, if "a proud, ambitious, active, healthy nation" is really the purpose of sports funding, then focusing on individual medal prospects is probably not the best way to achieve it. Pride in its good sense means self-esteem and self-valuing; ambition means leading a fulfilled life; active means making decisions for oneself; healthy means having the time and opportunity to prioritise ones physical and mental wellbeing. None of these are achieved by passively watching others excel. All require active engagement, which means structuring society in a way that allows people to participate fully on their own terms.
Sport is one component of this. If every Briton had time and opportunity (including access to facilities) to participate in sport, the nation's tally of sporting success would be certain to rise. We don't know how many potential Mo Farahs and Jessica Ennis Hills have been lost through a failure of participation, but there must be more than a few. More importantly, many, many people have been prevented by social and financial circumstances from participating at their own level - not competing for a place on the podium, but for the far more vital objective of fulfilling or exceeding their own potential.
As in sport, so in every aspect of our lives. Whether as entrepreneurs, artists, carers, inventors, makers, designers or anything else, if we are to fulfil our potential and make our contribution to society we need the time and opportunity to develop every aspect of our talents, capacities and personalities. The Universal Basic Income isn't about picking winners, but acknowledging that everybody has the capacity to win - for themselves, for their families and communities, and for wider society. All they need is access to a fair share of the wealth that buys the time and opportunity to make this possible.
Picture credit: by U.S. Army [CC BY 2.0 (http://creativecommons.org/licenses/by/2.0)], via Wikimedia Commons