The tour of Tokyo with Haruka was around half way through our two week visit. It had followed an intense management forum in week 1. After that extreme day of sightseeing, we took the bullet train to Hiroshima for week 2 of our trip.
After going over 300 kilometres per hour, we arrived to a welcome reception 4 hours later at the local Hiroshima prefectural government offices. Before I go into work talk, I'll just say the round table was massive.
Socially we had a couple of free evenings, which we hadn't had the luxury of in the Tokyo forum. We walked through the atomic bomb memorial park, saw the flame that burns until all nuclear bombs are banned, and visited the A-bomb museum. Words can't describe the devastation and destruction caused to people.
To taste a more positive side of Hiroshimas offerings we ate their famous Okonomiaki. I still felt sad at bedtime, but the delicious food was great.
After our disability service visits and seminar, we had 24 hours with a Japanese family. I was very fortunate the organisers found Nao-San and his son Nitsuki because the house was totally wheelchair accessible.
The son is disabled from his mother having cancer during pregnancy, and sadly she passed away last year. Nao-San nursed her, looks after Nitsuki and started a group home for disabled people. Amazing man!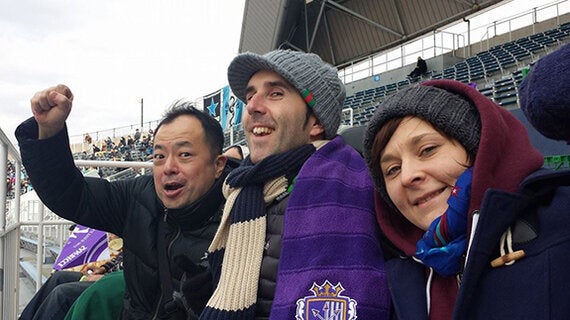 He picked Kasia and I up late morning in an adapted vehicle and took us straight to San Frecce football stadium. It's the J1 league football team from Hiroshima. We witnessed a 2-1 win, coming from behind with an overhead kick! The chanting of the fans and player celebrations was an experience like no other.
After visiting the group home service users, answering their questions on England, and them gifting Kasia with a Kimono! We went to the family home. Here we met his son and friends, including another young disabled boy.
We drank Sake, ate Japanese food, had language difficulties, managed amazing conversation and had so much fun. At one point Nao-San disappeared and came back dressed as Mickey Mouse! He also played the trumpet, while a giant helium fish balloon roamed the house. Surreal!
It's impossible to describe and explain the things we did, the people we met and the meaning of it all. I just know that travel is always healthy for the soul, Japanese people are so kind, as were the delegates from all 4 countries, and something inside me feels different.
Tune in for the next blog soon about what I learned professionally, how I'm applying this experience practically and why I'm not pursuing a career as a karaoke superstar...