I didn't believe it at first.
It was New Year's Eve 2013 and I was heavily pregnant - 38 weeks gone.
My little boy, who my husband Dan and I had already named 'Johnny', was due to be with us in a matter of days. To say I was excited doesn't come close.
I'd taken myself to hospital to have an ultrasound scan after suffering a bit of a migraine.
And then a doctor spoke five words that changed my life forever....'We can't find a heartbeat'.
My mind wouldn't let it sink in, but we'd lost our baby boy.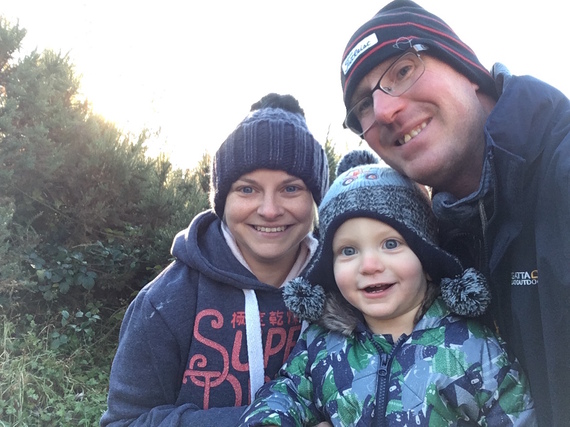 (Mary, husband Dan and son Sam. Copyright: Mary Vince)
I'd been through so much to get to this point. He'd been our little miracle. But my body had failed me.
Now, to coincide with national Baby Loss Awareness Week, I want to break the silence and confront the taboos.
Because it's only through people like myself uniting in acknowledgement of the situations we've been through that we can really begin to raise awareness.
And I've chosen to share my story to help others.
In the hours after Dan and I were given our awful news, I underwent a caesarian section - a scar to remind me that our child had existed.
And the bereavement midwives at St Mary's Hospital in Manchester were the best, most supportive people I could ever have hoped for.
They let us hold Johnny, cuddle him. We spent as much time as we wanted to with him. A cuddle cot kept Johnny cool, helping us to prolong our goodbyes.
Our families flocked to us, supporting us, cuddling Johnny too.
One of the things that helped us most was the help of a charity called '4Louis', who provide memory boxes so that bereaved parents can collect those vital mementos before the final farewell.
There was a candle, a teddy bear, a photo frame, some putty to do casts of his feet and hands, a CD to upload images of him and a box to put a curl of his hair inside.
It was so simple, but it was so comforting. We didn't think of it at the time, but now that memory box is so precious and special to us.
And there was also another little teddy to give to Johnny's future brother or sister.
Ultimately, in the end, we were lucky.
We sought help from leading UK consultant gynaecologist Luciano Nardo at Cheshire's Reproductive Health Group. We were able to afford IVF.
And on March 5th, 2015, my little boy, Sam, was born. He was five weeks premature and in an incubator for two weeks, but he was here with us and that's all that mattered.
When Sam got a bit older, he sought out a teddy. And the teddy he chose, completely without prompting from us, was the teddy we got in Johnny's memory box at the hospital.
He sleeps with it, takes him everywhere, as if he's subconsciously reaching for his brother. Every time I see it, it fills me with joy.
The teddy comes with us everywhere now, too. Johnny comes with us. He'll always BE with us.
And this is the sad thing - just because Johnny died it doesn't mean he didn't exist. I wanted to talk about him because I was proud to have had him, to have seen my beautiful little boy.
Some friends, though, found it impossible to talk to me about it. It's a common theme among others who've suffered stillbirth.
I don't want a fuss, I just want to talk about him as the human he was - his gorgeous little hands, his beautiful face, and his lovely little nose.
If you're reading this and you know someone going through the same thing, please talk to them. Yes, they might cry. But it'll be a sad, happy cry because they'll be talking about their precious little boy or girl.
Also, after Johnny, I was watching programmes like One Born Every Minute, and saw very few minutes spent focussing on stillbirth.
This needs to change. We need to arm people with the information they need just to be able to talk to couples going through a baby bereavement.
I didn't think for one minute this could happen to us. I didn't think at 38 weeks, a baby could die.
And they can.
But I want to shine a light on stillbirth. I want to talk about the son I lost, and get others talking about it too.
Because it shouldn't be the taboo that society has made it. And I want to offer hope to other families going through what we went through.
**
With special thanks to Reproductive Health Group, Cheshire who helped Mary conceive Sam.
As of 1 October 2017, the charity Sands made their own Memory Boxes available free of charge to healthcare professionals and healthcare providers.
They said: "Sands Memory Boxes provide a place for parents to keep memories of their precious baby and an opportunity for healthcare professionals working with them to offer practical and emotional support at an extremely difficult time."