It's the end of the year, Class of 2013 - that is, now that the year ends at the close of December rather than some arbitrary day in July - and that can only mean Christmas. But you have an extra reason to celebrate: you've survived your first six months out of Uni!
This is your first festive season in the 'Real World ™' that we heard so much about from the knowing looks and mirthful warnings of parents and older siblings. Your first yuletide as a tax-paying, daily-commuting, pension-thinking-about Adult. The first Christmas of the rest of your life.
For those who have managed to secure a job since leaving Uni, Christmas may be the first chance they've had to relax since their final exam. I was lucky enough to get a job straight out of University, but I mean that literally. I graduated on a balmy Friday in July and started my new job the following Monday, after a frantic weekend of moving into and furnishing a new flat with the dregs of my student loan and the help of my long-suffering parents. Suddenly, December.
The stark contrast between working a full-time graduate job and studying at University becomes plain straight away, but the festive season in particular is an entirely different experience. For one thing, less holiday - you'll certainly get some time off over the Christmas period, of course, but don't expect the three or four week respites you may've enjoyed at Uni. Instead, you'll measure your time off in days scraped from whatever's left of your annual holiday allowance, bolted around bank holidays or with awkwardly irregular days in the office. Be ready for your Winter break to pass by quickly and make the most of it while you can.
If you've landed your first job through joining a graduate training scheme, you may be in a position where you're effectively competing with other participants to impress your bosses enough to earn a permanent role. In these situations, there can be intense pressure to continue working doggedly during the festive season, lest your colleagues-come-competitors outshine you. Though your dedication and work ethic is laudable, even your most target-oriented manager will stress the importance of a good work-life balance and Christmas is the perfect time to take a breather without delaying your work.
At University, your social circles usually comprised people of similar ages and interests, in an environment where celebrating usually involved alcohol and bad decisions, forgiven as the folly of youth. The office Christmas party, surrounded by people of all ages and sensibilities, requires a more circumspect approach - not least because some of the attendees will decide the speed and direction of your career for the coming years.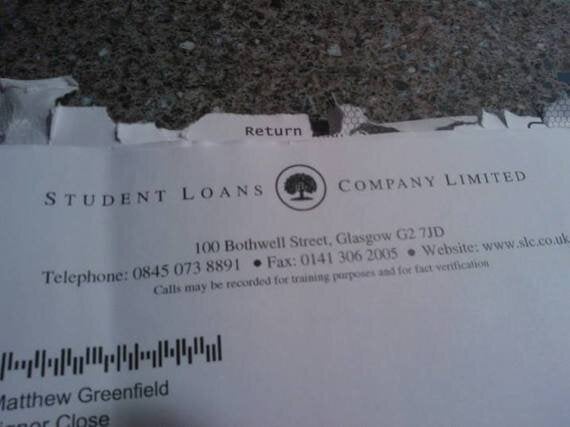 Buying gifts also requires a whole new tact when you no longer have the excuse of being a penniless student. However, almost all graduate jobs are entry-level roles that don't exactly pay handsomely. Most of us are either on a precariously balanced budget or still digging our way out of an overdraft, with the looming shadow of student loan repayments (above) on the horizon. Use what you learnt at Uni (about being frugal, not the stuff you memorised for an exam then promptly forgot about) to stay firmly within a gift-buying budget, find some good deals and be conscious of what you're spending. But don't be a Scrooge, particularly to the people who supported you through your final year of Uni.
But what about the people who left University last summer and are yet to find graduate work? For those still seeking their perfect job, the post-graduation optimism may be understandably wearied after months of long applications, terse rejection letters and unsuccessful interviews. But you're not alone, according to the Office for National Statistics around 47% of recent graduates are either still unemployed or are working in non-graduate jobs. If you haven't already, Christmas is the perfect time to do voluntary work while you continue your job hunt, which generally goes down well with potential employers. In the meantime, take a break from writing cover letters with a mince pie or two.
Whatever your circumstances, if you're still sporting graduation goggles then being apprehensive that Christmas Present won't live up to Christmas Past is perfectly understandable. But you needn't worry. You began University looking forward to new experiences, not knowing what to expect and ready to face whatever this new setting had in store for you. Your first Christmas in the 'Real World ™' is just another new experience that comes with it - a chance to make the holiday new and exciting again as your expectations make way for new ones. But if you want spoilers, here's a look at Christmas Future.