Given the years of hype around the idea of their smartwatch, it would have been all too easy for Apple to just stick a sixth-generation iPod Nano on an overpriced wrist strap and be done with it. Instead, the Cupertino-based company has given its Apple Watch a nifty way of gliding through menus, a healthy slew of supported apps and crammed it with more sensors than a North Korean game show.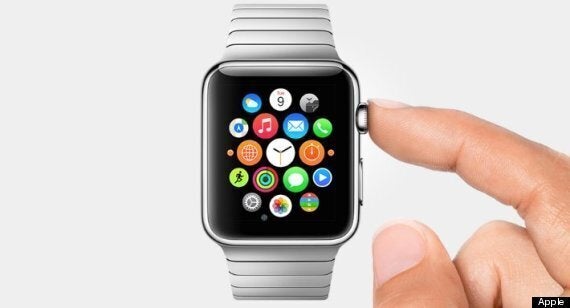 However, compared to all the predictions, concept designs and rumours, the real thing seems a tad lacking with several expected features noticeably absent. Apple has a tendency to hold stuff back in new products as incentives to buy a later upgrade - as with the iPad Mini lacking the retina display that was introduced in the second generation. So what could we expect to see in the Apple Watch 2?
Despite waxing poetic earlier in the keynote about how impressive the new iPhone's cameras are, there was no mention of a wrist-worn snapper. The Apple Watch can view pics and act as a substitute viewfinder for your iPhone's camera, but it can't take photos. Though a camera is hardly an essential feature, as evidenced by the Moto 360 and Samsung Gear S watches eschewing a sensor, it seems strange here given the Apple Watch has a built-in speaker and microphone for voice calls and how much Apple pushes FaceTime. It's a reasonable guess that the second entry into the Apple Watch lineage will include at least a front-facing camera for video calls, with more to follow if popular photo-based uses for smartwatches emerge.
Apple is working with developers of the most popular iOS apps to ensure that smartwatch-ready versions are up and running by the time the Apple Watch hits the shelves. With the WatchKit SDK yet to be released, indie devs will need some time to get their apps together, but the results should be spectacular when they do. With an entirely new form factor to sink their teeth into, experiments in optimising user interfaces will give us some of the most baffling, inventive and exciting apps and games we've ever seen. Eventually, they may hit upon a hitherto unrealised use for smartwatches that will make them a must-have gadget.
The standard 3.5mm headphone jack doesn't take up much room, but Apple opted not to include it on their diminutive smartwatch. Though the Apple Watch is intended only to control your iPhone's music remotely, it does have a built-in speaker and can play music, so this omission is strange. Since Apple recently purchased designer-headphones brand Beats, it's possible this will be rectified in the second Apple Watch with a proprietary headphone port that works only with Beats or Apple-branded cans.
Beauty is in the eye of the beholder, but for some people the Apple Watch is just plain ugly. Though there's an exhaustive number of personalisation options, some people will want to buy a complete style for their smartwatch that comes from experienced designers. Apple has gone on something of a hiring spree for higher-ups in the fashion world lately, including former Burberry CEO Angela Ahrendts, design director at Nike Ben Shaffer and designer Marc Newson. So it's likely future Apple Watch lines styled after a particular look will come about soon. One piece of concept art demonstrates how well the Apple Watch's interface lends itself to a round face akin to the Moto 360, so perhaps Apple will experiment with new shapes in the future as well.
Short-Distance Wireless Charging
The Apple Watch charges wirelessly by virtue that, instead of contacts, it induces a current magnetically by pressing a stethoscope-like charger to the back of the timepiece. But it still requires the user to take off the watch and effectively use it as just a tiny iPhone. When it comes to wearable tech, charging should ideally happen in the background as the user moves around freely within the confines of, say, an office or house while the device functions as normal.
The technology for wireless charging over even short distances is still in its infancy, but Apple has a precedent for snapping up fledgling technologies and putting them to use. In Walter Isaacson's biography of Steve Jobs, former Apple executive Jon Rubenstein recalls his chance encounter with Toshiba engineers developing a tiny 1.8-inch 5GB hard drive ideal for the music player Jobs had tasked him with creating: the iPod. Sniffing out promising developments in wireless power and adapting it for products seems like just the sort of thing Apple would do.
What were you expecting/hoping to see in the Apple Watch that didn't make the cut? What do you want to see improved for the second-generation? Let us know in the comments.