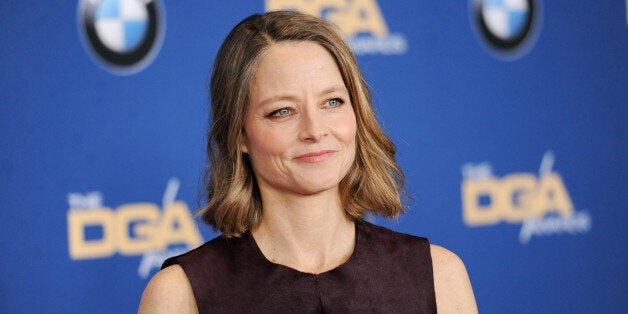 Working as an entertainment journalist has meant that I've been privy to more than my fair share of gossip over the years about which stars are gay but still in the closet. Many of those whispers have proved to be true too, with the likes of Tom Daley, Joe McElderry, Ellen Page and George Shelley, all going public with their sexuality in recent years.
It's no coincidence that every single one of them belongs to a new, younger generation of stars whose sexuality has increasingly become about as interesting as what they had for breakfast. That said, for many young people coming to terms with their sexuality, it's still incredibly important to have positive gay role models in the public eye. So it's heartening to know we've reached a point where stars like Sam Smith and Years and Years singer Olly Alexander didn't even have to come out. If someone asked, then yeah, they fancied their own sex. What of it? And quite right too.
The same can't be said for all areas of the entertainment world, though. Outside of this handful of celebs, there's still one rather big pink elephant in that room with 'showbiz' hanging on the door: Hollywood.
So why are there still no out (and proud) Hollywood A-listers?
Yes, I know Jodie Foster came out during her Golden Globes speech. While admirable and brave, it didn't exactly coincide with the pinnacle of her on-screen career. Likewise, 'Star Trek' star Zachary Quinto, but neither he nor Jodie could greenlight a movie on their name alone.
It's in sharp contrast to the British film industry where a number of high profile stars, such as Sir Ian McKellen and Stephen Fry, have come out and continue to enjoy successful film careers. In, fact, Sir Ian says it's something he's wished he'd done years before. Despite this, another out British film star, Rupert Everett, still believes it's best to stay in the closet if you want to carry on working.
"It's not that advisable to be honest. It's not very easy," Rupert says. "The fact is that you could not be, and still cannot be, a 25-year-old homosexual trying to make it in the British film business or the American film business or even the Italian film business. It just doesn't work and you're going to hit a brick wall at some point. You're going to manage to make it roll for a certain amount of time, but at the first sign of failure, they'll cut you right off."
It's a belief - a fear - that still runs through Hollywood: that coming out will signal the end of your acting career. But haven't we moved on? The belief that modern day audiences won't buy into an out actor playing a straight role is, I believe, short-sighted. Neil Patrick Harris is an out gay man and managed to play a very convincing straight man in the massively successful Gone Girl. And we have no problem with straight actors playing gay.
It's an argument that LGBT and human rights campaigner, Peter Tatchell, agrees with.
"Still far too many Hollywood LGBT celebrities mistakenly assume that coming out will diminish their chances of getting big leading roles, especially ones that involve hetereosexual relationships," Peter tells HuffPost UK. "That's crazy. They are actors, which means they adopt roles and personas that are not necessarily their own."
He also argues that the belief that coming out will mean greater press intrusion is flawed.
"Some celebrities stay in the closet because they're fearful of paparazzi intrusion, but it's being secretive that tends to excite paparazzi interest," he explains. "So that justification doesn't really hold water."
Another worry studios have about hiring an out gay actor is that it will have a significant impact on ticket sales in countries where homophobia is still rife and, in many cases, where anti-gay laws exist.
For the star themselves, there is also a fear that their lives could be at risk.
Kelly Bush, founder and CEO of ID Public Relations tells Variety. "If you're famous and you're gay and you travel a lot, you have to be aware that there's a lot of hate out there, and that makes you more vulnerable."
I'd argue that the ring of steel that surrounds A-listers as they travel the world promoting their latest releases would give Obama's security a run for their money. And if a star is perceived as more 'vulnerable', then their security should reflect this.
Peter Tatchell believes we might, just might, be on the cusp of a closeted Hollywood star making that leap of faith.
"It's bound to happen sooner or later given the way public, media and business opinion is changing to become more LGBT friendly," he says. "It's really important, because so long as they remain in the closet, it tends to signal that there's something wrong with being LGBT."
Of course, there have always been many LGBT people working behind the scenes in Hollywood and more and more films featuring gay characters are being made. But the last frontier of an out leading man or woman has yet to be crossed.
So do closeted Hollywood stars owe it to their fans - both gay and straight - to come out, set an example and be loud and proud?
US Olympic diving gold medallist, Greg Louganis - an elite sporting athlete who caused controversy by revealing his HIV status in the 1990s - believes they should do so when they're ready.
He tells HuffPost UK: "It would be great if they did, but if they are forced to come out before they're ready... where's the honour, dignity and good example in that? It doesn't help anybody."
So it's got to start with someone, but who? Only time will tell. Until then, we'll just have to keep on guessing.
HuffPost UK is turning Loud & Proud. Over the next fortnight, we'll be celebrating how gay culture has influenced and, in turn, been embraced by all fields of entertainment, inspiring cinema-goers, TV audiences, music-lovers and wider society with its wit, creativity and power of expression.
Through features, video and blogs, we'll be championing those brave pioneers who paved the way, exploring the broad range of gay culture in British film, TV and music and asking - what is left to be done? If you'd like to blog on our platform around these topics, please email ukblogteam@huffingtonpost.com with a summary of who you are and what you'd like to blog about.