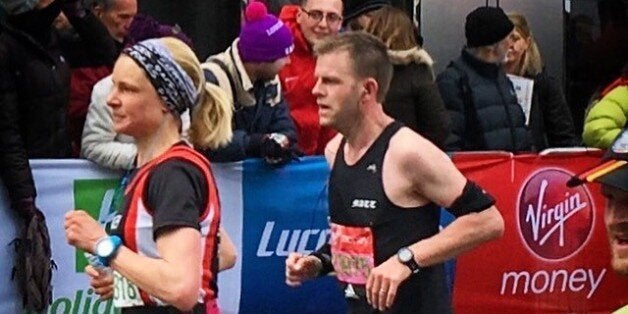 I can confirm it is still as painful as I remember it. Six years may have passed since I first completed the London Marathon (which I blogged about here last week), and while it's changed a fair bit, some things remain constant.
It was certainly noisier and busier, with more runners, and more spectators than last time. I managed to grab a word with a few famous faces at the start. Chris Evans was playing it exceptionally cool, while Judge Rob Rinder was casually talking of going sub-three hours. Sprinter Iwan Thomas - who I'd made a bet with live on the Saturday Show that I would beat his time by 20 minutes - was a ball of energy.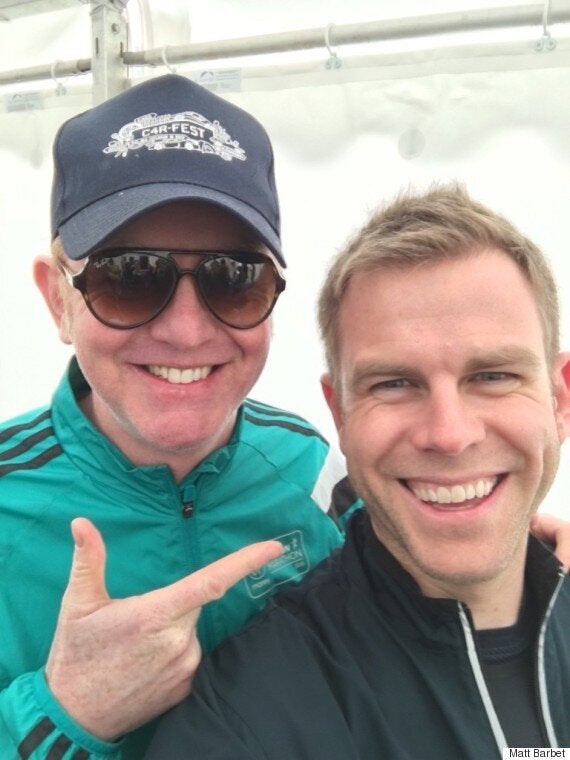 It was rather bizarre to bump into MP Simon Danczuk, who's been suspended by the Labour party, along with his estranged wife Karen. My own former TV wife Ranvir Singh was all smiles, but won't mind me saying she was a tad nervous, while Dame Kelly Holmes was firmly in the zone before her first marathon. When famous Olympians are pensively weighing up the challenge ahead, it does make you stop and wonder if you should be a bit more worried about it.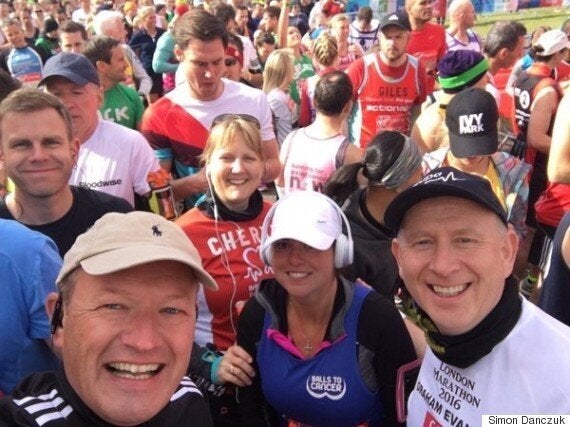 Me with Simon Danczuk and his estranged wife Karen
As we set off, memories of the route came flooding back, and the familiarity was comforting. It's a long way from the terrifying the leap into the unknown of doing it the first time, and I was a lot more disciplined about sticking to my plan.
Still, as the faster runners constantly overtook me during the first few miles, and one or two got tripped up as they jostled for space, it was still difficult not to get swept up in the moment, and go with the flow. Again, I failed, and went off a bit too quick, something that would haunt me later, just like 2010.
Despite the ghoulish warnings of snow blighting the Marathon for the first time ever, the sun actually came out for a lot of it, and it wasn't long before a regretted wearing a long-sleeve top under my vest. Having hit a high running over Tower Bridge (still the second-best bit, after finishing the thing), going through halfway in under 1 hour 40 minutes, and then managing to spot my family in amongst the throng, I resolved to try to get undressed while still running.
Fortunately, as I took the plunge, we headed into an underpass that signals the start of Docklands, so none of the crowd had to witness the ridiculous sight of me whipping off my iPhone armband, becoming tangled in my earphone cord, finally getting my vest and top off, before struggling to get just the vest back on. With daylight fast-approaching, my vest was rucked-up and resembled more of a boob tube. Not a good look. So, thanks to the anonymous club runner who recognised my situation, and yanked down the vest just before we reappeared in front of thousands once more.
Running around labyrinthine Docklands is a sapping, disorientating experience, but once you leave, you know you're on the home-straight, of sorts. The 20-mile marker is where the infamous "wall" usually lies in wait, and while I didn't hit it and rapidly lose energy, it's here that my legs started to let me down. I started to feel I was in a daze, and wanted to walk. This, though, is where you hope your character kicks in, and my inner voice was repeatedly reminding me if I stopped, I wouldn't start again. The overwhelming voice of the crowd means you're aware thousands are watching, and a glimpse of a sign saying "Pain is temporary, glory lasts forever" struck home. No stopping.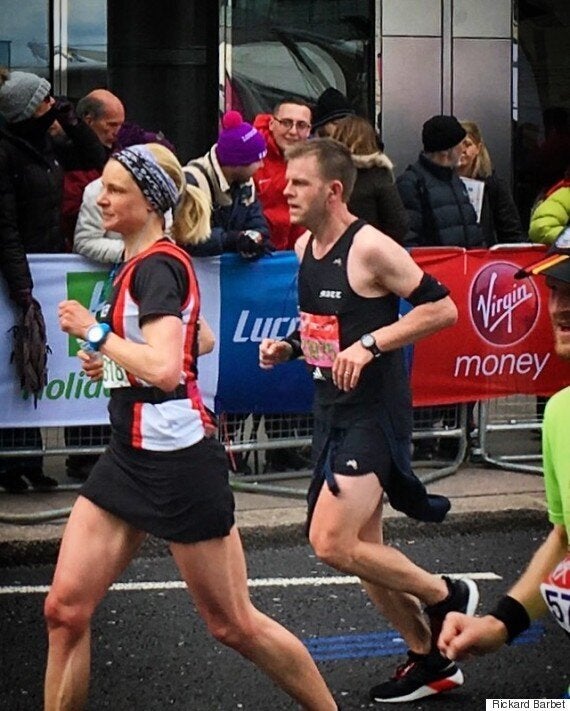 All around, people were cramping up. As I pushed towards Big Ben, and the final mile, my own hamstrings were teetering on the edge of failing. My heart said lift the pace, but my head said it would be futile. I briefly leaned on a marshal and tried to stretch my legs out, and then pressed on for the longest 600 metres of my life. Finally, on the Mall, you know you've done it. The clock said 3 hours 23 minutes as I literally walked across the line. Job done. I'd achieved my aim of a good sub-3.30, a whole 49 minutes quicker than last time. It's a great feeling.
As I write this on Monday morning, the pain isn't quite as temporary as I'd like. I'm typing at home upstairs, and I'm not entirely sure I'll get downstairs for a while. I'm also fairly safe in the knowledge I am now done with marathons. Cycling is my real passion, and I'm looking forward to getting back on the bike. Still, I said that last time, and look what happened...