St. Patrick's Day has become a worldwide phenomenon and an excuse to celebrate all things Irish. With the whiskey industry in Ireland experiencing an unprecedented boom, more people than ever will be pouring themselves a whiskey from the Emerald Isle this Friday.
Here I choose some of the best new releases from the last couple of years. This will hopefully show there are more diverse options to celebrate with outside of the well-known traditional Irish beverages.
The Quiet Man 8 years old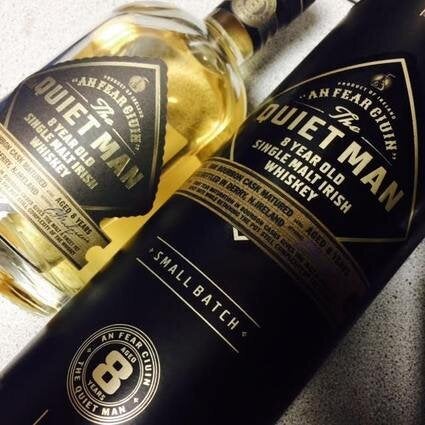 Image © Whisky For Everyone.
This whiskey is named after John Mulgrew, the father of Managing Director Ciaran Mulgrew, who was a highly regarded bartender in Ireland for over 50 years. However, he was a man of few words and became known as The Quiet Man. The brand will shortly also have its own distillery up and running in Derry.
This 8 years old single malt has a lovely aroma of honey, vanilla and tropical fruits. It is incredibly soft and sweet on the palate with green apple and warming baking spices joining those notes from the nose. A background hint of bittersweet malty cereals adds further depth and complexity. Simply exquisite.
A superb whiskey that combines the best of Irish and Spanish know-how. This expression of Redbreast is a collaboration between Irish Distillers, who produce the pot still whiskey and the Emilio Lustau bodega in Jerez, who produce sherry and the special casks that the whiskey has matured in.
This begins with wonderful aromas of toffee, toasted almonds and sultanas before evolving on the palate. It feels classy, soft and velvety with additional notes of cinnamon, honeycomb, baked apples and a hint of gingerbread and candied orange peel. One of the best Irish whiskeys of recent times.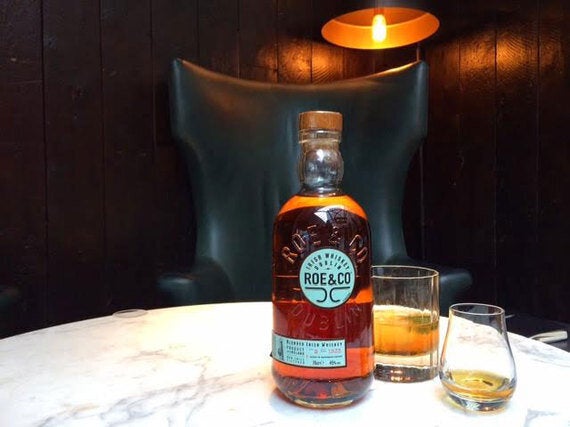 Image © Whisky For Everyone.
When Diageo sold Bushmills and left the Irish category a couple of years ago, some questioned their decision. Now they are back with Roe & Co. - an Irish whiskey named after the old Dublin-based Victorian distillery of George Roe. The brand will soon be supported by a new distillery in the centre of Dublin.
An expressive mix of aromas - pear, apple, peach, golden syrup and vanilla - combine well with delicate baking spices on the nose. On the palate it feels soft, gentle and creamy with notes of fruit syrup, pineapple, caramel and a hint of treacle joining those characteristics from the nose. Very good value.
This whiskey was launched back in 2013 by the pioneering Teeling Whiskey Company. Since, they have opened a distillery and award-winning visitor centre in the heart of Dublin. This is a single grain whiskey made from maize and has been matured fully in ex-Cabernet Sauvignon red wine casks sourced from California.
Fresh, sweet aromas greet you with this whiskey - think of vanilla, honey, coconut and a complex blend of wood and baking spices. In the mouth it is initially dry and spicy, but sweeter characteristics come through. There are luscious notes of butterscotch and vanilla fudge plus hints of marshmallow and cranberry.
Tullamore DEW 18 years old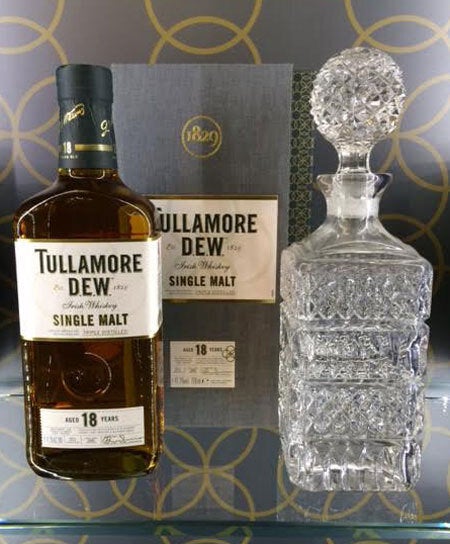 Image © Whisky For Everyone.
Old Irish whiskeys are relatively rare but few that I've tasted are better than this single malt offering from Tullamore DEW. You have to pay for that rarity, like anything in life, but in this case it is worth it. This whiskey has undergone a slightly unusual maturation process that combines ex-bourbon, Madeira, Port and sherry casks.
The nose is soft, fruity and spicy with lots of dried fruit (sultanas and candied orange especially) supported by oaky and malty aromas. The palate is velvety and rich. Notes of fruitcake, ginger and honeyed almonds combine with the dried fruits from the nose, plus hints of coffee and tobacco leaf. Extremely classy.