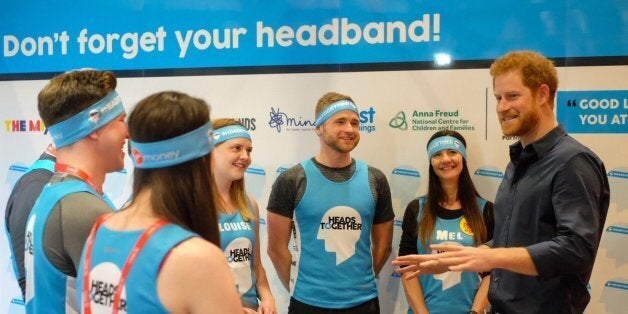 Mental health is close to my heart. My Dad lost his mum several years ago and, as a result, he started experiencing depression a few months after. I had no idea about it for a long time - because men don't talk about how they feel.
As a 32-year-old man, I have always been really bad at talking about my feelings and the way I cope with my own emotions is by swallowing everything down. However, when my Dad opened up it really inspired me to be more open.
At one point he was so down but since he has come out the other side he has become a really positive and optimistic person. Now he is a very much 'live for the moment' and 'do what makes you happy' type of guy. He just tells people to talk about anything.
Recently one of my closest friends opened up about experiencing horrendous anxiety attacks, which really took me by surprise - you can't always tell there is a problem when someone has a mental health problem, you really have to scratch the surface. I had no idea what my best friend was going through. In the past I have acted as a 'typical British Bloke' by suppressing feelings and at times almost feeling uncomfortable about discussing my emotions, however understanding about what my Dad and my best friend have gone through showed me there is no shame in talking about mental health.
I have ran a few half marathons in the past and really enjoyed my training. I'm an airline pilot so have been fitting in my training runs between flights at all different times and time zones. Running really helps when I'm feeling stressed about various things going on in my own life and training for the marathon has improved my mental wellbeing. I'm running for Heads Together and my local Mind branch because it's vital these mental health conversations help ensure people with mental health problems can access the services they need, not just in my own area but in the rest of the UK.
Although a lot of my training has been quite isolated (most of my training has just been on my own), being part of this experience has been anything but - I have been amazed at the amount of people who have opened up to me about their own experiences. I have found it really interesting speaking to other people. This has really encouraged me to try and be a lot more open with work colleagues and at times show my vulnerability.
One of my closest friends is also a pilot and we are both running the marathon on Sunday. Traditionally talking about mental health in our industry has been very taboo and if you did open up about a problem you would be tarnished with it. Possibly because of the responsibility our job holds and also because of the very rare scare stories the media publishes which fuels the stigma. However, there has been a huge change even in the last six months. There are confidential helplines in place and people are much less scared about opening up. I feel proud to be running the marathon for Mind.
My training is going as well as it can be. A few weeks ago I injured my knee so was scared I might not be able to run the marathon. Heading down to the expo and getting my number was so exciting. I had the privilege of meeting Prince Harry, which was fantastic hearing other people share their own mental health stories so openly but also to see how much attitudes can change - going from never talking about my emotions to sharing them with Prince Harry just shows that we can break down the mental health stigma.