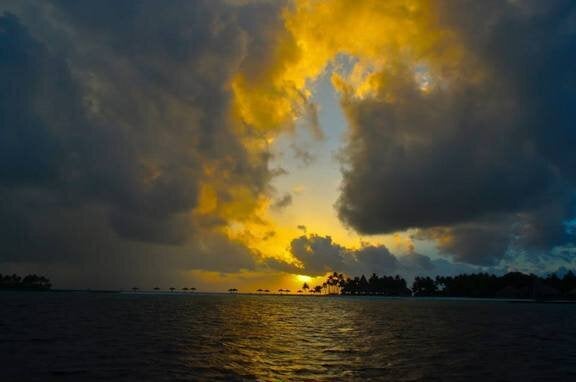 "You're going to the Maldives? Oh wow, that sounds amazing. Take lots of books, there's nothing to do there."
This may sound like an idyllic, blissful paradise to some people. The beaches! The turquoise waters! The beaches and the turquoise waters together in one place!
But to me, it was the source of quite some concern before our Honeymoon. You see, I am a man, and we men need excitement, we are in constant need of sensual stimulation and we need our minds to be occupied. Your man may say differently, but like me he is merely being a gentlemen (that's what's expected of us, you see).
"A break on a beach with absolutely nothing to do, darling? That sounds like Heaven."
And so we duly booked a holiday on the white sands and turquoise waters of Kuramathi, an island in the Rasdhoo Atoll of the Maldives. A country that positively sells itself on nothingness.
The journey there was obviously the last hat-tip to manly, free-spirited adventure as we rolled over crashing waves through 56 kilometres of stomach-evacuating seas towards our final destination. I rode the waves majestically, like a King of the Seas. Others around me turned green and stared longingly at the horizon. That is because they are not adventurers like me, they are the type of travelers who go to the Maldives.
As we ebbed closer to our destination, it became clear to me that this was not the tiny, intimate island of Maldivian stereotype; it was long (nearly two kilometres long, fact fans) and among the towering palm trees and thick bushes, hundreds of thatched-roof villas poked their sun decks towards the coral-filled sea.
And nestled among these villas - a variety of beachside apartments (some, like ours with their own open-air jacuzzis) - are ten restaurants and six bars, all with their own unique take on the Maldivian experience.
What this means, is that it's perfectly possible to eat curry, fine slabs of steak and the freshest fish, straight from the ocean to your plate, in a different restaurant every night of the week. Curry even comes for breakfast, which is something most men only experience after a skinful of ale the night before. Things were already looking up.
And as we dumped our bags and went off to explore the island (on the dirt tracks through the trees like real adventurers, of course), it quickly became clear that there was more to this island than immediately meets the eye.
Two dive schools offer excursions throughout the day, where guests can submerge themselves inside sunken shipwrecks, follow rays across the seabed and glide over the coral below. But for those with PADI certificates the ocean becomes a mind-blowingly exciting playground, with the pick of the trips being an early morning boat ride to Hammerhead Shark Point, a spot less than 10 minutes from Kuramathi where the majestic mammals congregate 30 metres below the surface in crystal clear waters.
Even if you're not PADI certified, there's plenty to see in the lagoons immediately around the island. Within ten seconds of dunking our masks underwater, we were passed within touching distance by a Black Tipped Reef Shark - in water no more than three feet deep.
Snorkel excursions may seem like the poor man's dive trip, but in truth there's so much to see with just a snorkel and a mask that strapping on oxygen tanks seems like a waste of sunshine time.
Perhaps you're more of a sporty person, in which case you can head for the jetty to pick up a windsurfer, which will instantly make 90% of men look like weak, foolish individuals with little upper body strength and no sense of balance.
Alternatively, you could choose the glass-bottomed kayaks, which serve two rather different functions: Firstly, they allow you to stare between your legs and watch sharks and turtles getting perilously close to your crown jewels; and secondly it provides the perfect opportunity to have your first holiday argument, because your wife isn't adhering to the strict 'left, right' paddling pattern necessary to propel yourselves forward. She maintains it was my fault, I maintain that it really shouldn't matter as half an hour spent paddling in circles gave us a wonderful opportunity to see the island from all angles.
Admittedly it's all been a bit water-based so far, and there are those travelers who balk at the idea of entering the ocean (fools!), but thankfully Kuramathi has plenty to offer land-based guests as well.
The wooden, open-sided Laguna Bar - on the furthest tip of the island - feels like the sort of place Hemingway would have sipped rum and watched the world go by. But those who grab themselves a spot on the terrace get to watch a whole lot more, as each night a huge fever of stingrays - with an accompaniment of sharks - whip themselves into a frenzy at a feeding session led by a hotel staff member armed with a bucket of fish and some steel-plated gonads. Let me tell you, supping a cocktail as oceanic creatures tear each other apart in front of a glorious sunset makes you feel like a Roman Emperor and sets you right up for dinner.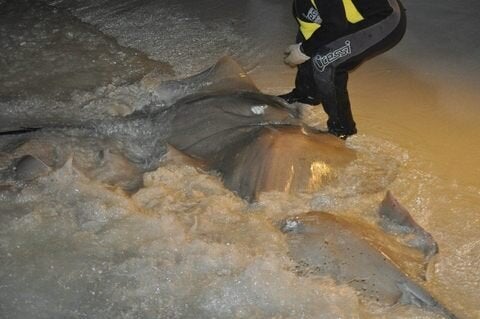 After gorging yourself on food at any of the ten restaurants, which offer a plethora of world foods, there are enough bars to keep you well watered at regular intervals as you venture up the island.
A particular favourite was the Havana Club Wine & Cigar Bar, an air-conditioned, timeless pocket of sophistication set back from the ocean, where guests can glug cocktails, fine wines and a huge selection of premium spirits and puff on fine cigars under the watchful eyes of Castro and Guevara.
So I really can't do more than inform you of all these chuffing brilliant things to do on the island of Kuramathi, in the knowledge that if someone else tells you to "make sure you take a book," you can tell 'em where to go.
But if you really do insist on ignoring all of the above and lounging around on the beach all day, or by the glorious beachside infinity pool, then there's just one more thing: They have BATS. Massive, incredible, beautiful fruitbats soaring from the trees and laughing in the face of Bram Stoker's suggestion that they fizzle and die at the merest glimmer of sunlight. Even the bats are more manly here.
Seriously, what more do you want from a place? It's an adventurer's paradise, even for a bear-wrestling, globe-traversing adventurer like me.
Kuoni (01306 747008) offers seven nights on full-board basis at the 4-star Kuramathi Island Resort, Maldives in a garden villa, including flights with SriLankan Airlines from Heathrow and group transfers in resort.
Prices for December 2013 are from £2,570 per person, based on two sharing.