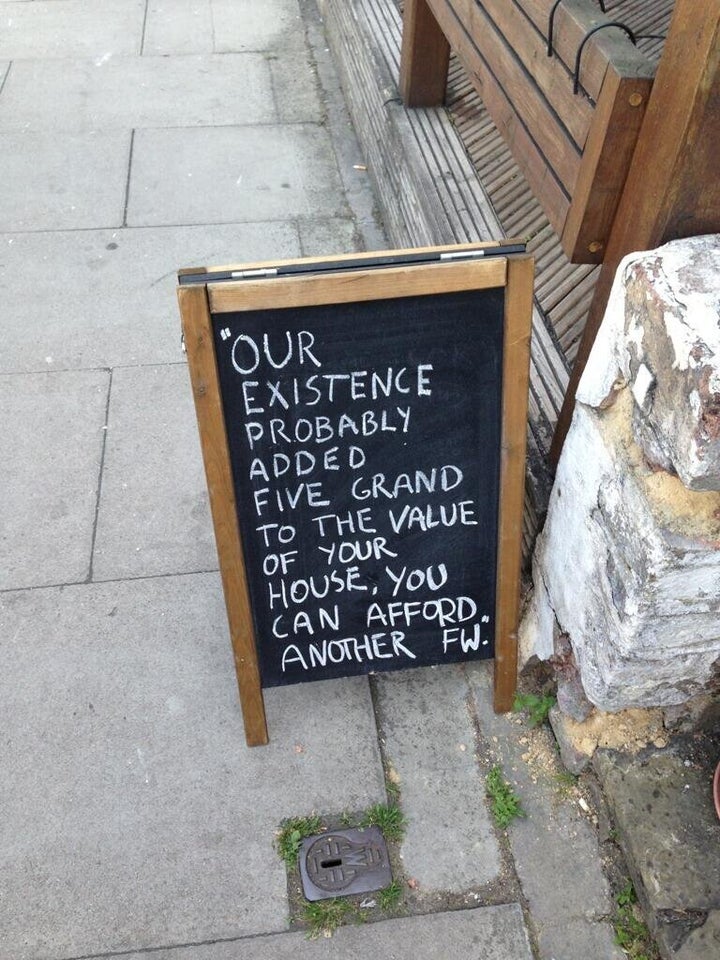 I spotted this chalkboard outside a coffee shop in Forest Hill, southeast London recently and was amazed. Firstly by how arrogant a marketing tactic this is - telling your customers you're doing them a favour and that they should be grateful - but also by the presumption that everyone owns their home. Given that, in the decade from 2001-2011 the number of households renting from private landlords almost doubled, that's far from likely.
In the interests of fairness though, let's pretend for a second that everyone does own their home and it's now worth £5,000 more. That doesn't actually mean you have immediate access to that cash to spend on 'another FW' (which I presume means 'flat white') even if you wanted to. What about everyone else? If, like many Londoners, you rent, it's your landlord's property which has increased in value. That doesn't help you much - in fact it probably means your rent is likely to go up. Maybe you should be saving your money and not buying takeaway coffee at all.
This isn't about one coffee shop's misguided attempts at marketing though - it's about a wider issue. Gentrification. As areas become gentrified - something that's happening in several places in southeast London right now - prices go up. That doesn't just mean house prices - it also means rents. It's been a problem in London for years but, until fairly recently, there have always been cheaper areas to move to. The south east of the capital is now one of the few relatively affordable areas left in London but it won't be for long. What we'll end up with, if things continue as they are, is a city nobody but the wealthiest can afford to live in. In truth London is already beyond the reach of many low and middle income households.
The CBI recently stated that housing is the second biggest problem for employers right now, because their staff can't afford to live near where they work. Almost everyone agrees we need to build more houses but it won't help unless we built them where there are also jobs.
When I moved into my current rented flat in Forest Hill the area was reasonably cheap and had no coffee shops. Now, seven years later, it has at least five coffee shops, a deli and several boutiques. On top of that it's also on the East London Line on the overground. All of this has pushed rents up by over 50% and the same thing is happening down the road in Peckham Rye. It's only a matter of time before the rest of east London catches up. If gentrification is hitting professionals, like me, earning above the average national wage then how is everyone else coping? The answer is they're not and haven't been for some time.
As a result, increasing numbers of people are returning to sharing to keep costs down. Numbers of people flatsharing are up 31% in just two years and a staggering 67% of recent sharers previously owned or rented - alone or with their partner - but are now sharing again. Whilst flatsharing becomes more popular in the short term, if this trend continues, rents will become so unaffordable even sharing won't be an option.