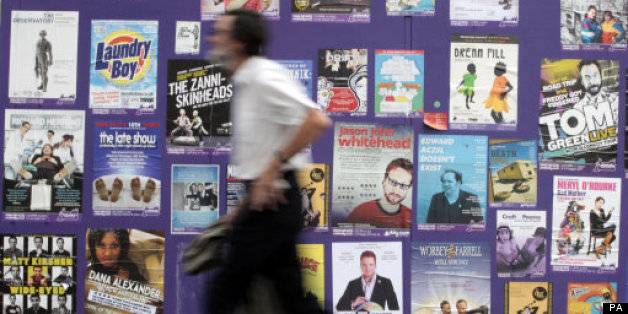 PA
I both love and hate Edinburgh. Being up here at the greatest arts festival in the world, with the sun shining, in a vibrant city surrounded by stunning scenery can be bliss. Other times it makes me feel sick to the pit of my stomach and brings out the worst feelings in me, of blind fear of how the show will go down, envy for other acts and simple, old-fashioned misery.
My mood up here seems to change almost as regularly as the weather, which veers from glorious sunshine to torrential downpour. Edinburgh punishes anyone optimistic enough to leave their umbrella at home. The city's bipolarity isn't restricted to just its weather, with vast differences in wealth; dotted amongst the luxuriant Georgian houses of financiers there are many people sleeping rough. I know that once I start doing my show (which is free but has a bucket at the end for donations) and am walking back through town with pockets full of change, I won't be able to walk past without feeling like a total dick. On previous trips to Edinburgh outside of the festival, I noticed that the rate of homelessness seemed less and I guess it probably stands to reason that even beggars might be attracted up here by the prospect of lots of people with ready cash. The magnetic power of the festival extends past the realm of just performers.
I've been up here for a week, and it's been fun watching the festival take shape; every possible performance space being carved out in the city and open areas transformed with curious shapes such as the notorious upturned purple cow of the Udderbelly. It very much has the feeling of the calm before the storm. The Royal Mile at the moment only has a few people promoting their show, but it's only a matter of time before it's guts-to-gooch with precocious drama students dressed as sexy zombies, half-smiling comedians handing out pictures of their own faces and stilt walkers juggling fire, to the point that it becomes virtually impassable. There are two thousand eight hundred and seventy one shows at this year's fringe and any trip to the Royal Mile during the month reminds you of how crowded a marketplace you're working in.
It's a useful exercise in humility; just in case a few good shows start to inflate the ego, you have to remind yourself that it's unlikely that any national papers will review you, and that you will even be in the running for any of the awards that attract so many performers up here. It's like the big draw of Hollywood, bringing in bright-eyed hopefuls that want to make it big but will ultimately just end up working in porn. The reality about putting together an Edinburgh show is that no matter what you do, all those things, reviews awards and to some extent audience numbers (the difference in potential audience between time slots is vast) are out of your control. All you can do is work on your show and try to make it as good as you conceivably can. And try to enjoy yourself, apparently people also come up here to have fun.
Matt will be appearing throughout the Edinburgh Fringe in the French Quarter at the Voodoo Rooms, 19a West Register St, EH2 2AA, 7.30pm. https://www.edfringe.com/whats-on/comedy/matt-lacey-classroom-warrior-free