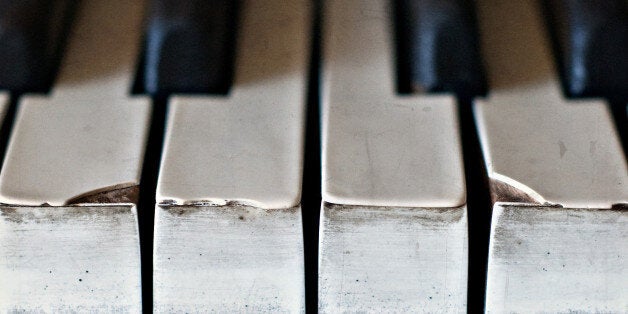 The wheezy, wistful and whisky-soaked Christmas Card From a Hooker in Minneapolis by the glorious Tom Waits is a narration of letter from a prostitute and it's about as far away from the innocent, angel-voiced carol as you could possibly hope to get. Almost always sung while seated at the piano - preferably with the accompaniment of only the piano - and performed in a medley together with Silent Night, it's been covered a hundred times but never bettered. Only Tom could deliver such a lyric as Hey Charlie, I'm pregnant and living on 9th Street / Right above a dirty bookstore off Euclid Avenue / And I stopped takin' dope and I quit drinkin' whiskey / And my old man plays the trombone and works out at the track - and only Tom should.
The Stilette-Hoes - legends of the New York City neo-variety scene - sing about what everybody quietly wants but dares never to ask Santa for in I Want Sex For Christmas. Not noted for their subtlety at any given time, Camillicious, Pinkie and Lil' Miss Lixx gift us with a song that hammers the title home, singing I wanna slide down your North Pole / Let me show you where to put that lump of coal in a festive ditty that prefers to ride the moustache rather than the traditional sleigh. It is a feast for the senses and the perfect ice-breaker for those awkward silences with the family before sitting down to dinner. Tuck in.
I wish there was footage of James Brown giving a live performance of Santa Claus, Go Straight To The Ghetto, probably the best-loved track from his album A Soulful Christmas - eleven self-penned, self-produced seasonal songs from the Godfather of Soul. Hit 'play' and hear him not asking Santa for something he wants, but telling him what he wants. I love Brown for practising what he preached. Recorded in 1968, the year he made the transition from artist to activist, that Christmas he gave free dinners to three thousand residents in some of the poorest neighbourhoods in New York.
Some songs deserve to be out-and-out Indie classics. Wilfredo and the Great Carmella's comic yuletide offering Peace All Over The World (At Christmas Time) ticks pretty much all the boxes when it comes to quite possibly being one of the greatest all-encompassing Christmas songs ever written - donkeys, jiggy and even a biscuit tin get a look in. Banned from being played on the hallowed airwaves of the BBC, who felt they might offend their sensitive listeners, the Iberian pop-trash beauties blaze on regardless. Good.
At this time of year, Slade will always rake the royalties in as long as the supermarkets survive. Especially while such titles as Happy Holiday, You Bastard (Blink 182), Don't Shoot Me Santa (The Killers) and That Was The Worst Christmas Ever (Sufjan Stevens) are around. The latter seems to have been overlooked again this year. Emotional cruelty to the younger family members seems to be the order of the day, as Stevens sings Our father yells / Throwing the gifts in the woodstove in his beautifully poignant ode to the season. Despite this, he's clearly a fan of Christmas, having released no less than five holiday albums over the years.
Most relationships are dysfunctional - such is the human condition - and we all know in our hearts that Christmas can either make or break a couple. So the existence of Merry Christmas (I Don't Want To Fight Tonight) with the familiar, reassuring vocals of Johnny Ramone is entirely necessary. Listen to this. Then hit the 'play' button again. There you go. It's the earworm we all wanted all along. 'Cause Christmas ain't the time for breaking each other's heart.
There's a reason why Shane McGowan and Kirsty MacColl are considered by the discerning masses to be the heavyweight champions of Christmas past, present and probably future. Gone are the syrupy holiday lyrics about decking halls and hanging holly. Banished are all suggestions of joining in a season to be jolly. It is sentimental without being slushy while displaying a sitting-in-the-dark sort of optimism. Fairytale of New York is an Irish folk masterpiece that's always - always - there for us. And it always will be. It offers respite. Besides, who can resist a Christmas song in which the two lead singers brand each other in the midst of an argument with such epithets as "scumbag", "arse" and "an old slut on junk"? Not me.
Popular in the Community