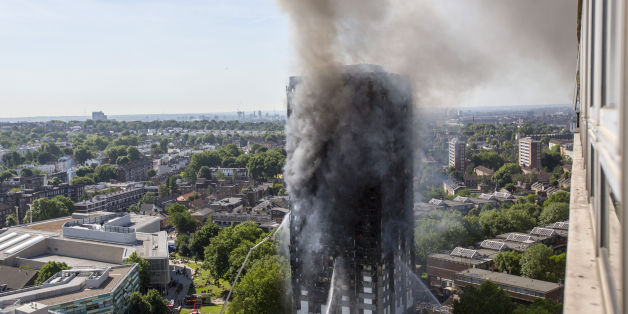 The horror the nation witnessed as fire engulfed Grenfell Tower in June is a black mark on modern British history. In what is the worst loss of life in a fire in peacetime Britain, the government owe it to every victim to get to the bottom of how exactly this disaster was allowed to happen. And let's be clear, it was allowed to happen. Tower blocks are designed so that a fire in a flat is contained to the original flat (compartmentation) so as to give firefighters plenty of time to arrive at the scene and get the blaze under control.
During my firefighting career, I responded to incidents in tower blocks where neighbours a few floors up never even knew there was a fire until the morning afterwards. This is how the system is supposed to work but at Grenfell Tower, that safety net fell apart completely, with estimates now of around 80 people losing their lives that night as a result.
No stone CAN remain unturned in the fight for justice for the victims. We know that many of those involved (including the FBU) have already expressed serious concern about the structure and remit of the public inquiry. So if the inquiry, which opened earlier this month, pulls its punches and turns into a stitch-up that avoids holding those in charge to account then the Fire Brigades Union (FBU) would need to consider whether we cooperate any further. Nobody wants to see that but we cannot allow the real issues behind this atrocity to be ignored.
There has been a litany of mistakes - I would call them crimes - made by both Conservative and Labour governments stretching back years that have culminated in the disaster at Grenfell. This is not just an issue of austerity, which has seen the number of firefighters cut by a quarter since 2010, but one of more than 30 years of deregulation that has left the public at greater risk when fires happen. What government ministers of both parties have called in the past cutting 'red-tape', I call cutting public safety provisions. It is a national scandal that today, for instance, anyone without any qualifications or training in fire safety can set themselves up as a fire risk assessor. This was once an industry that was regulated in order to protect people from the damage caused by would be charlatans.
It is right that the Communities Secretary, the Fire Minister and Housing Ministers, as well as their predecessors, give evidence to the Inquiry. They should be questioned on what decisions they took while in office, who gave them the advice, why they took it, who signed off the change in the regulations and who signed off the different policies they introduced. Tracing back the mistakes leading up to Grenfell is vital for the Inquiry in order to to deliver justice, hold politicians to account and ensure a similar disaster never happens again.
The Fire Brigades Union wants the Grenfell Inquiry to succeed, but the early signs are not promising. The inquiry will not investigate whether fire services are properly resourced. It won't consider government policy on social housing. It's worth noting the London Fire Brigade is unique in the U.K. fire and rescue service in its ability to send firefighters and fire engines to the Grenfell fire. No other fire service would be able to mobilise such an emergency response. Considering the number of tower blocks which have failed tests across the country, this should also be the subject of a national debate.