Back in my London days, a great late-night favourite of mine was Hanway Street aka Little Spain, a narrow street of dives and drinking dens. My personal favourite was Sevilla Mia, My Seville, a basement bar where you were as likely to see an impromptu flamenco show as enjoy a sherry. Living first just around the corner in Bloomsbury and then slightly further afield in Primrose Hill, it was a bar I used to love introducing friends new and old to.
On one memorable occasion, John Peel happened to be sitting barfly style with one of his producers. They'd escaped a radio awards do but seemed to be more interested in hearing about the White Stripes gig my pals and I had just been to. I got John to confirm why The Undertones' Teenage Kicks was his favourite track of all time. The fact it clocked in at under three minutes seemed to have a lot to do with it.
So attached to My Seville did I become that when I got married, the honeymoon just had to be in Seville. So that I'd be able to fully savour an appetite whetted by many a nocturnal adventure. Except we got married in September when temperatures hit 50 degrees in Seville, capital of Andalucia aka the Frying Pan of Spain.
Talked out of Sevilla by my Spanish in-laws, we settled on Galicia. Where we spent most of the time in bed, no not in that way. After conducting a virulent bout of food poisoning following a seafood-heavy meal in Vigo. But that's another story, for another blog post.
It would be 15 years before I actually set foot on Sevillan soil. December 2012 and the temperature was closer to 15 than 50. The Cruz Campo advert at the airport with the greeting Bienvido al Sur just seemed plain wrong. Seville felt more northern European, especially as the first stadium I saw on the shuttle bus taking me to the city-centre was a rugby rather than football one.
The Independent sent me to Seville to write about Past View. This is a new tourist attraction which allows you to step back in time. Literally, as you don special glasses to see how buildings looked like in the past along with video recreations of famous moments in local history.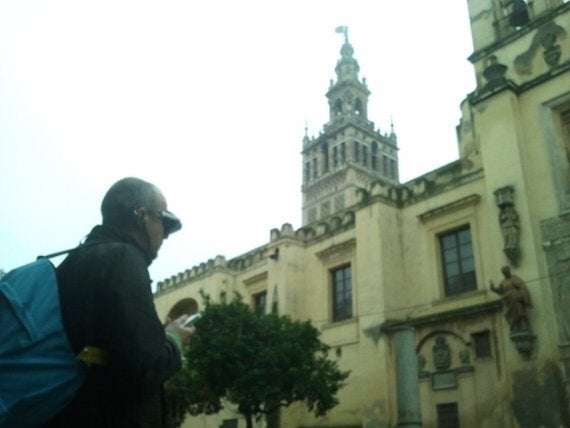 I also got to meet up with Shawn Hennessey, of Azahar Sevilla Tapas Tours. Our rendezvous was Plaza Alfafa's bustling La Bodega. Where Shawn was drowned in sound from neighbouring tables, I was blinded by the lights and rather garish decoration.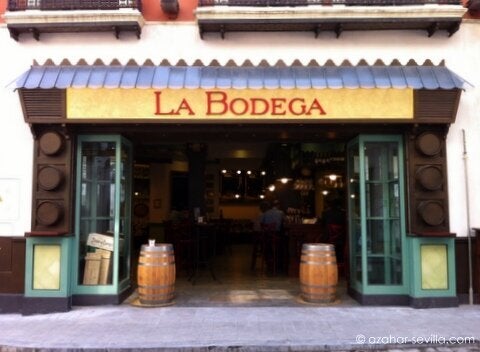 Shawn wanted to give me a taste of one of her tours. So whilst we tried to hold a civilized conversation , I munched on traditional tapas starters such as tortilla española and cabrales cheese and tomato on toast. They certainly lined my stomach for a night exploring Alfalfa, an area which is traditionally popular with students.
The next day the freshly-squeezed orange juice was the highpoint of the buffet breakfast at my hotel, chiefly for curing me of my morning-after-the-night-before sickness. But then when I went for a paseo, stroll, around the city I couldn't move for orange trees. I knew Seville was famous for its oranges. But they were FRICKING everywhere.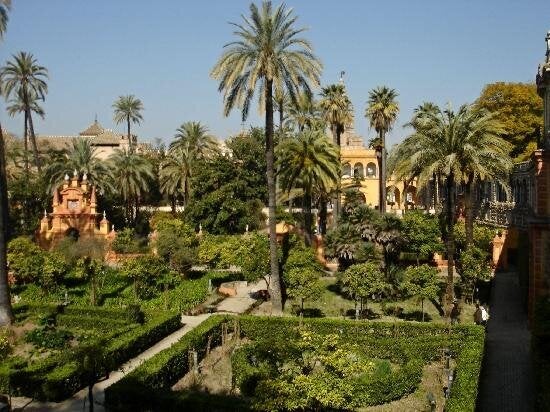 Orange trees are not the only fauna in greener-than-you'd-think Seville. Indeed, Andalucía has many stunning parks and gardens. One of my favourites was Parque de María de Luisa located next to the stop the airport shuttle bus terminated at. Later, what looked like mist hovered in front of the ancient cathedral. The fact that it turned out to be smoke from the hot-chestnut stall didn't stop me muttering, "Ah, Sevilla Mia".
Related