If one-in-ten of us gave a penny every time we travelled on the tube, it would raise a staggering £25million per year. And let's be honest, none of us would miss the handful of change it would cost.
That's the theory behind Penny for London, the world-first campaign backed by Mayor Boris Johnson and the Mayor's Fund for London. By harnessing the latest payments technology, its aim is to aggregate thousands of tiny individual donations to transform the social mobility of disadvantaged young Londoners once and for all.
The first £30,000 generated by Penny for London was awarded today to ten charities across London working with disadvantaged young people. One thousand youngsters will benefit, including those supported by the Dallaglio Foundation, founded by former England captain, Lawrence Dallaglio, which received £2,500 for its work using the game of rugby to help change young lives for the better. And Urban Development in Newham which was given £3,000 for its music projects that help to raise the aspirations of young Londoners.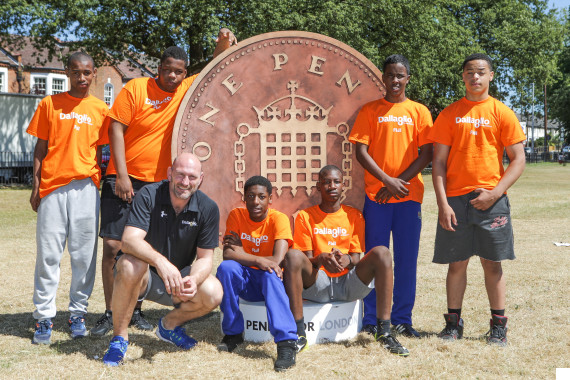 All the research says that the public loves the idea of giving tiny amounts to good causes as they go about their day-to-day lives. Contactless 'tap and go' payments work brilliantly for this.
All you have to do is register your contactless credit or debit card once at www.pennyforlondon.com, where you can also set a limit on how much you want to donate. Then, whenever you pay by contactless on the tube or bus, or at other Penny for London partners like Caffè Nero and Leon, you know that a tiny amount is going to make a huge difference to the lives of disadvantaged young Londoners.
It's also very easy for retailers wanting to encourage contactless usage to join Penny for London. Unlike traditional schemes, the donation element is an entirely separate transaction requiring no integration at the till. Some retailers have embraced the Penny for London cause by match-funding donations and offering complementary products to reward customers for their support.
And if it works in London, it can work pretty much anywhere in the world. Contactless payments are moving beyond card technology into mobile phones and just about every other type of device. The Penny for London model works across platforms. The Mayor's Fund for London which created the scheme in partnership with Barclaycard is discussing potential national and global partnerships with a range of charities, retailers and other digital providers.
In life, it's often the smallest things that make the biggest difference. If enough of us sign up to Penny for London, our pennies will turn into millions of pounds to transform the lives of the children and city we love for the better.
Matthew Patten is the Chief Executive of The Mayor's Fund for London