At business school, we had a whole section of the MBA course based on 'finding the right co-founder'; countless books have been penned on the subject, theories have been dreamed up and studies have been carried out. There's no doubt at all that it is an absolutely critical part of getting a start-up off the ground and then building a successful business - the foundations of an organisation have to be solid, and those foundations have to be its co-founders (at least at the beginning - to turn a concept into a reality). Having co-founders (or a singular founder, for that matter) that have the right balance of skills to deliver what's required, a clear and cohesive vision and the appetite and drive that's needed is an absolutely necessary but far from sufficient condition for start-up success.
There's a lot of material on the subject - it's is generally grounded in good logic, clear arguments and possibly even retrospective evidence from the darlings of the scene. What it lacks (somewhat inevitably, to be fair) is emotion. And from someone who's spent the last 17,000 hours of my life starting a business, this is a pretty massive oversight - and one that really does have repercussions.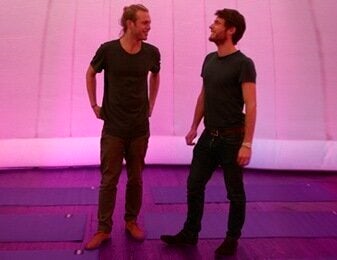 Starting a business is basically a mental (and in our case often physical) marathon. Or an ultra marathon. Business planning's great, business theories they're based on are great and those people who've carefully crafted such a plan based on such theories and sailed off into the IPO sunset are also great. Well, probably they are - I've just never met one. The success of the startups I know are instead founded on a heady mix of dogged determination (or sadism), emotional resilience and a complete absence of self-pride (no task too small or menial). Call me unfashionable, unprofessional and illogical, but drawing on my practical experience, I want to make the case for starting a business with a close friend. It's based, really simply, on three of the most essential (and realistic) needs of a startup team:
Trust: while sacrificing everything in your own life for your own ends is doable, doing so for someone else's ends is a bit of a tougher ask. Essentially, with a co-founder, you're fighting as much for them as you are for yourself. Unequivocal, doubtless trust in mutual sacrifice for mutual ends isn't easy to build - and it makes it a whole lot simpler if you'd be willing to make that sacrifice anyway only for their good, regardless of your own, as you would with a genuinely close friend. Trust saves needless worry and doubt - it allows focus on your own tasks at hand without waisting time looking over your shoulder to see what the next guy or girl is doing.
Understanding: the start-up roller coaster cliches are an understatement, and every facet of every person and relationship will be exposed in the process. If you already know every side of a person and a relationship - you're doing a pretty good job de-risking the chance of a personnel implosion. Friends get each other - communication is more seamless, reactions can be prompted and sensitivities avoided. Internal politics is wasted time, energy and emotion - a clear understanding of who you're alongside can go a long way to avoiding it.
Enjoyment: if you're going to spend 16 hours a day with a person, being pushed to your every limit, being tried and tested, poked and prodded, elated and deflated - it definitely, definitely helps to do it with someone who you know is going to keep you with a smile on your face and provide the emotional support you'll need. We're at our best in every way when we're surrounded by those we're comfortable with, those we love, those we can spark off. If you have the luxury of actually choosing who you work with, doesn't it make sense to choose someone you know can tick these boxes, for your good, their good and your collective good (with that collective being the company you've created)?
It seems I may not be alone in thinking this either. What's been pleasantly surprising in my experience is the response of others to it - be they investors, journalists, customers, employees or clients. Even from the outside, it seems there's a recognition or appreciation of a business founded by great friends - perhaps in the same way that family businesses still have resonance and power. It somehow gives the business a graspable story, a heart and perhaps a sense of cohesion within - and whether you're a conscious consumer or an ardently commercial investor, that's pretty attractive.
I started Hotpod Yoga 2 and a half years ago with a friend i'd already covered a lot of ground with: we'd been to school together, spent 6 months travelling in China together and had essentially covered off all aspects of each others personality. I guess like most strong and lasting friendships, the attributes above were a given - something in-built, tried and tested.
While I seriously wouldn't condone starting a business with any old friend (I certainly wouldn't do it with many of mine), I think these 3 needs provide a pretty strong case for doing so with the right friend.
Popular in the Community