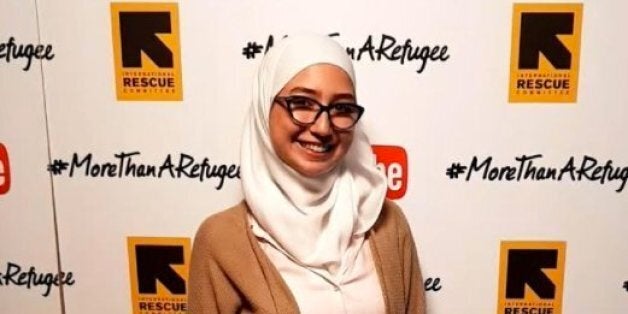 You're used to hearing dramatic stories about the journey of Syrian refugees to Europe but I was one of the lucky ones. So we wouldn't have to, my father had already made that dangerous journey for our family 15 months earlier. We got a family reunion visa so I flew from Damascus via Turkey to Birmingham on 27 April 2015 to be reunited with him. For me, landing in the UK was just the beginning of the journey that would change me forever.
With a visa on my passport and a dream in my mind, my expectations were high. We'd been through a lot because of the conflict, and sitting on the plane I thought I was flying towards a secure, welcoming environment where where I could go back to school and life could go back to normal. But I didn't feel welcome at first. I was working hard to improve my English but everything else was different, too. We had no idea where to start enrolling me in school or what these GCSEs being taken by other kids my age even were. I was rejected by the first school I applied for, then the second, third and forth rejected me too. I felt like my dream was being taken away from me, one piece at a time.
With no friends and no school place, as the rest of my family seemed to be moving on I became very isolated from the outside world. My education had always been important to me. As a young girl I always knew it was my ticket to independence and those rejections left me feeling hopeless. Four months went by that way.
Then one day my uncle told me that the Children's Society were hosting an Eid event to celebrate the end of Ramadan at a local youth club. I was invited me to give a small speech and to my surprise I discovered that I wanted to do it. It had been a while since I'd wanted to do anything. The speech was about 'the testimonies', an important part of the Islamic faith. It was something I believed in, so even though my English was bad, I didn't want to let that stop me. This was my chance to get out of my room and meet people. I practised it over and over again all week, willing it to be perfect. Standing up to speak was terrifying but everyone clapped and that was when the world started changing again.
One of the people who came to congratulate me afterwards was from the Children's Society. She asked me if I wanted to volunteer to get involved with their work and receive training as a speaker. Now I knew that profound feeling of being unimportant, ignored and unwanted in a strange place. The joy of escaping and dreaming and the pain of being dragged back to zero when you have no strength left to take another step. This was my chance to do something worthwhile again, to raise awareness about the barriers facing young refugees like me; to be a voice that people could hear for all the refugees that are struggling to speak for themselves. My training and volunteer experience changed me. Before, I was voiceless and had lost all confidence in myself and others. But their support has made me happy and confident talking to anyone. I listen more, too and that pushes me to challenge myself and develop new ways of connecting with other. I'll never leave the Children's Society after all they did for me in the dark times. Volunteering for them feeds my soul and brings me pride in myself.
All this was possible because I have faith in my message: that refugees are given the support we need to hope for the future, we can contribute to British society. I trust the people of this country so I'm not afraid to campaign and I believe that when enough people understand us, understand the difficulties we face, things will change for the better. And for those who have lost faith, I study hard and campaign to prove that we are worthy of a chance at a better life. For me, hope is everything. It gets me through each day, trying to see the fortunate in the unfortunate. Yes, I had to flee my home, leave everything from my old life behind and start again. But when I found hope it gave me the chance to live again, a life I can be proud of and a chance to be part of showing there is still peace and love in this world. I couldn't ask for more than that.
I will carry on being ambitious. I have secured a place at Brunel University to study Aviation Engineering with Pilot Studies and my dream is to become a pilot one day. I also want to keep campaigning and learning and meeting new people. I've even met Prince Harry and the Duke of Cambridge in May when I was given the Princess Diana Award. Who would have thought a teenage girl who came here with just a few words of English would have achieved all that? I certainly wouldn't.
Maya shares her story as part of Refugee Week (19-25 June), the UK's largest festival celebrating the contribution of refugees to our society. Hundreds of arts, cultural and educational events will be held nationwide in renowned venues, public squares, libraries, schools and places of worship to celebrate our shared future
To find out what's going on near you, visit the Refugee Week website. You can also join the conversation by telling us what #OurSharedFuture means to you via Twitter or Facebook