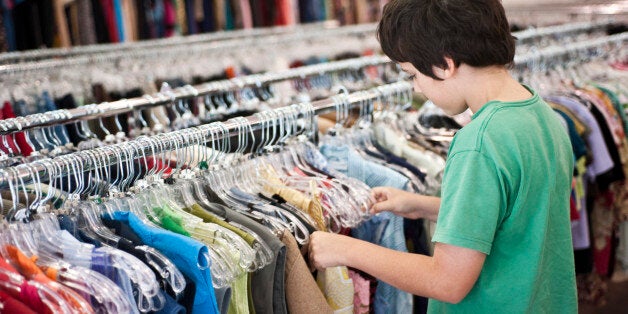 Consider yourself a savvy sustainable fashionista? Fantastic! You probably already donate your unworn clothes to charity or drop them off at the in-store collection too? That is if you're not selling them online, refashioning and up-cycling them or swapping them with friends. Here in the UK we have excellent logistics in place to collect our unwanted clothing and textiles. Around 40% of our used clothing is collected, the highest collection rate in the world. Globally the average rate is 20% leaving a staggering 80% of all end of use textiles going to landfill and incineration.
Maybe you think your clothes are too worn out to be recycled? Think again. They may not end up in the shop window of your favourite charity shop but they still hold some value. Currently 40% of collected textiles are down-cycled into a variety of products. Wiping clothes, insulation, shoddy for mattresses and upholstery stuffing are a few of the products that put our used textiles to further use and keep them out of landfill a while longer.
Around 60% of clothing collected is re-wearable. This is the best option in terms of environmental impact, and also fetches the highest price, financing the well-oiled collection infrastructure. Only a small percentage of these clothes are sold in UK charity stores with the majority of them exported to global second-hand markets in Sub-Saharan Africa, where demand for our second hand cast offs has been high for many years. But things are about to change.
The East African Countries (Burundi, Kenya, Rwanda, South Sudan, Tanzania, and Uganda), home to some of the largest second-hand textile markets the world over, are seriously considering a ban on imported used textiles. The main reason for the ban is to grow and protect jobs in the regions textile manufacturing sector. Scheduled for 2019, if the ban comes into effect it will have huge implications for textile collectors the world over, not to mention the much relied upon income that charities receive from this trade. With a looming ban on imported used textiles in the largest second-hand markets in the world, and the growing problem of textile waste, a different approach to textile recycling is needed.
Over 4 years ago, our company, Worn Again, recognised this need and began development of a recycling technology with the aim of separating and recapturing polyester and cotton from end of use textiles to go back into the supply chain as new. Polyester and cotton fibres alone account for well over 70% of fibres produced globally so we hope this new technology will go a long way towards eradicating textile waste.
This innovation is part of a new breed of textile recycling technologies that are about to transform the way our clothes are produced and consumed - forever. Until now, the ability to turn old textiles back into new textiles has been extremely limited due to the challenges of blended fibres, dyes and other contaminants which have been introduced during the production process.
What this will mean for the fashion industry is huge. These new processes will enable the industry to truly 'close the loop', to make new clothing from the raw materials recaptured from existing clothing, rather than virgin derived natural resources, like polyester which is made from oil by-products. This is a solution that many major brands, such as H&M, Kering and Nike have been urgently seeking.
There are some very exciting technologies on the horizon but they are at least a couple of years away from being industrialized and ready to recycle our wardrobe clean-outs. So what can we do in the meantime?
Well, we still have plenty of room for improvement on our UK record for bringing our clothes back. 60% worth of room for improvement in fact. It is important that we start changing our behaviour now. Bring back your clothes, the re-wearable and the worn out, to keep them in the loop - to your local charity shop, textile bank or in-store collection drop off point. There are many easy routes to keeping textiles (just like with aluminium, glass and plastic bottles) in continual circulation.
Not only would you be helping to keep them out of landfill, these clothes could provide the raw materials for our clothes of our future.
P.S Don't forget to pair the socks & tie the shoes together and bring those back too.
This September The Huffington Post UK Style is focusing on all things sustainable, for the second year running. Our thirst for fast fashion is dramatically impacting the environment and the lives of thousands of workers in a negative way. Our aim is to raise awareness of this zeitgeist issue and champion brands and people working to make the fashion industry a more ethical place.
We'll be sharing stories and blogs with the hashtag #SustainableFashion and we'd like you to do the same. If you'd like to use our blogging platform to share your story, email ukblogteam@huffingtonpost.com