Sun gently kissing your skin, the gritty dirt of new roads under your feet, historic scenery -- nothing is quite as invigorating as exploring new locations. In 2010, I made the move from my hometown of Brooklyn, New York (BK stand up!) to the mystical (and very hot) streets of India - a place I called home for 4 years. Now I'm in the throes of yet another international relocation, this time I've settled nicely in the United Kingdom.
While my travels have been daunting at times, there was one thing that remained familiar and readily available: social media. What was even more surprising? The notion that people just like me were now packing up their bags and making a living off the very platforms that served as my lifeline in unfamiliar territory.
Peter, a 33 year old British expat and Global Marketing Manager at Unmetric - a social analytics company; has lived in Chennai, India for more than eight years, says:
Social media has been the bridge to keep in touch with everything that's happening at home. Our family has become so spread out that we have our own Whatsapp groups and even groups on Facebook where family updates are shared.
According to WeAreSocial, annual social media growth continues apace, particularly in the number of mobile social users, which hit 17% last year, with Asia-Pacific driving much of this growth. When looking at the world by number of internet users, it really rams home the importance of East Asian and South Asian markets. Digital offers new opportunities to reach these people or better yet help organisations in these markets reach their audiences.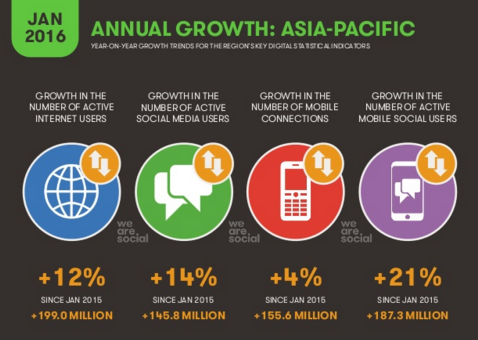 Erica Taylor, of Erica Taylor PR has made a career of social media abroad and says:
"I was in NYC for 10 years and thought I was going to live there the rest of my life. Then in 2011 I came to India on vacation and it was love at first sight! I went back to NYC, packed up my office, got rid of my flat and moved to India two months later. I have been here ever since. I have really tried to switch my focus to social media as I am fascinated by its growth in India and all over the world."
There remains a significant digital divide between developed and developing countries, which continues to shape the contrasting approaches to technology and the Internet.
"Having social media be my job is still very confusing for people. They are confused as to why that is even a job and how I possibly have enough clients to survive. So in that way I am more out there saying: "Hey. This is a job and you need to make it a priority for your business."
As more people come online, they look to the internet for more information and social media plays a large part. Let's take India (clear bias) as an example, the Prime Minister has a Twitter following exceeding 20 million- that's more than Bollywood God Shah Rukh Khan and cricket legend Sachin Tendulkar. He tweets in English and Hindi making his reach exponential and all the more valuable to his audience.
Social media use abroad is connecting people in ways never imagined. In December of 2015, the city of Chennai was hit with severe flooding and Peter recalls the experience:
There is a fantastic concept in India called jugaad. It's the word used to describe making something do something that it wasn't originally intended for. During the floods, I felt like the concept of jugaad was applied to social media because suddenly Facebook, Twitter, Whatsapp and Google Docs became the tools used by tens of thousands of people to coordinate relief efforts.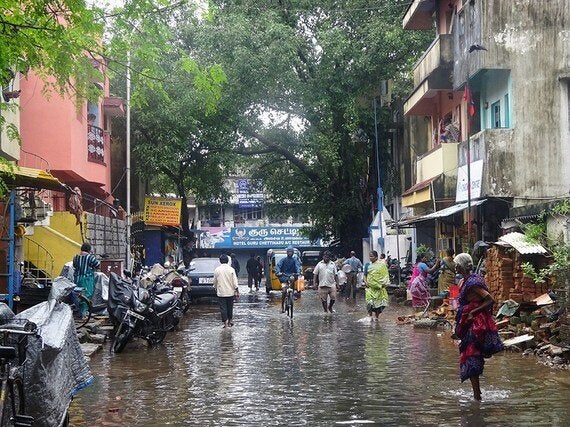 There is this level of personal growth that happens when you leave the comforts of familiarity. What was once so horrific and annoying about elements of life back home, seems quite petty in the grand scheme of things. Expats and millennials alike are making use of their personal jugaad and utilising the skills they have learned at home to help emerging markets expand and widen their reach, while allowing the cultural differences to change and enhance them in ways unimaginable. Hey, Peter loved the city so much that he wrote a book about it!
The life of an expatriate possesses the fluidity and creativity that social media needs to thrive. In order to widen your creative abilities, you have to really try and fit into a different environment, and learn how to do things in a totally different way.
What have you jugaad lately?