Since I've moved to Cape Town, South Africa, now a year ago, I've been bragging about what an amazing place this is. There is the mountain, the sea, amazing culture and arts, fantastic food - the list is endless. I can call this truly one of the most beautiful places in the world. But this place is not only fun and games. You can feel there is a tangible tension in the air, a deeply rooted frustration that is simmering ever greater.
Twenty-two years after the first democratic elections here in South Africa things haven't changed as much as people would have hoped for. In the post-apartheid era people of colour still endure the effects of hundreds of years of institutionalized racism, marginalization and structural exclusion. South Africa has not been able to achieve its project of the Rainbow Nation and that is very saddening. It remains one of the most unequal countries in the world. The "born free" youth still have to deal with inequality and lack of privilege every day. There are still huge differences in wages, in access to education, combined with extreme high levels of youth unemployment rates. No wonder a lot of people are angry and feel disappointed.
In March 2015 this post-colonial, post-apartheid tension and anger was materialized in a bucket filled with kak, a statue and a toyi-toyi*. Chumani Maxwele showed his discontent with the reality of institutional racism and the reminders of colonialism at the University of Cape Town (UCT) by throwing a bucket of human excrements on a bronze statue of Cecil John Rhodes at the University campus. This was followed by a toyi-toyi together with many other protesting students. From that moment the #RhodesMustFall movement was born, a movement that fights to address institutionalised racism, white supremacy and privilege at the university. Furthermore, they want access to tertiary education and student accommodation. They demand transformation, and rightfully so.
While to this day the group is still fighting for structural change within the UCT and beyond, the initial protest was focused on the removal of the statue of Cecil John Rhodes. A statue that the protesters feel to be a symbol of white supremacy on the campus. The colonialist, politician and oppressor Rhodes was literally looking down on them from his pedestal. As written in a Student Representative Council statement: "The statue is a constant reminder for many black students of the position in society that black people have occupied due to hundreds of years of apartheid, racism, oppression and colonialism."
This wasn't the first time that people demanded the removal of this particular statue. In the 1950's the first protest came from Afrikaner students and since then the demand has been increasing over the decades. But in 2015, after a month of protesting, debates and occupations of UCT buildings the University decided to remove the statue on the 9th of April 2015.
Now, more than a year later, the statue is locked away in storage. There have been a few proposals from foundations and wine estates who offer to take care the statue for the sake of maintenance and preservation. There has also been a recommendation that it should be sold to raise funds, however this is very unlikely due to the low value of the statue itself.
I would like to propose a radical alternative. It really ís time for transformation. And I mean that literally.
I would propose that the bronze statue in its current shape should be repurposed in order to create a new piece of art by melting it down. Something that will speak to the new generation of South Africans, to the marginalized inhabitants of this country and to the present and future scholars of UCT. Something that will show that you can transform an old world into a new and better one.
The former statue will become, or morph into, a new piece of art. A big transformative symbol to fill the empty plinth that is left behind, illustrating that change is coming and happening at this moment. Historically art has played a major role in many revolutions. There is a great need for symbols that will help to push for reformation. I will call my proposal #RhodesMustTransform.
You may ask: "But don't you destroy history?" You have to understand that even the University of Cape Town declared in a statement on the removal that the statue has "limited cultural value" with "very limited aesthetic merit". Using this 2000 kg bronze statue as the basis for a new piece of art, that will fit better in current society, won't be "destruction of history". It will only change shape, emphasizing that history is ever evolving and never one-sided.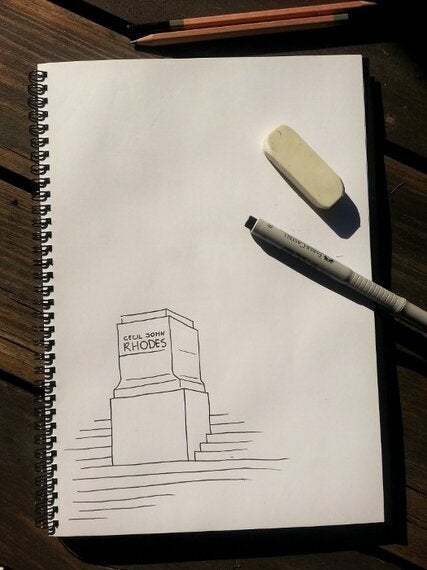 As I see it there are two options. You can choose to go fora black South African artist, or go for an international one.
There are many extraordinarily talented black South African artist that would do wonders with an assignment like this. Young emerging artists who can relate to the feelings of the current UCT students. Artists like Mohau Modisakeng, Simphiwe Ndzube, Sethembile Msezane and many more. Who know what it is like to be a person of colour in a post-apartheid South Africa. For something so delicate as this you would need an artist that is extremely adequate and experienced in examining social and political structures. Someone who questions authenticity and the value of objects in their current contexts.
Another option would be to choose an international artist. I would like to take the opportunity to suggest Ai WeiWei, the Chinese artist and social activist. Ai Weiwei's body of work involves questioning human rights. In his work he addresses the role of the individual and that of the state. His work is critical of global issues and addresses the relationship between tradition and the modern world. All these issues are in play in the current situation that evolves around the statue of Rhodes.
Ai WeiWei might be a controversial artist, someone who is criticized for his iconoclastic attitude toward historical objects. I think that makes him perfect for the job. If you look at his Coloured Vases series for instance, in which he paints on Neolithic and Han dynasty urns that are over 2000 years old. It is too easy to call this an act of destruction. If you allow yourself to look further you will see that Ai Weiwei creates an uneasy confrontation between tradition and the modern world by transforming the object. He raises questions about history and timelines as a static concept. "Ai gives ancient vessels a new glaze and painterly glow, appealing to new beginnings and cultural change trough transformative acts of obliteration, renovation and renewal" as can be read on one of the wall panels during the 'andy warhol | ai weiwei' exhibition. Exactly what the Cecil Rhodes statue could use right now.
If I can contribute to the list of proposals, I would like to suggest that #RhodesMustTranform. Furthermore, I would suggest that the job should be given to a black South African artist who can relate to the current post-apartheid climate, or to the international artist Ai WeiWei, master of transformative art. This Cecil-John-Rhodes-statue-chapter, in the bigger and ongoing transformation of UCT, needs to be closed on a positive note. It should be turned in a strong, symbolic work of art that will be a tactile proof that you can shape your future. The new statue will serve as a constant reminder that the change that is coming needs to be pushed through. This transfiguration can and will occur. Its time, #Rhodesmusttransform.
* Toyi-toyi is a South African political protest dance.