The second year of the pilot badger culls in the South West of England has started.
In the South West - where bovine TB is endemic and herds are continually being reinfected despite farmers' best efforts to protect them - controlling the disease in badgers has to be an essential part of any strategy to wipe this disease out.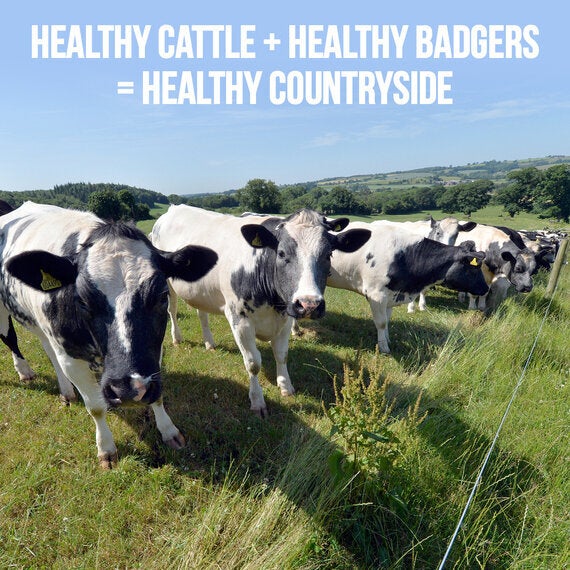 Travelling round the country I've seen first-hand the total human misery this disease causes for farmers and their businesses. I've sat round farm kitchen tables with families who have been driven to despair after investing time and money building up their herds, only to see them devastated by bTB.
I've spoken to grown men who've been reduced to tears as they load cow after cow, or calf after calf, onto lorries to be taken away for slaughter because of this disease. I also know from personal experience the emotional and economic impact this disease has because my own farm is currently under TB restrictions and I am determined to ensure that everything possible is done to tackle this disease.
No one would choose to kill badgers if there was an effective alternative in areas where TB is rife. But if we're ever going to get on top of bTB in areas where the disease is endemic there is no other choice. The Chief Vet has said culling over a four-year period in both pilot areas will have an impact on disease control. I am confident that these pilot culls will help deliver a reduction in bTB in cattle and it is vital that they are allowed to be successfully completed so they can deliver the maximum benefits.
The Independent Expert Panel made recommendations to improve the delivery of the culls and both licensed companies have implemented these recommendations for this year. I know the people delivering the culls are focused on carrying them out as safely, humanely and effectively as possible so they provide the maximum benefit in the fight against bTB and I applaud their commitment and dedication to carrying out this job in often difficult circumstances.
While culling has to be an essential part of any strategy to control and eradicate bTB in areas where it is endemic, it is only one part of a much wider strategy to get rid of this terrible disease. And that is the ultimate goal - the eradication of a disease which resulted in more than 32,000 cattle being needlessly slaughtered in Great Britain last year and for which there is no cure. No one has ever said culling alone will wipe out bTB. Only by doing everything we can will we achieve what everybody wants - a TB free England.
Badger vaccination could have a role to play in areas that are clear of bTB to stop the disease spreading any further. I know farmers in some of these areas are already involved with local badger vaccination projects because they recognise how important stopping this disease is. Cattle vaccination is also a key element. It is unacceptable that a workable cattle vaccine is still ten years away and I can assure you the NFU will be doing everything it can to get this process speeded up.
It is vital that we keep TB out of the parts of the country where there are currently very few breakdowns. Cattle movement controls continue to be tightened where that is necessary, but it is important that these controls allow businesses to continue to operate viably as well as preventing the spread of the disease.
Bovine TB continues to devastate farming family businesses in large parts of the country. I can assure you that the NFU remains totally committed firstly to stopping the spread and ultimately to eradicating this disease and recognises that this will only be achieved by using every available option.
Related