This week we joined with our friends in EU and global farming to represent agriculture in Paris as part of the Climate Change talks.
I was pleased that farming had a presence at the event as we are on the front line of climate change. Much of our industry takes place outdoors, exposed to the weather, which we experience on a daily and seasonal basis. But agriculture is also unique in terms of the wide range of goods and services provided. It supplies food, it stores carbon and it generates renewable energy.
Along with other farmers, I have already seen long-term changes in weather patterns, with extreme weather events becoming ever more frequent. Our recent NFU weather survey found that over 60% of our farmers had noticed an increase in severe events over the last 10 years.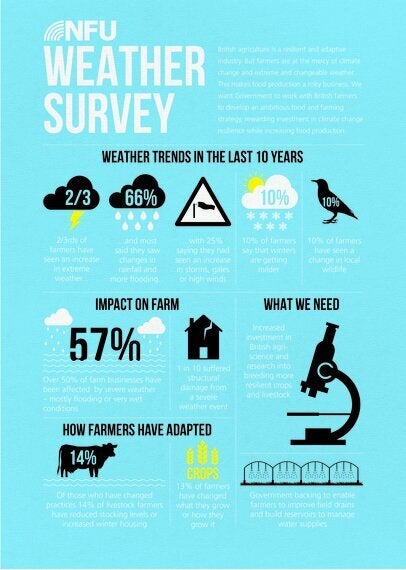 Farmers worldwide need to invest in making our industry more resilient to weather disruption if we are to feed a growing population with divergent tastes. We need a fair share of access to water resources, as well as better protection of agricultural land from flooding.
Some of our livestock farmers may have to alter stocking levels or increase the shelter they provide from severe weather. Some of our growers may need to adjust the timing of seed drilling and harvest. Fresh thinking is needed in farm policy to support these investments and adjustments. For example, the recent announcement of five-year tax averaging for British farmers is just such an enabling measure.
Volatile commodity prices, volatile energy prices and volatile weather add up to a 'perfect storm' for agriculture - but we believe that farmers also offer part of the solution. We have to seize the opportunity to participate in new economic activities, while making our industry stronger and adaptable to a changing environment.
It was six years ago when the NFU participated in an international farmers' delegation in Copenhagen, but only a weak compromise was reached. If the land-based economy is to survive climate change while feeding, clothing and fueling our population then we can't afford the same outcome in Paris.
The greenhouse gas emissions profile of agriculture is fundamentally different to that of other production sectors, much of it tied up in complex biological processes necessary for farming. Farmers also manage and store carbon in soils, perennial energy crops and farm woodlands. Overall though, UK agriculture has reduced its greenhouse gas emissions by 19% since 1990 - much of this through improved productivity and better management of resources, supported by an industry-led action plan.
Increasingly, we see renewable energy as an integral part of the future of our agricultural sector, supporting profitable farming as we strive to produce more with less impact. Last year, the NFU's Farming Confidence Survey found that one-third of our members had an interest in renewables, with solar PV and biomass heating the most popular choices.
The NFU believes that diversification into renewable energy production offers our sector stable and predictable returns, making our agricultural businesses more robust and more attractive to the next generation of farmers.
Land-based renewables are supplying a rising proportion (up to 10%) of Britain's electricity needs, and renewable heating is now growing fast, too. British farmers want to contribute to meeting renewable transport fuel targets, too. The NFU estimates that more than half of UK solar power, half of biogas production and one-third of renewable heat is sourced from the agricultural sector - which also hosts about two-thirds of Britain's wind turbines.
All this said, I don't believe that farmers and growers are just 'in the front line' of climate change, as its hapless victims. The NFU is certain that we can also offer solutions: if we are allowed to invest in our adaptive capacity, and if we use our natural resources to their full potential.