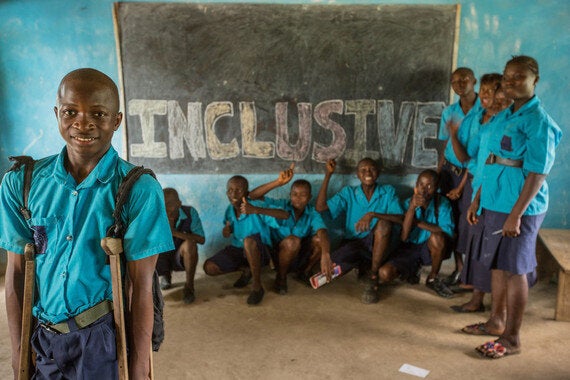 Philip, 16, from Sierra Leone, has difficulty walking, but he's determined to get an education. Photo credit: Plan International/Room3
"Whether or not we have a disability, we are all human beings. We all have the same rights," says Memunatu, a 16 year old girl from Sierra Leone, who has a physical disability as a result of polio. "We know how we feel, that's why it's important to be heard."
Sadly, children with disabilities still face discrimination in many parts of the world. They remain invisible and their voices are rarely heard or taken into account.
Children with disabilities can be 10 times less likely to attend school, according to a report published by child rights organisation Plan International called Include Us!. If they do go to school, their level of schooling is below that of their peers.
The discrimination doesn't end there.
Currently, there are an estimated 93 to 150 million children around the world living with disabilities and 80% of them live in developing countries.
Children with disabilities are subject to profound levels of poverty, exclusion and discrimination. It is often even worse for children with visual impairments and intellectual disabilities.
Community perceptions, local culture and customary laws are often the root causes of endemic violence and discrimination, and it's particularly challenging for girls like Memunatu. They are more likely to be subjected to violence and face multiple discrimination and exclusion on the basis of their gender.
If we want to tackle the root causes of this problem, the voices of children with disabilities must be heard and valued; their needs and aspirations taken into consideration.
I've listened to many children while I have been working abroad and those with disabilities are determined, inspiring and committed to breaking the stigma.
Take Philip for example, a 16 year old boy from Sierra Leone who has difficulty walking. He said:
"My older brother told me - 'Philip go to school'. If you become educated other community members will realise that even though you have a disability you can do something."
The organisation I work for, Plan International, wants to ensure children and adolescents like Memunatu and Philip have the opportunity to live a happy life and get the education they deserve.
It is more important than ever to ensure children with disabilities enjoy the same opportunities as those without. This means making sure schools and buildings are accessible, children with disabilities have the opportunity to play and take part in extra-curricular activities and medical assistance is provided where necessary.
Strides forward are being made. Plan International and partners have been supporting Community-Based Rehabilitation (CBR) initiatives in Guatemala, Mali, Nicaragua, Sri Lanka, Togo, and Vietnam, among others.
Take Togo as an example. Rehabilitation centres have been built next to mainstream primary schools and equipped with specialist physiotherapeutic equipment.
Parents, carers, local community facilitators and government officials have been trained in disability and local support structures, such as radio stations and child health clubs, have helped 3,586 children with disabilities, of which 57% are boys and 43% are girls.
As a result, children with disabilities have developed their cognitive, language and motor skills, accessed medical and paramedic services, and older girls with disabilities have become members of village savings groups.
Many have even transitioned into mainstream education, which is enormous progress.
This approach builds on existing community structures, empowers the disabled and their families and ultimately enhances the quality of life for children with disabilities.
December 3 marks International Day of Persons with Disabilities and renewed commitments from governments to tackle exclusion are heartening. Earlier this year, world leaders adopted the 2030 Agenda for Sustainable Development, a set of global economic, social, and environmental goals.
It showed leaders want development to be more inclusive. By pledging to 'leave no one behind', governments and development agencies have promised to ensure no goal can be met unless it is met for everyone.
This includes children with disabilities.
To make this happen, governments and organisations must adapt systems, train staff and dedicate resources to promote and protect the rights of children with disabilities.
Plan International is calling on governments to redouble their efforts to provide adequate human resources and finances to protect the rights of children with disabilities in line with the commitment set out in the Sustainable Development Goals.
It is only fair these children get the support they deserve to banish the stigma surrounding them and show the world that they are able to make a difference.
Related