Every year I tell myself that I will create a cocktail to celebrate Burns Night and this year it finally happened!
After hours of experimentation with different ingredients and techniques I think I have finally found the perfect recipe which encompasses the true Scottish feel in a glass - this is my Haggis Manhattan!
The cocktail uses a large dram of Talisker whisky, some vermouth and some unique Haggis spiced syrup which we created from scratch all stirred with some bitters and orange zest. The deep, spicy flavours from the haggis blend perfectly with the wonderful light smokey, peaty flavour of the whisky.
50ml Talisker 10 year old whisky
20ml Regal Rogue rouge vermouth
Oils from one orange peel
2 dashes Angostura Bitters
15ml Homemade Haggis spiced syrup
Add all ingredients into a mixing glass with plenty of cubed ice and stir well. Fine strain the cocktail into a chilled coupe glass and garnish with an orange twist.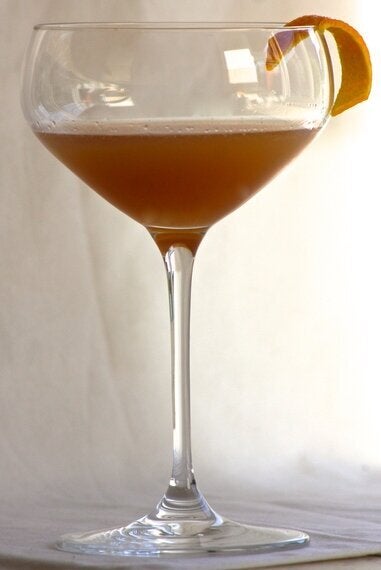 To make the syrup simply buy a quality haggis from your local butcher or supermarket and cook following the instructions. Once fully cooked place half the haggis into a large jug and cover with boiling water and agitate unit water is cold.
Strain this mixture and place the liquid into a large bowl or jug and place in the freezer until frozen. Once frozen, remove from the freezer and place inside a double layered buskin cloth hanging above a bowl and leave to melt, this will filter the fat from the syrup.
Then take a glass bottle and fill 1/3 with caster sugar, pour in your flavoured water and shake hard to dissolve the sugar and create your syrup. This will last for up to 1 month in the fridge.
www.blackleafevents.co.uk
info@blackleafevents.co.uk