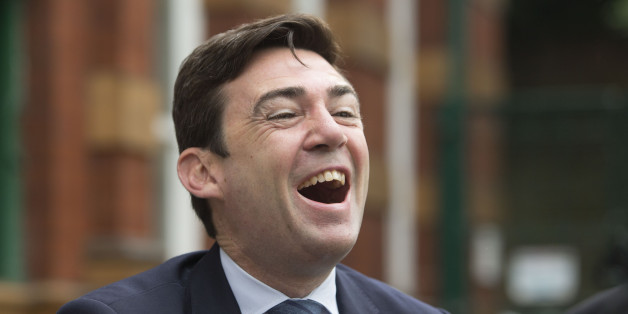 Danny Lawson/PA Wire
At a time of enormous political flux, Manchester is emerging as the most important city in the country. A series of devolution deals, ambitious plans and a fierce determination to make the city region work better is leading to the creation of self-government in a unique city-state.
It was no coincidence that George Osborne first launched the Northern Powerhouse in the engine hall of Manchester's Museum of Science and Industry. It was also significant that Greater Manchester was the first "metro" region to negotiate a series of audacious deals with the government over devolving further powers including transport, the economy, and policing. But most remarkable of all was the opportunity in 2015 to begin the "experiment" to integrate health and social care.
It's rare that central government politicians hand over power unless it's to people they trust will do well with that responsibility, and in turn will reflect some glory.
For the great devolution project was less of a case of dumping the power, but of putting a coherent wrapper around a series of quiet successes that were well underway. And why was Manchester first? Frankly, because it works. The gradual coming together of the combined authority of 10 Greater Manchester boroughs has represented a collective way of working that has proved beyond their equivalents in other city regions. Some of this can be explained because most of them have traditionally been Labour council leaders, the exceptions being Conservative-controlled Trafford and, until May 2016, Liberal Democrat Stockport. But in doing so they have all done what many in local government lack the vision to do - to look beyond their own electorate and think bigger.
To the outside world the mechanics of local government attract little interest or scrutiny. Few people would know that each council leader effectively sits as a member of the Greater Manchester cabinet, holding a portfolio and working with deputies, drawn from the pool of councillors across the city region. But it is this arrangement that has got us this far.
At the centre of the remarkable devolution big bang has been Sir Howard Bernstein, the chief executive of Manchester City Council, who formally stepped down in March 2017. As the capacity of the workload grew, he was also entrusted as the most capable and hard-working of their 10 chief executives, to take on the additional role of boss of the Combined Authority too, making him by default and by design the most senior official across the 10 boroughs of Greater Manchester, overseeing and driving this perpetual transformation. Such has been his power and breadth, he has been replaced by two senior figures to do the two jobs - running the City of Manchester, and heading the "paid service".
The retirement of Sir Howard, the appointment of Joanne Roney (from Wakefield Council) as his replacement in the Town Hall, and of Eamonn Boylan (from Stockport) to the head of paid service at the Greater Manchester Combined Authority, creates that unique flux of activity. The election of Andy Burnham as the first new Mayor puts Manchester at an even more acute inflection point.
Burnham will have two key challenges, slotting in to the system as it is, and making that work. And secondly, negotiating new powers from central government that can improve the lives of Greater Manchester's people.
To do both of those, he needs to be taken seriously. A higher than feared turnout and a thumping victory helps him get off to a flying start. The former minister and MP for Leigh won over 60% of the 359,352 votes, beating Tory candidate Sean Anstee in second place, with 128,752 votes. At a time of dreadful polling and performance for his party, Burnham's name recognition and charisma counted more in his favour than his party's toxic brand harmed him.
There was also a fear that Theresa May wasn't keen on Mayors. After taking office (and taking stock) she was lukewarm on the very idea of the Northern Powerhouse and this needless lifeline for Labour.
The election of Conservative candidates in other cities changes all of that. Andy Street in the West Midlands, Tim Bowles in the West of England and Ben Houchen in the Tees Valley shifts the risk calculus. Suddenly a civic Conservatism, so beloved of Theresa May's senior advisor Nick Timothy, has been revived. So too, it's fair to say, is a metropolitan version of New Labour, pragmatic, reforming and inclusive.
At the core of a successful devolution strategy, both is the knotty problem of breaching Greater Manchester's own deficit, creating more value, more tax revenue and more wealth than it currently spends on public services. Never has it seemed more pressing to work in partnership with central government to be tough on the tests of Brexit and tougher still on the causes of Brexit. Like most places in the North of England, the majority of Greater Manchester voted to leave the European Union, with only the city of Manchester, Trafford and Stockport preferring to remain. It is the city region's very own North-South divide.
Into this melting pot of frustration and government distraction lies an opportunity. How do you make government and politics exciting and relevant to people's lives?
Burnham should be well placed to negotiate the power needed in Greater Manchester's interests. Both the direct power that comes from his own personal electoral mandate and the soft power created through leadership and the hustling for new powers and the ability to make deals.
There will also be inevitable comparisons with London and with the West Midlands. But while both roles are directly elected, the London Mayor is accountable to an Assembly and appoints a core team of deputy Mayors to deliver policy and new actions. It's an additional tier of government, with little connection to the London boroughs. In contrast, the Greater Manchester Mayor is a more integrated model, albeit with appointed deputies, scrutiny from leading local councillors and a ready made civil service, in the form of the Combined Authority, the Growth Company and a pool of very smart people working hard at solving wicked problems.
The West Midlands Mayor, former John Lewis boss Andy Street, is the different kind of politician that Osborne probably had in mind when he shaped the devolution project. But Manchester, now very much Burnham's domain, was the city that inspired the possibilities for what this radical power shift would deliver. The real test will be in three years time when the next elections take place. The clock is ticking on them both to make some big changes.